Lane Motor Museum
Introduction
Founded in 2002, The Lane Motor Museum was established by Jeff and Susan Lane and the collection began with Jeff Lane's personal collection of 70 vehicles. The collection is housed in the former Sunbeam Bakery, which had occupied the site from 1951 to 1994. Lane went out of his way to collect "technically significant and uniquely different" vehicles and that is reflected in this collection of odd, strange, and sometimes humorous vehicles. The collection has grown from its original 70 cars to over 450 with 150 on display at any given time.
Images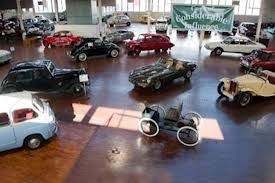 Entrance to the Lane with greeters.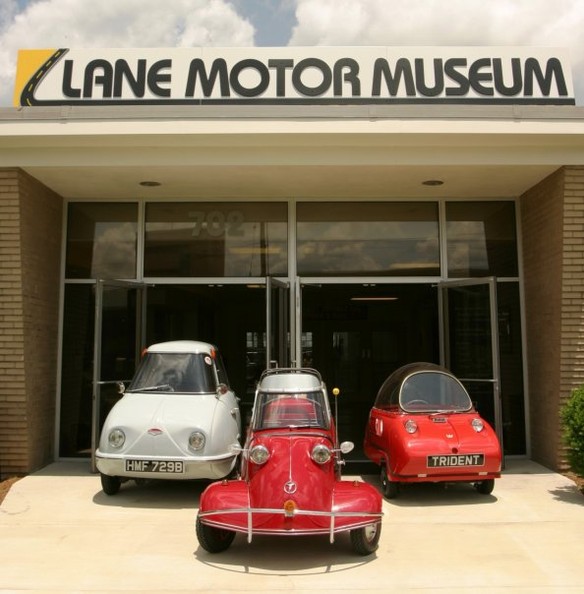 No, this car doesn't fly.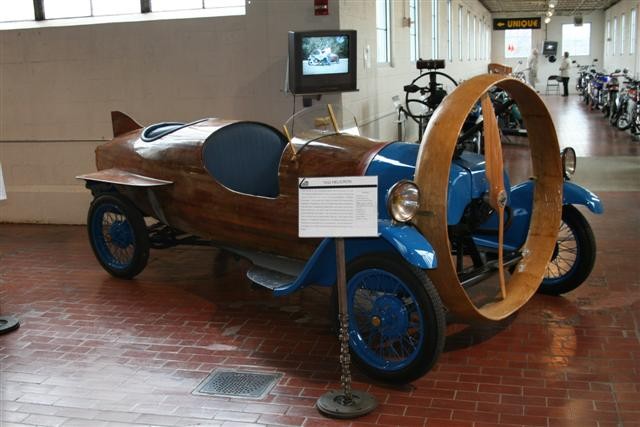 I think James Bond owns this car.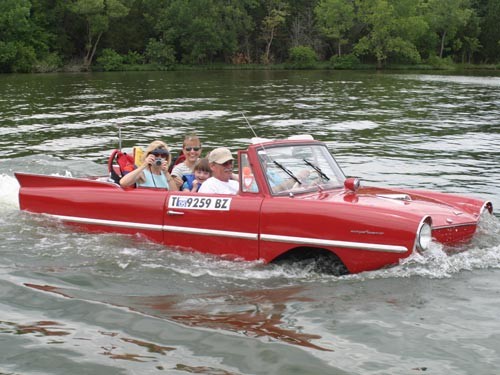 Backstory and Context
Jeff and Susan Lane founded the Lane Motor Museum in 2002 which has a display of unique cars from different eras of time. Jeff's father had founded the family's automotive business named L&L Products in 1958 so Jeff has some family history with automobiles. The collection of cars for the museum started with Jeff's personal collection of 70 cars. Each car would be stored inside the former building that belonged to Nashville's American Bread Company, which ran from 1951-1994. The collection only got bigger from there with over 500 cars to display with only 150 cars put on the actual display each day.
Some of the vehicles in Lane's collection border on the absurd, but they sure are fun to look at, read about, and ponder. These vehicles of unusual designs include propeller-driven cars, microcars, three-wheeled cars, amphibious vehicles, alternative fuel vehicles, and prototypes. Lane houses the largest collection of European cars in the United States and it strives to keep all in working order. Aside from cars, the collection also includes scooters and motorcycles and rotates those on display through various exhibits. Some of those exhibits have included Made in Japan, Les Autos Francaises: 60 Years of French Automotive History, Bavarian Birthday: Celebrating BMW's Centenary, and Macchine Italiane: A Tour of Italy's Motoring Spirit. 
Some of the more unique vehicles on display are an amphibious 1962 Alvis Stalwart, a 1960 M422 Mighty Mite Marine jeep designed for parachute drops, a 1958 BMW Isetta 300 "bubble car," a 1962 Chevy Corvair Wagon, a 1948 Berger Rocket Powered Car, and a 1971 Otas 820 Grand Prix. The museum also holds a number of events. They held events that looked at many amphibious vehicles, propeller cars, and fabric-covered cars. Since the museum is a non-profit entity, it holds its annual fundraiser, Rally for the Lane. Since 2010 and every fall season, patrons can purchase spots to drive a museum car on the local rural roads.  
Sources
"Collection," Lane Motor Museum website. Accessed July 13th 2021. https://www.lanemotormuseum.org/collection
"Lane Motor Museum," Visit Music City. Accessed July 13th 2021. https://www.visitmusiccity.com/local-business/lane-motor-museum
Additional Information