Battle of White Sulphur Springs / Battle of Dry Creek
Introduction
On August 26th, 1863, Union cavalry under the command of General William Woods Averell clashed with Confederate troops led by Colonel George S. Patton in Greenbrier County--only two months after West Virginia achieved statehood by "seceding" from Virginia. Its nascent statehood was, in fact, the cause of the battle, as Averell's 1,300 men had been ordered to secure law books from the Virginia State Supreme Court in Rebel-held Lewisburg. The fierce fight that followed was, for its size, spectacularly bloody, and involved one of the few "classic" cavalry charges of the American Civil War, in the style of the Napoleonic Wars of the early 1800s. Now named for the nearby town of White Sulphur Springs, the battle has also been known by a multitude of other titles, including the Battle of Dry Creek, Howard Creek, Rocky Gap, and "The Battle of the Law Books."
Images
This historical marker is located at the intersection of RT 92 & US 60-just north of the site where the battle began.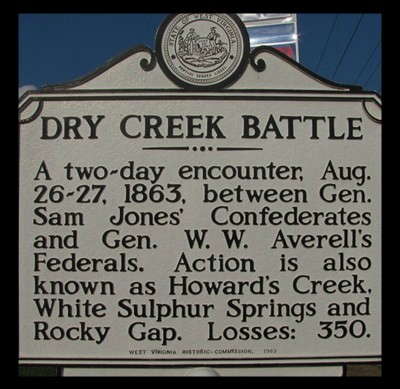 This image of the battlefield was taken shortly after the clash.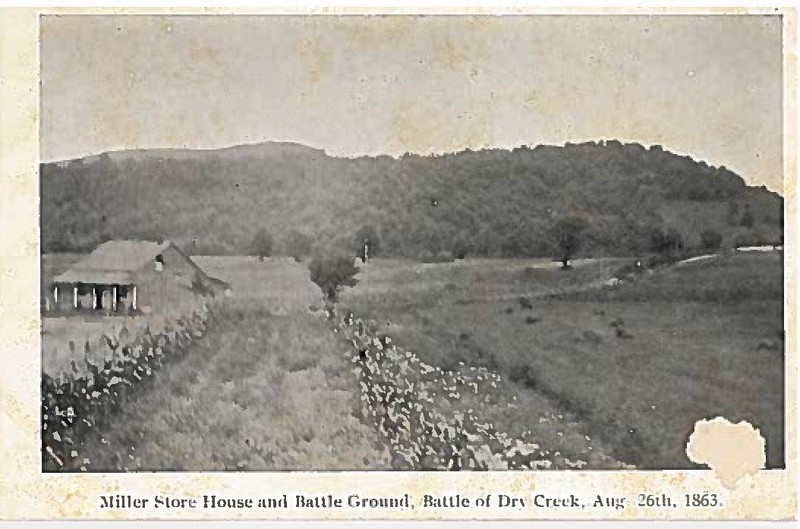 Historian Eric J. Wittenberg's book is the only significant text dedicated exclusively to the battle.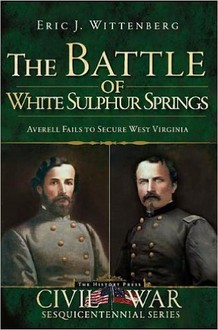 Brigadier General William Woods Averell. One of the Union Army's most accomplished cavalrymen of the war, he later clashed with General Phil Sheridan and was relieved of command in 1864. Library of Congress.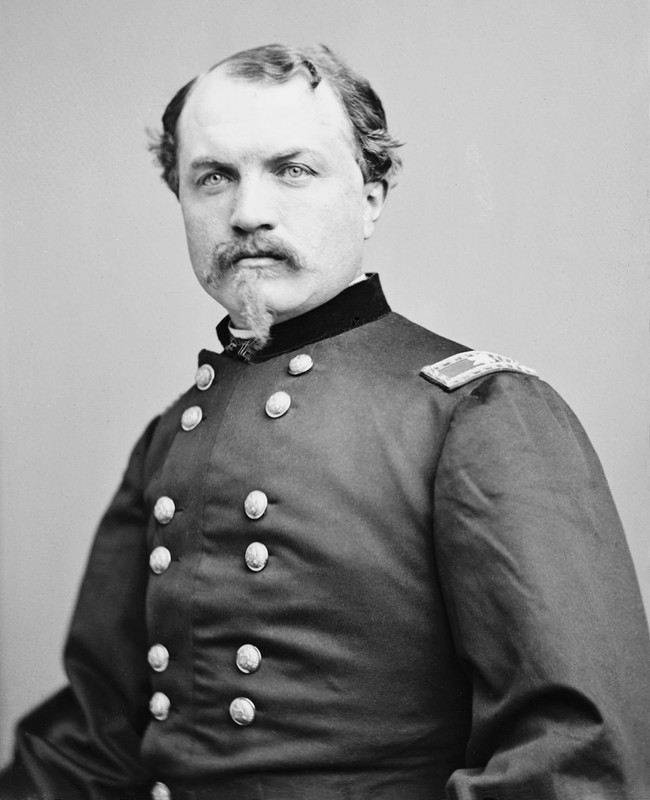 Union Colonel J.M. Schoonmaker in a postwar photograph. Commanding officer of the 14th Pennsylvania (and the youngest colonel in the Union Army in 1862, at the age of 20), he was awarded the Medal of Honor for valor at Third Winchester in 1864.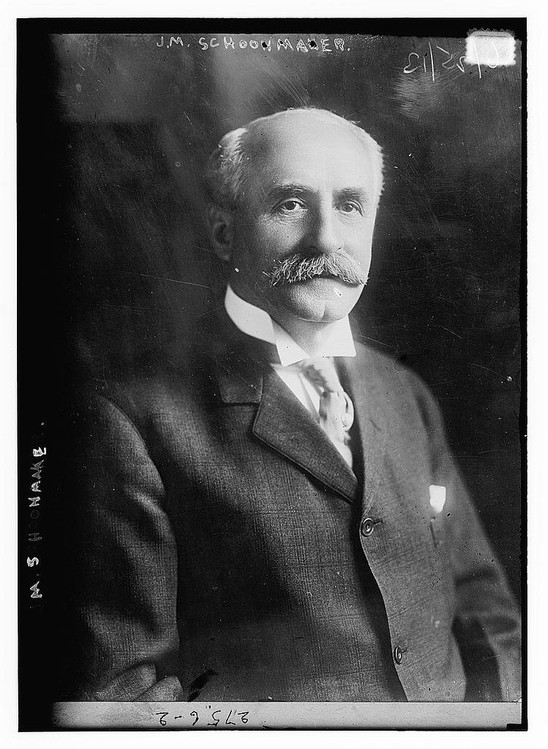 Confederate Col. George S. Patton, who distinguished himself in action throughout the Civil War. Ironically, his troops were among those fighting Averell again at Winchester in 1864, where Patton was mortally wounded.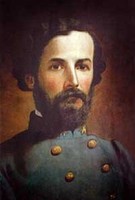 William L. "Mudwall" Jackson, cousin of the famous "Stonewall" Jackson. As the sobriquet suggests, his military career was not as distinguished, though history suggests his leadership was competent--most of the time.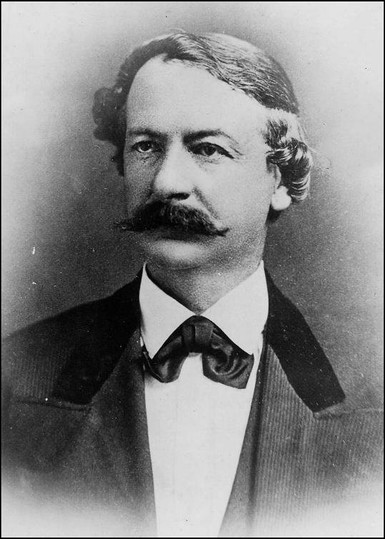 Backstory and Context
After two years of defeats and setbacks, in the span of a few short months in 1863 the balance of the American Civil War shifted and Union forces at last gained the upper hand over the armies of the Confederate States. On June 20, 1863, the fifty-five counties of West Virginia were partitioned off from Virginia and became a new state within the Union. On July 3, the Union army in the eastern theater of war decisively defeated General Robert E. Lee's seemingly invincible Confederate Army at Gettysburg, and on July 4, Ulysses S. Grant's western army took control of Vicksburg, establishing unbroken Union control of the Mississippi River and cutting the Confederacy in twain.

The newborn state of West Virginia needed law books to establish its new state courts, however, copies of which could only be obtained from a repository in Lewisburg--in Confederate-held Greenbrier County. Union cavalry commander General William Woods Averell, a career military officer, was given the task on August 12. Recently made a scapegoat for General Joseph Hooker's disastrous defeat at Chancellorsville a few months before, Averell had only been reassigned to his new command in late May 1863, but in a few short weeks drilled 1,300 West Virginia and Pennsylvania cavalrymen into an effective fighting unit.
Averell's force, the Fourth Separate Brigade, soon headed southward from Petersburg, Virginia, criss-crossing the state line on its route toward Lewisburg while making detours to destroy bridges of the Virginia & Tennessee Railroad and saltpeter works near Franklin. Their march was beset from dawn to dusk by guerillas and bushwackers, who fired at the long columnn of cavalry from concealment. Also attempting to delay Averell's advance was a small force of Confederates under William Lowther "Mudwall" Jackson, a cousin of the famous Thomas J. "Stonewall" Jackson who had been killed at Chancellorsville that May. Mudwall and his troops, however, were soon brushed out of the way as Averell pushed southward from Warm Springs, Virginia.
Confederate resistance in the region, however, soon began to take shape. Along with various commands scattered around the Shenandoah Valley and southward, a force stationed in Lewisburg under the command of Colonel George S. Patton (grandfather of the famous World War II general) was ordered northward to make contact with the elusive Averell. As Averell's position and objectives were unknown to the Confederates on August 25, the Union troops nearly slipped past Patton's men--but at 2am on August 26, Patton received updates on Averell's line of advance, and quickly ordered a forced march back toward White Sulphur Springs.
Shortly after dawn, Averell's advance guard emerged from "Rocky Gap," a narrow defile whose steep sides prevented any flanking movements around the strong defensive positions Patton by then occupied with a force similar in size to that of Averell. The Union commander formed rapidly up for an attack all along Patton's line, pushing forward fresh troops all day in a series of costly advances. Patton's men, protected behind barricades of wooden fenceposts, suffered less, but it was far from an easy fight. Indeed. Finally at 4pm, after hours of attack and counterattack along the length of the line, Averell ordered a mounted charge by a company of Pennsylvania troopers:
"This brave body of men made one of the most daring charges of the war, not only facing a murderous storm of leaden hail from the front but also, to their surprise, received an enfilading fire along their flank from a large body of infantry concealed in a cornfield to the left of the road. On they dashed, regardless of death and danger, and reached the breastworks of felled trees and fence rails thrown across the road."1
Three hundred Confederates fled before the charge, but additional forces rallied and annihilated the charge before it could break the back of Patton's line. Averell also ordered the rest of his line to support the charge, along with a second mounted assault by more Pennsylvanians. All were repulsed with heavy losses. Another mounted charge was made later in the evening, also doomed to fail. Fighting died down with darkness. Both sides had nearly exhausted their ammunition, and slept in their battle lines only 300 yards apart.
The commanders of both sides, unbeknownst to each other, elected to stay and fight the next morning. For Averell, a night attempt to withdraw would have been confused and disastrous. He had also been promised reinforcements and ammunition from Union garrisons on the march from the Kanawha Valley.
Instead, it was Patton who received five cavalry companies during the night. As dawn broke, Averell saw his enemy reinforced in strength, with no word from the Union troops supposedly on their way. Averell chose to retreat, a contingency for which he had vigorously prepared during the night, including sending out men to chop through the trunks of trees along his line of withdrawal, so that after his troops passed the trees could be felled with just a few axe strokes. This proved instrumental in delaying Confederate pursuit and allowing his command to extricate itself in an exhausting fighting withdrawal beset by detachments of Rebel cavalry and bushwackers. The campaign was bloody for such small forces involved, with 218 casualties from Averell's 1,300-man brigade and 167 from Patton's total of 2,000.
Though the battle bought a reprieve for Confederate control of southeast West Virginia (the law books in Lewisburg were moved to Richmond for safekeeping), the victory was short-lived. Averall was back in November at the head of a new raid, and swept aside the last organized Confederate resistance in the state at the Battle of Droop Mountain.
Part of the battlefield resides on the present-day grounds of the Greenbrier Resort, where some of the fallen soldiers' graves can also be found. Three markers near Route 60 tell a fraction of the battle's story, and nearby the Miller House still stands on private property, bearing the scars of bullets, small arms, and the impact of a ten-pound solid shot.
Sources
1. Eric J. Wittenberg, The Battle of White Sulphur Springs, Charleston SC, The History Press, 2011. p.93.

2. Sutton, J.J.. History of the Second Regiment, West Virginia Cavalry. San Bernardino, CA. Old South Books, 2016. Originally published 1892.

3. Lowry, Terry. Last Sleep: The Battle of Droop Mountain. Charleston, West Virginia. Pictorial Histories Publishing Co., Inc., 1996.

4. Bard, David. The Civil War in the New River Valley. Charleston, WV. Quarrier Press, 2004. p. 60-65


Additional Information