Goodrich Memorial Library
Introduction
This historic library is an anchor of Newport's Main Street, and a popular spot for residents and visitors to the city. The library is located in a beautiful and well-maintained building that has served the community since the turn-of-the-century.
Images
Goodrich Memorial Library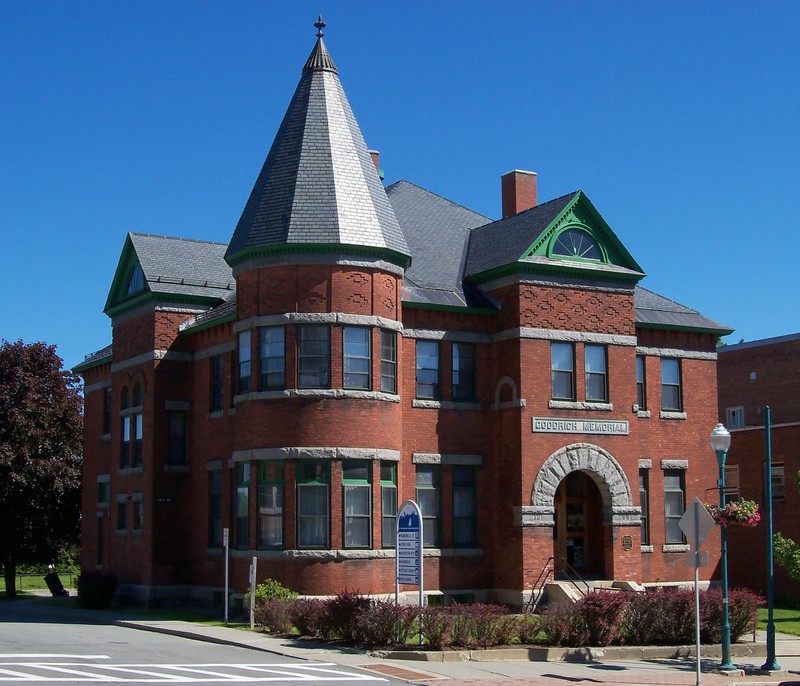 Converse G. Goodrich's last will included funds to create and endow the library, which was completed in 1898 and continues to serve the community.

Backstory and Context
The first library established in the town of Newport, Vermont was made possible by the work and generosity of Dr. John M. Currier in the spring of 1862. Mr. & Mrs. Converse Goodrich decided to build a free-standing library building, but both passed away before it was complete in 1898. In 2003, the Goodrich Library received a substantial grant which allowed the building to be restored to its original beauty and elegance. The building is listed on the National Register of Historic Places and continues to operate as a full service library offering resources and events for all ages. Local history lovers will appreciate its dedicated genealogy section which is staffed by volunteers. Donations to preserve the library's collections are always appreciated. For more information, please click the links below.
Interested in Genealogy & Local History Research? Like most small libraries and town offices, the Goodrich Library does not have paid staff who can help with the detailed individual research. However, the library does have local volunteers who are experienced in local genealogy and history. They ask that inquiries include formal and detailed requests that are specific in describing what work you have already conducted and what assistance you may need. The library volunteers offer the following as a model timeline or chronological order-simply include as many known facts and suppositions so they can best help your search:
1892 est birth of Mary SMITH, VT, possibly Orleans county
1917 marriage of .............. at..............
etc............
The Library volunteers will make every effort to be of assistance to you in your research given limited archives, resources and time restraints. In many cases, the library volunteers can point you in the right direction if they can not provide your specific answer.
Sources
http://goodrichlibrary.org/wordpress/ and personal knowledge
Additional Information