Dr. G.O. McClellan Monument
Introduction
This monument stands in memory of Dr. Gilmer Odell McClellan of Lincoln County. Dr. McClellan, a rural, general practitioner physician, was well known and loved by a vast number of people in Lincoln and surrounding counties. The section of highway that runs through Lincoln country, from Cabell to Logan counties, is also dedicated to the name of the late Dr. D. O. McClellan.
Images
G. O. McClellan Monument in the winter months of West Hamlin, West Virginia.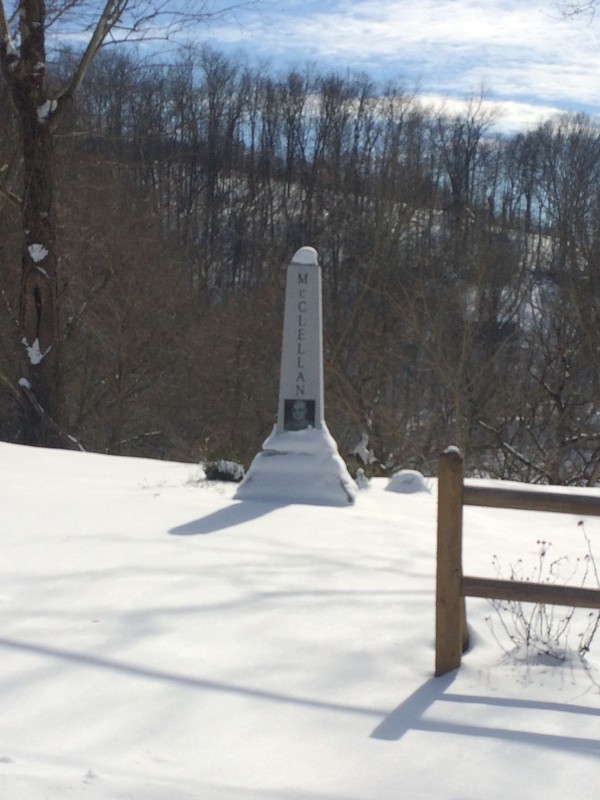 A full view of the monument; there is only information on the front side.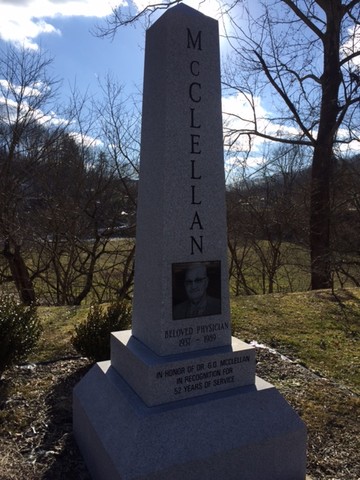 Article written in the Charleston Gazette suggesting a "Dr. G.O. McClellan Day" to celebrate his services. Source: http://www.wikitree.com/wiki/McClellan-334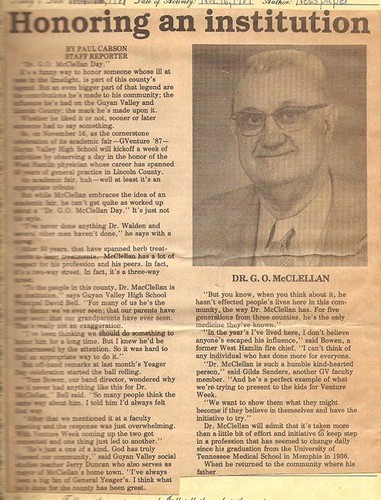 The second page of the article suggesting a "Dr. G.O. McClellan Day." Source: http://www.wikitree.com/wiki/McClellan-334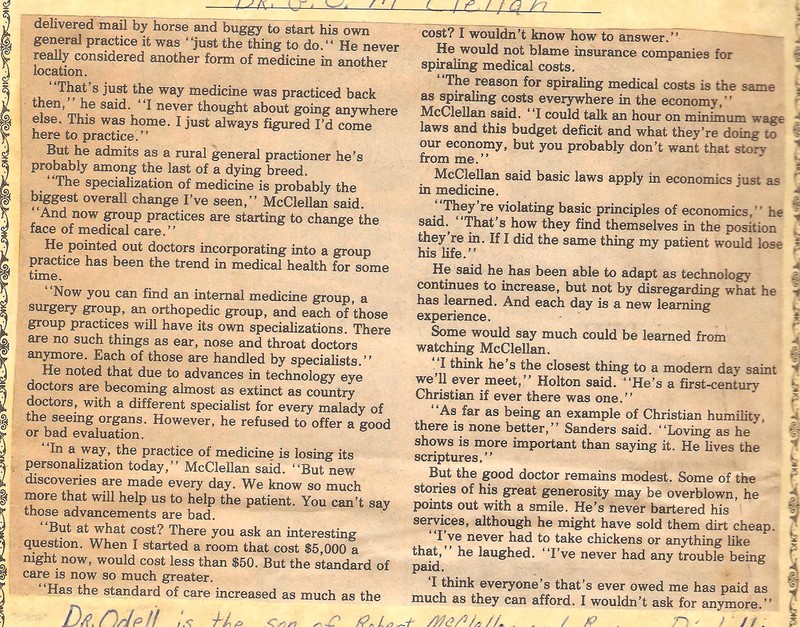 A close up of the monument.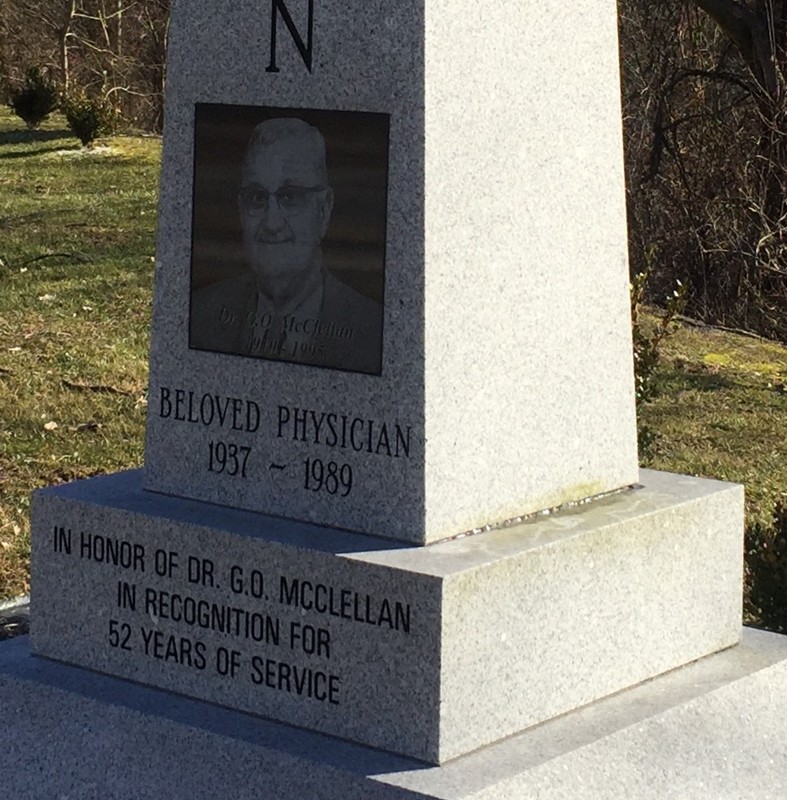 The "Dr. G.O. McClellan Highway" sign on route 10 near Ranger.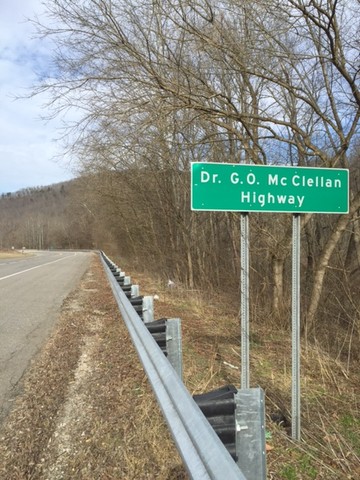 Backstory and Context
Dr. Gilmer Odell McClellan was born on August 23, 1910 and was raised in Branchland, WV. He was a graduate of Guyan Valley High School and pursued higher education at the University of Tennessee Medical School in 1936. After receiving his medical degree, Dr. G.O. McClellan returned to Lincoln County and started a medical practice which served people of the Lincoln County community for fifty-two years. Dr. McClellan was said to have "delivered thousands of babies and provided much needed medical care for little to no compensation."4 He was considered a rural medical doctor, and was widely respected by his community for his Christian faith.
Dr. McClellan died on February 14, 1995 in St. Mary's Hospital. Succeeding his death, a monument was constructed in his honor and placed near the junction of Route 3 and Route 10 in West Hamlin, WV. A section of Route 10 has since been renamed as "Dr. G.O. McClellan Highway" as it runs from Cabell County to Logan County.
According to the Lincoln Journal, a non-profit organization known as Lincoln County Friends of the Arts was responsible for the construction of the Dr. G.O. McClellan monument, along with supporters of the effort who donated monetary funding. The committee in charge of the project had originally envisioned a statue to be erected in honor of Dr. McClellan, however, the anticipated cost of this endeavor would have totaled approximately $150,000; the committee felt this goal would never be attainable due to lack of funding. Therefore, a marble monument was finally constructed in honor of the late Dr. G.O. McClellan.
Sources
1. Davis, Debbie. "Gilmer Odell McClellan (1910-1995)." WikiTree. April 4, 2016. Web. February 8, 2016. http://www.wikitree.com/wiki/McClellan-334 2. Miller, C. "House Concurrent Resolutions No. 59." West Virginia Legislature. Npd. Web. February 8, 2016. http://www.legis.state.wv.us/bill_text_html/2008_SESSIONS/RS/bills/hcr59%20intr.htm 3. O'Donoghue, Sean. "Dr. McClelan Memorial Efforts Resurrected." Lincoln Journal. Npd. Web. February 8, 2016. http://lincolnjournalinc.com/dr-mcclellan-memorial-efforts-resurrected-p5419-1.htm 4. West Virginia Legislature. February 19, 2008. Web. February 8, 2016. http://www.legis.state.wv.us/bulletin_board/2008/rs/House/H_DAILY_JOURNAL/hdj2008-02-19-42.htm
Additional Information