Chatham Square
Introduction
Eight streets converge at Chatham Square, which is named for the Earl of Chatham, William Pitt. The square has a long, rich, and (in some eras) notorious history, having served as an open-air market and a central point of the historic Bowery and Five Points neighborhoods. It is now part of Manhattan's Chinatown.
Images
Chatham Square in 1812, lithograph by George Hayward, (image from D.T. Valentine's manual 1864, digital scan: NYPL MMPCO)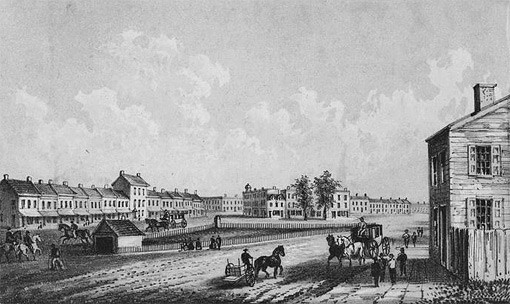 Daguerreotype of Chatham Street looking toward Chatham Square, 1853-1855, artist unknown (image from http://www.metmuseum.org/toah/works-of-art/2005.100.173/ Gilman Collection, Gift of The Howard Gilman Foundation, 2005)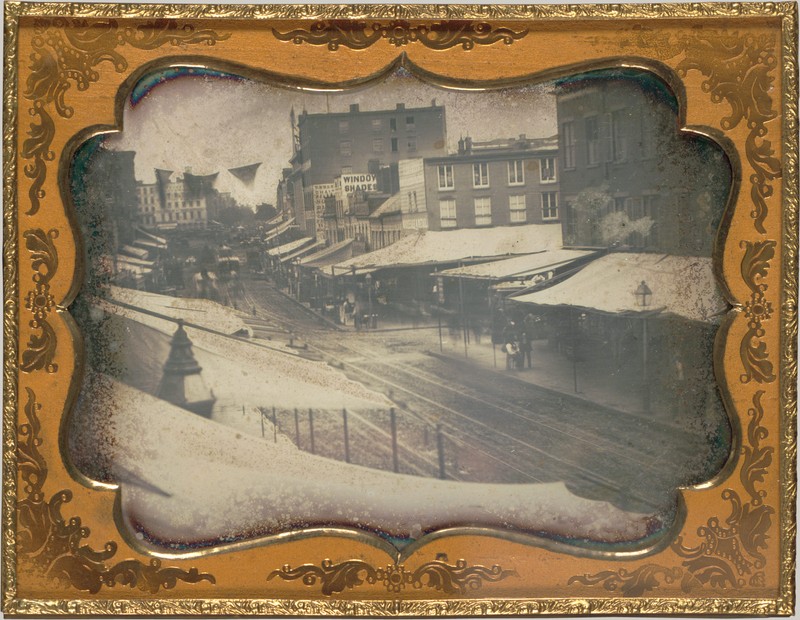 Chatham Square in 1858, lithograph by A. Weingärtner's Lithography (image from Manual of the Corporation of the City of New York, digital scan: NYPL MMPCO)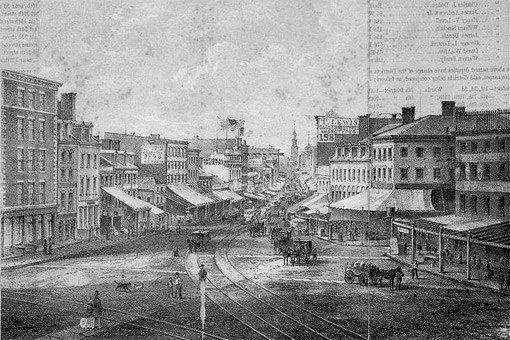 Chatham Square in 1880. Note station and el lines. (image from http://www.columbia.edu/~brennan/beach/chapter19.html http://www.nychinatown.org/chatham.html)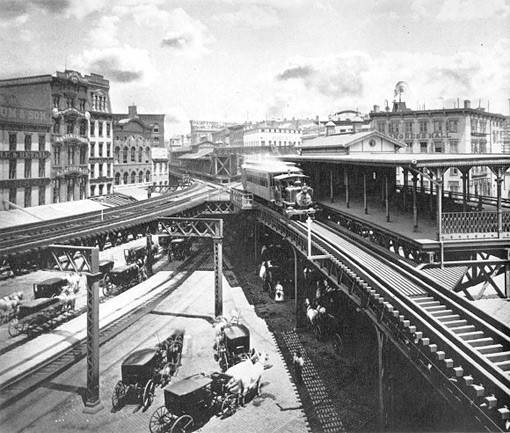 Chatham Square Station, from the Daily Graphic, March 5, 1880. (image from http://www.columbia.edu/~brennan/beach/chapter19.html)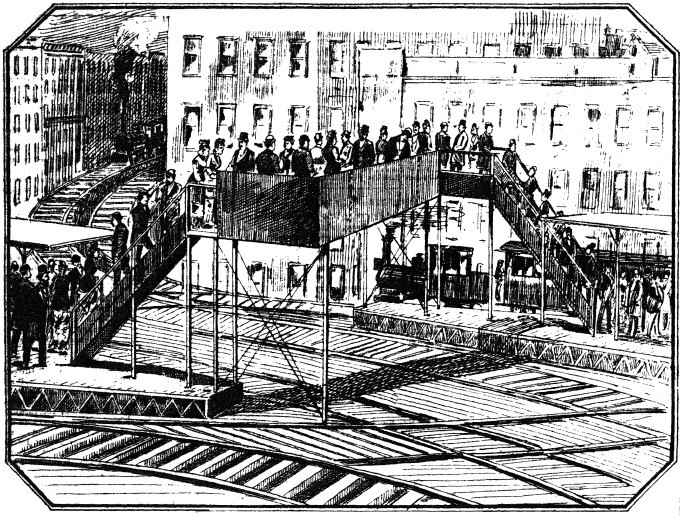 From the Daily Graphic, March 5, 1880. Second Ave. platform on the route to South Ferry on right. Third Ave. downtown train is departing and about to turn into the City Hall Branch. (image from http://www.columbia.edu/~brennan/beach/chapter19.html)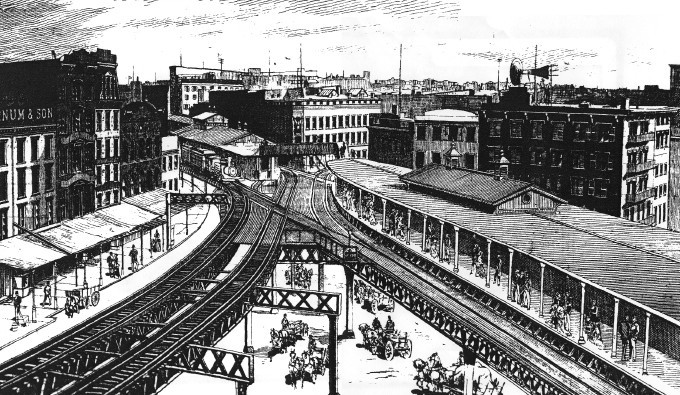 Backstory and Context
The area now called Chatham Square was once a forest clearing named Warpoes (meaning Small Hill). Fenced off for cattle, it was granted to twelve freedmen from the West India Company in 1647, and it grew into an outdoor market trading in horses and housewares during the 18th century. Around the time of the 1837 depression, the square became a site of working class entertainment, and by the middle of the 19th century had become an "Old Times Square of sorts, only 10 times seedier" [3]
. Flophouses and saloons dominated the square and the neighborhood around it. At 1 Chatham Square (or 2 Mott Street), where a 1977 office building now stands, Moses Baker (in the 19th century) based his Five Points gambling operations, private lotteries Baker dubbed "the policy business".
In 1872, former Hong Kong merchant Wo Kee opened a general goods store on Mott Street (one of the many streets leading into Chatham Square), establishing the beginning of Manhattan's Chinatown. Also in the 1870s, Chatham Square Crossing was a busy exchange on the New York rapid transit system; passengers had to transfer at the square to switch between the 2nd and 3rd Street El lines.
At 5 Chatham Square, in 1899, the first American tattoo parlor opened after a barber named Samuel F. O'Reilly created a mechanical tattoo needle based on Thomas Edison's electric engraving pen. In the same year, a branch of the New York Free Circulating Library opened at Chatham Square, replaced in 1903 by the Chatham Square Library (part of the New York Public Library) using funds from Andrew Carnegie's 1901 gift to the city. The new library was designed by the McKim, Mead, and White architectural firm, and had a circulating Chinese language collection as early as 1911. The Chatham Square Library was remodeled in 2001, but the woodwork and windows on the first floor are original, and the lower level boasts a Chinese Heritage Collection.
Chatham Square is also the site of Kimlau Square (see http://theclio.com/web/entry?id=21600 and http://theclio.com/web/entry?id=21601) and Chatham Square Cemetery (see http://theclio.com/web/entry?id=21597).

Sources
1. EXCURSION NO. III.— THE BOWERY AND EAST SIDE. By Frank Bergen Kelley. Copyright, 1905, by the City History Club of New York. (Revised 1909.) in Historical Guide to the City of New York

2. "About the Chatham Square Library." The New York Public Library. Accessed March 19, 2017. http://www.nypl.org/about/locations/chatham-square.

3. "New York City Chinatown > Manhattan > Chatham Square - Kim Lau Square." New York City Chinatown > Manhattan > Chatham Square - Kim Lau Square. Accessed March 19, 2017. http://www.nychinatown.org/chatham.html.

4. Amell, Robert. "The Bowery & Chatham Square, Then and Now." The Bowery & Chatham Square, Then and Now. January 01, 1970. Accessed March 19, 2017. http://manhattanunlocked.blogspot.com/2011/03/bowery-chatham-square-then-and-now.html.

5. http://www.columnbia.edu/~brennan/beach/chapter19.html
Additional Information