James Henry O'Rourke Memorial
Introduction
James Henry O'Rourke is known as one of the most colorful, popular, and accomplished baseball players of the late-19th century. He is widely known for obtaining the first recorded base hit in National League history in 1876, and throughout his career, O'Rourke would play with eight different profession teams during 23 seasons. In addition to baseball, O'Rourke was a law graduate from the Yale Law School and known as an eloquent orator, which even led to his nickname, "Orator Jim." By 1895, James O'Rourke helped organize the Connecticut State League, in which he owned and managed several teams. For one of these teams, O'Rourke hired Harry Herbert, Bridgeport's first African-American resident to play professional baseball (as the son of Irish immigrants, a heavily disparaged community at that time, this was just one of his many contributions to the quelling of stereotypes in the sport of baseball). O'Rourke also built a minor league stadium, Newfield Park, in Bridgeport's East End and made many other contributions to baseball in Bridgeport, New Haven, and throughout Connecticut (as well as the New England area). He played his last game with the New Haven Wings on September 14, 1912, at the age of 62. Outside of Bridgeport Bluefish Stadium, a memorial to James O'Rourke shows the baseball pioneer making that first hit with the National League. Inscriptions around the memorial tell O'Rourke's history with baseball; on its north face, O'Rourke's most endearing quote is inscribed, reading, "Baseball is for all creeds and nationalities."
Images
James Henry O'Rourke Memorial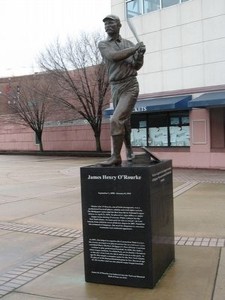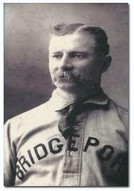 James O'Rourke baseball card, part of the "Old Judge" series of baseball cards (N172), issued by Goodwin & Company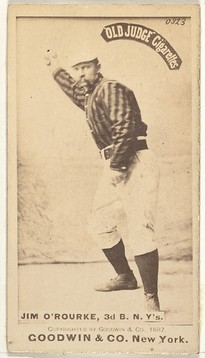 James Henry O'Rourke with the New York Giants, showcasing his famous moustache.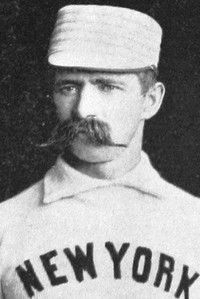 Backstory and Context
James O'Rourke and a Lifetime of Baseball
Born in 1850 to first-generation Irish immigrants in Bridgeport's East End, James O'Rourke grew up on the family farm with his brothers, engaged in daily chores and, in his free time, building his lifelong devotion to the game sweeping the nation at that time: base-ball. By the age of 21, O'Rourke was signed with his first major league team, the Middleton Mansfields, and thus entering the one-year-old National Association. As the legend goes, however, O'Rourke's mother wouldn't let him sign due to the loss of essential help on the farm, and so Mansfields manager Ben Douglas found a farm hand, letting O'Rourke play.
The Mansfields garnered a season record of 5 wins to 19 losses in the National Association, and the team folded. Nonetheless, O'Rourke's made a favorable impression in National Association circles, and he was signed to the Boston Red Stockings in 1872. Throughout several seasons, O'Rourke often stood near the top of the league in terms of hits and runs.
With the disbanding of the National Association and the birth of the National League in 1876, O'Rourke was signed to the Boston Red Caps with a salary of $1,600. Despite his Irish upbringing, which was stereotypically associated with violence and drunkenness, O'Rourke's esteemed oratory skills began to grow during this time, providing the game with an unusual high-brow intellect, a disassociation with alcohol and tobacco, and a new face of the professional baseball player.
As an example of his oratory skills, while O'Rourke was captain and manager of the Buffalo Bisons during the 1881 season, he replied to shortstop Johnny Peters's request for a $10 advance by saying:
"The exigencies of the occasion and the condition of our exchequer will not permit anything of that sort at this period of our existence. Subsequent developments in the field of finance may remove the present gloom and we may emerge into a condition where we may see our way clear to reply in the affirmative to your exceedingly modest request."
By 1885, during offseason with the New York Giants, O'Rourke enrolled in law school at Yale, from which he graduated in 1887. In 1892, O'Rourke had his last season with the major-league, but his association with baseball was far from over. In 1896, O'Rourke assembled eight Connecticut teams into the Naugatuck Valley League, and for eight seasons, O'Rourke played on the Bridgeport Victors' lineup (the team changed the name to the Orators in 1898 in his honor). In 1902, he helped found the minor league National Association of Professional Base Ball Leagues, while also serving as the Bridgeport fire commissioner from 1901 to 1903.
On September 14, 1912, as Connecticut State League president, O'Rourke put on the baseball pads for the final time, catching nine innings with the New Haven Wings in a game against Waterbury. He was 62 years old.1
Inscription on the Historical Marker
'Orator Jim' O'Rourke, son of Irish immigrants, was a professional baseball player, scholar, and civil rights activist. The Bridgeport native had the first base hit in National League history on April 22, 1876. He played for eight different major league teams during 23 seasons; While a player for the New York Giants, the team paid for Jim to attend Yale Law School, from which he received his law degree in 1887. Noted for his command of language, Jim used his eloquence to entertain teammates and confound opponents.
In 1895, Jim helped to organize the Connecticut State League. He owned, managed and played catcher for several local teams. and hired Harry Herbert, Bridgeport's first African-American resident to play professional baseball. In 1898, Jim built a minor league stadium, Newfield Park, on his family's farmland in the city's East End; the site is still in use as a city park. At age 54, Jim caught a complete game for the New York Giants. He played in his final professional game in New Haven at age 62. His brother and son also played major league baseball.
James H. O'Rourke was inducted into the National Baseball Hall of Fame in 1945.
(South face)
"We have been given the best of support by the people of Bridgeport. They want a baseball team and I intend to give it to them."
(North face)
"Baseball is for all creeds and nationalities."2
Sources
1.) Bill Lamb, "Jim O'Rourke." Society for American Baseball Research, sabr.org, accessed February 10th, 2016, http://sabr.org/bioproj/person/b7e9aba2 2.) "James Henry O'Rourke." Historical Marker Database, hmdb.org, accessed February 10th, 2016, http://www.hmdb.org/marker.asp?marker=91832
Additional Information