Cathedral of Our Lady of Lourdes
Introduction
The first Catholic congregation in Spokane met in a carpenter's shop in 1881. The city suffered a destructive fire in 1889, but soon became one of the leading cities of the region thanks to the Northern Pacific Railroad. Migration to the city increased throughout the late 19th and early 20th centuries as immigrants from central Europe flocked to America. These immigration patterns led to an increase in Spokane's Catholic population-a factor that led to a dramatic increase in the number of congregants. After building what would become a temporary church building, the congregation embarked upon the construction of this Italian Romanesque cathedral in 1903. Within a decade, the church was named the cathedral of the newly-created Spokane Diocese.
Images
The cathedral features stained glass imported from Bavaria, a Kimball organ, and two towers which stand 164 feet above street level.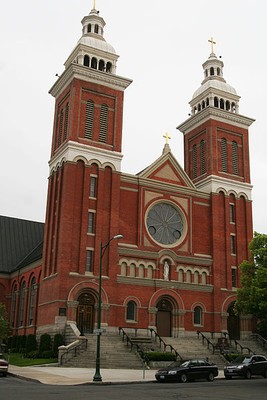 This 1889 image from the Washington State University Library features two buildings that preceded the current church, the parish school, and an early image of Gonzaga College.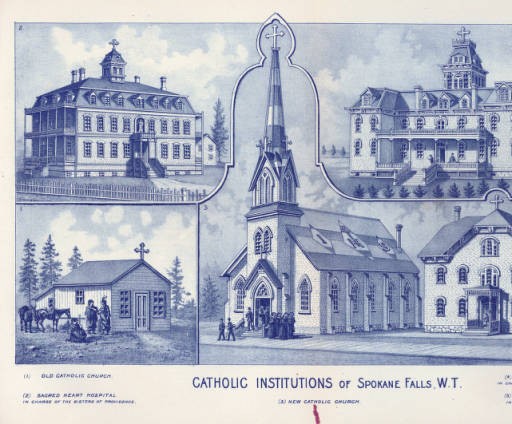 Sources
Archives of the Catholic Diocese of Spokane, http://archives.dioceseofspokane.org/Spokane_Diocese_Archive/Welcome.html accessed 2/8/16 Catholic institutions of Spokane Falls, W. T. (1889) Washington State University Library , http://content.libraries.wsu.edu/cdm/ref/collection/maps/id/562 accessed 2/8/16 The Cathedral of Our Lady of Lourdes website, http://www.spokanecathedral.com/ ccessed 2/8/16
Additional Information