Confederate Veterans Memorial Monument
Introduction
This Confederate monument, a 52-foot sandstone obelisk, was dedicated in 1905 by the United Daughters of the Confederacy. The monument has stood at the entrance to Linn Park for over a century, but renewed concern about the Confederacy's support of slavery and other forms of racial discrimination led many Birmingham residents to call for the removal of the statue in recent years. In addition, many believe that the quote selected for inclusion on the monument glorifies war by stating that "the manner of their death (Confederate soldiers) was the crowning glory of their lives."
Images
This Confederate monument was dedicated in 1905. Two women presided over the dedication ceremony.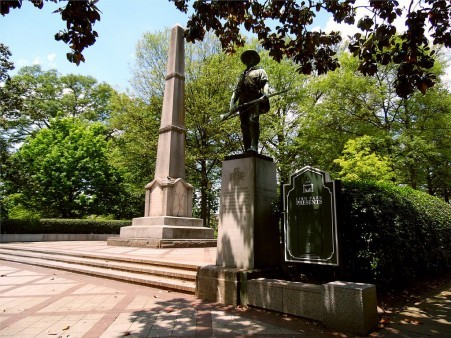 Backstory and Context
Scholars have been careful to differentiate between Confederate monuments that were built and dedicated at cemeteries shortly after the war and those that were built at the turn of the century. While the early monuments emphasized the valor of individual soldiers, many of the monuments of the early 1900s were grandiose statues that placed Confederate leaders on horseback. The fact that these statues were placed in prominent locations and resemble those of conquering forces have not been lost on scholars, who are quick to connect these statues to the celebration of the "Lost Cause" and a desire to erase the history of the South's defeat and Reconstruction.

This monument blends aspects of both eras. Speeches at the dedication spoke of "Southern rights" - a phrase that connoted the South's desire for control over local matters including race relations. At the same time, the dedication of this monument included calls for reconciliation with the North by two women who were both leaders of the effort to raise funds for the monument. Absent from the remarks of these two women are the indirect and sometimes direct references to white racial solidarity that were often present at other Confederate monument dedications.

In the summer of 2015, Birmingham Park and Recreation Board voted unanimously in favor of moving the monument to "an appropriate location." The future of the monument is uncertain, while many local residents express concern with each of the proposed courses of action for fear that removal might lead to unintended consequences. Some suggest that the monument be moved to a museum where it could be accompanied by historic interpretation of the war, slavery, and the state of race relations throughout the city when the monument was created. At that time, schools were cancelled so that children could join their parents in celebrating April 26th as "Confederate Memorial Day."
Sources
Confederate Monument Is Unveiled in Capitol Park," Birmingham Age-Herald, April 27, 1905,

Rachel Osier Lindley, "Birmingham Officials Move To Relocate Confederate Monument" July 1, 2015/ https://news.wbhm.org/feature/2015/birmingham-officials-approve-removal-of-Confederate-monument/
Additional Information