Old South Parades
Introduction
Old South Parades were around on The University of Alabama's campus from 1949-2010. These parades consisted of members dressing in Confederate soldier clothing, antebellum style dresses and carrying Confederate flags with them. Inspired by the movie Gone With the Wind, the Old South Parades were started by Kappa Alpha fraternity as a way to commemorate their founders. They were eventually banned in 2010 after an incident involving Alpha Kappa Alpha, a historically Black sorority, which involved the parade being stopped in front of the sorority's house while members were celebrating it's 35th anniversary.
Images
Mention of the Old South Ball in the 1949 University of Alabama Corolla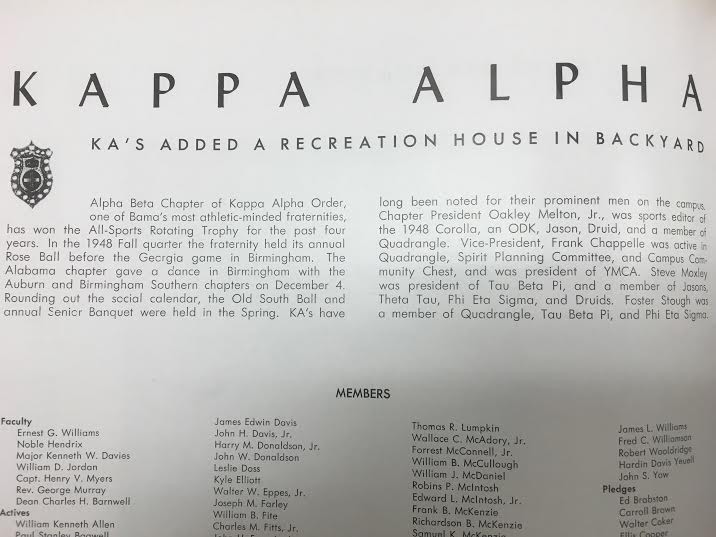 List of the 1949 members of the Alpha Beta Chapter Kappa Alpha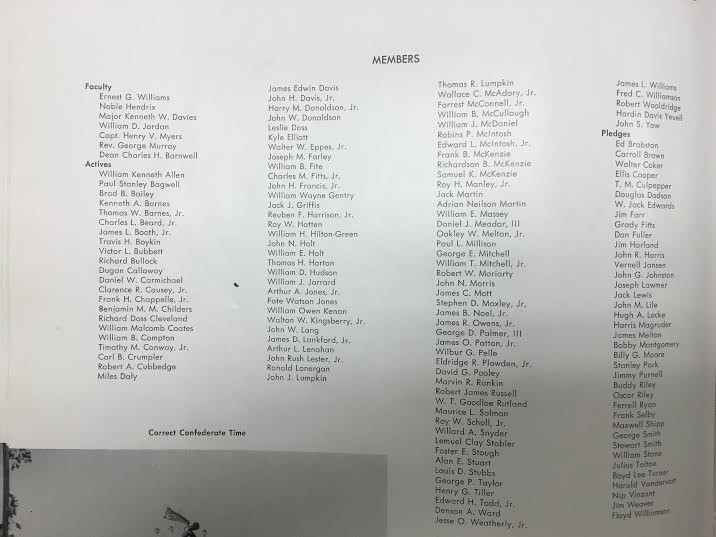 Picture of Kappa Alpha House, 1949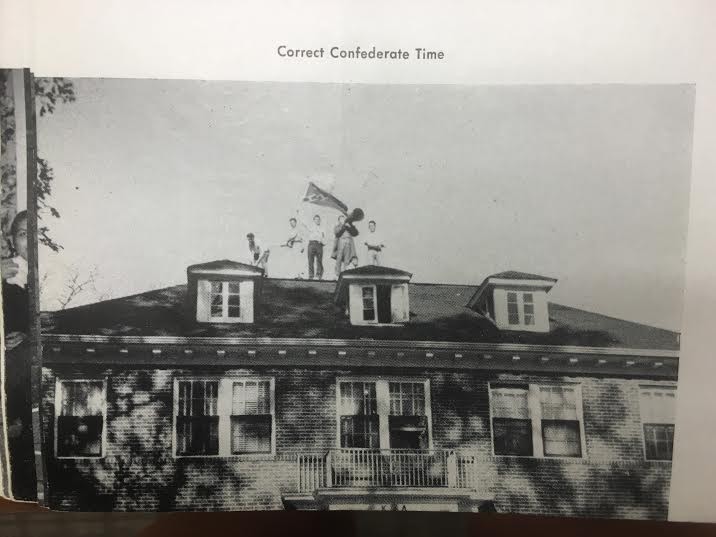 Picture of members of Alpha Beta Chapter Kappa Alpha, 1949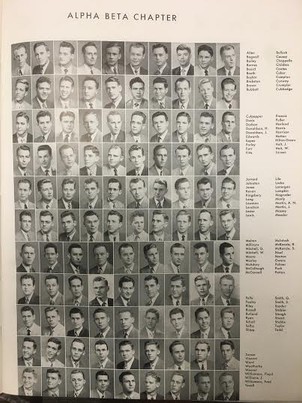 Backstory and Context
Old South Parades, typically held during "Old South Week," were founded at Mercer University in 1939 as a way for the Kappa Alpha fraternity to honor the men that founded their fraternity at Washington Lee University in 1865.
[1]
This includes Robert E. Lee, whom Kappa Alpha states as their "spiritual founder."
[2]
The parades and annual "Old South Ball" were inspired by the movie "Gone With the Wind." The parades and ball didn't come to The University of Alabama until the spring of 1949, a year after the Dixiecrat movement started.
[3]
These parades traditionally featured members outfitted in cotillion dresses and Confederate soldier uniforms, complete with Confederate flags waving. The parade route typically stayed around the Quad and Denny Chimes.
That is until 2010, when the fraternity hosting the parade, Kappa Alpha, veered off the path and stopped in front of the historically Black group Alpha Kappa Alpha's house, where the sorority was holding an event to celebrate its 35th anniversary. Coincidentally, Kappa Alpha Law R16-113, Section B states, "These chapter functions have never been prescribed or recommended by the Order." The law goes on to say, "The chapter functions have been admonished by the Order since 1951 that if they sponsor an Old South Ball and/or Dixie Ball, the event must be conducted with restraint and dignity and without displays of trappings and symbols which might be interpreted and objectionable to the general public." [4] The sorority requested an apology from Kappa Alpha while their trucks were in front of the house. However, they did not receive one at that time. Later, local and national fraternity leaders apologized. Alpha Kappa Alpha alumnae sent a letter to The University of Alabama President Robert Witt asking for all Old South events to be cancelled.
Sources
[1] The University of Alabama Corolla, 1949 [2] Janet Shan, "Controversy at University of Alabama," Hinterland Gazette, May 14, 2009, http://hinterlandgazette.com/2009/05/controversy-at-university-of-alabama-as.html [3] J. Michael Martinez, William D. Richardson, Ron McNinch-Su, "Confederate Symbols in the Contemporary South" [4] Tim Abram, "Kappa Alpha Order and the Old South"