Ogden Museum of Southern Art
Introduction
Home to the world's largest collection of Southern art, the Ogden Museum first opened its doors to the public in 2003. The museum's collection contains over 4,000 paintings, watercolors, prints, drawings, photographs and sculptures that are housed in several buildings located near Lee Circle. Affiliated with the University of New Orleans, the museum was started with the donation of over 1,200 items from New Orleans businessman and philanthropist, Roger Ogden. Its focus is on Southern visual art from 1733 to the present.
Images
Goldring Hall, home to the Ogden Museum of Southern Art.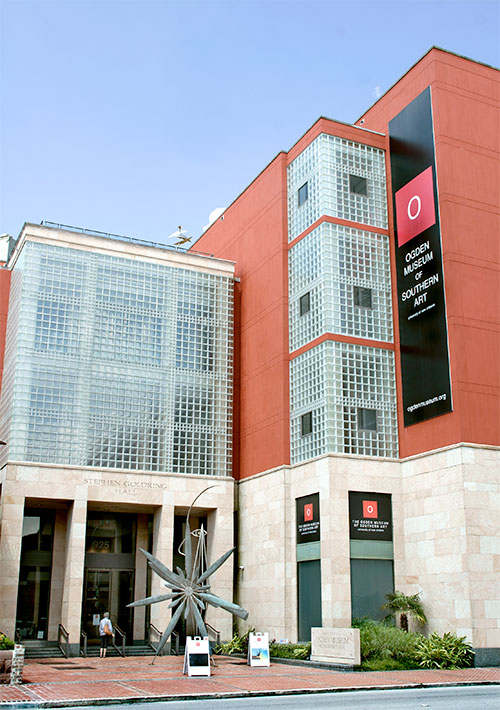 Exhibit space within the museum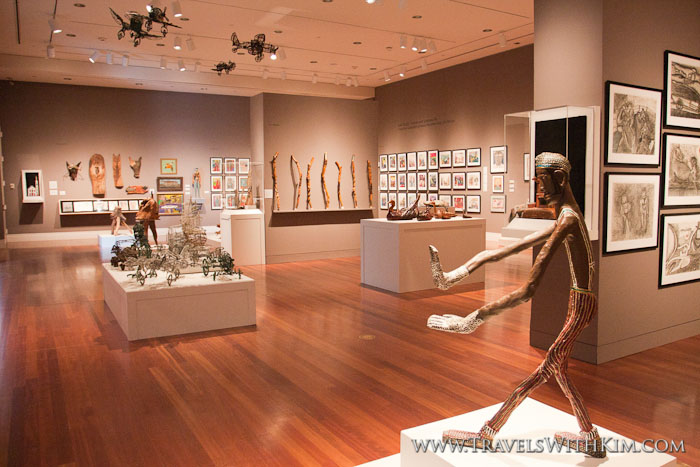 The rooftop terrace atop Goldring Hall.

Gallery space inside the Ogden.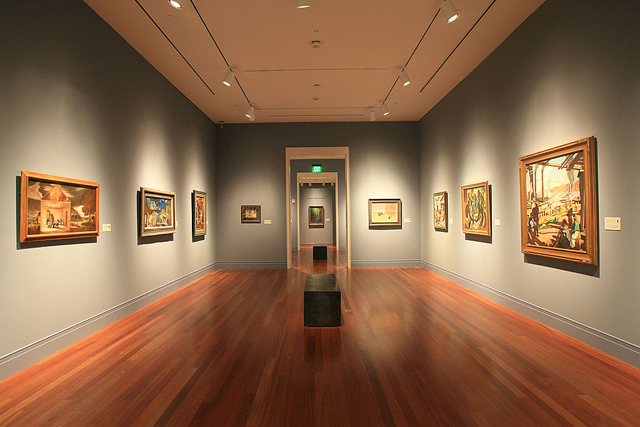 The roof soars over event space within the Patrick F. Taylor Memorial Library.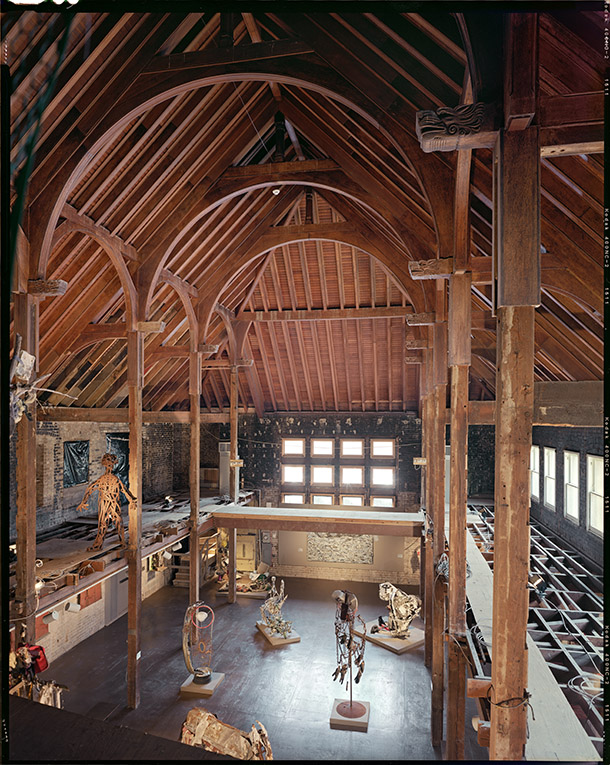 Backstory and Context
Ogden's collection of southern art began in 1966 when he and his father purchased their first piece as a gift for Ogden's mother. Since then, he continued to add to his collection and eventually realized that it should be shared with the public. To that end, he created two travelling exhibits in 1993 and began plans for a permanent home in 1994 in conjunction with the University of New Orleans. By 1999 the five-story Stephen Goldring Hall was well on its way to completion. With 47,000 square feet of exhibit space, Goldring Hall opened with great fanfare in 2003. The Ogden focuses on artists associated with 15 Southern states and they are: Alabama, Arkansas, Florida, Georgia, Kentucky, Louisiana, Maryland, North Carolina, Oklahoma, South Carolina, Tennessee, Texas, Virginia, West Virginia and Washington DC.
The Ogden has since expanded its home into the Howard Memorial Library, which was built in 1889 and has recently been restored. The library was designed by renowned architect Henry Hobson Richardson as a memorial to Charles Howard, founder of the Louisiana State Lottery Company. It opened with 4,000 volumes that expanded to over 86,000 by the late 1930s. Its collection was then transferred to Tulane University in 1939 and the building suffered extensive fire damage in the 1940s. Since that time it served as a home to a radio station, office space and a law firm.
It was then purchased, restored and rededicated as the Patrick F. Taylor Memorial Library by the Taylor family in the late 1980s. It is now primarily used as event space by the museum and hosts its annual Magnolia Ball and O What a Night Gala! Connected to the library is the Clementine Hunter Wing which is devoted to the art and life of the self-taught artist. The museum also features special events such as its Ogden After Hours program which occurs every Thursday from 6:00-8:00 and features southern musicians.
Included among the museum's collection are portraits by Jacques Amans and southern landscapes by William Henry Buck, Richard Clague and Clarence Millet. The museum features permanent as well as rotating exhibits. Permanent exhibits are devoted to Walter Inglis Anderson, Will Henry Stevens, Benny Andrews and, thematically to southern landscapes, historic Louisiana portraits and Southern regionalists. Past and present rotating exhibits have included Michael Meads: Bent Not Broken, Bill Yates: Sweetheart Roller Skating Rink, and Keith and Chandra McCormick: Slavery, The Prison Industrial Complex.
Sources
"About the Ogden." Ogden Museum of Southern Art. Accessed February 3, 2017. http://ogdenmuseum.org/about/history/
Kinzer, Stephen. "Embracing Southern Art: Old Times There Are Not Forgotten. The New York Times. November 12, 2003. Accessed February 3, 2017. http://www.nytimes.com/2003/11/12/arts/embracing-southern-art-old-times-there-are-not-forgotten.html
Ulaby, Neda. "Forget the Wreckage: Museums' Katrina Shows Look at how City has Moved on." National Public Radio. August 9, 2005. Accessed February 3, 2017. http://www.npr.org/2015/08/09/428990937/forget-the-wreckage-museums-katrina-shows-look-at-how-city-h...
Additional Information