Carrollton Building, Maryland State Normal School, 1875
Introduction
Maryland State Normal School, now Towson University, was established in 1865. The fledgling school rented space in existing buildings throughout this area of downtown Baltimore until 1876, when this classroom, library, and administrative building was opened. This building was soon inadequate to house the growing school, fueled by increased demand for trained educators in the rapidly-growing public schools of the state. However, there was little room for the school to expand within this section of the city. With the support of the state legislature, the school expanded to its current location in Towson with the acquisition of former farmland and the construction of several buildings in 1915.
Images
The Carrollton Building was completed in 1875 and served as the home of Maryland State Normal School until 1915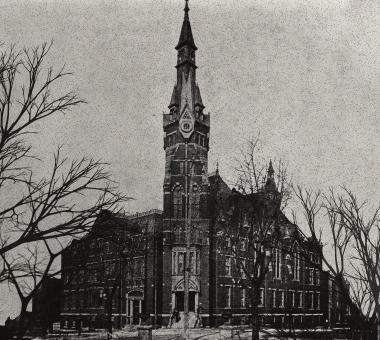 Backstory and Context
The Carrollton Building was built at a cost of approximately $100,000 and boasted ten classrooms, offices, a library, and a reception room. The building served several purposes after the school moved to its suburban location and was razed in 1975.
Additional Information