G.A. R. Civil War Memorial
Introduction
Bloomington's Soldiers of All Wars Memorial Marker was funded by the local chapter of the Grand Army of the Republic--a fraternal order created by Union veterans after the Civil War--and dedicated in 1928. The monument was designed by George W. Bunting and carved by Henry McIlveen and Josef Graf. The monument contains a statue of a typical Civil War soldier atop a large pedestal with friezes on each of its four sides that depict scenes from the War With Mexico (1848), the Civil War 1861-1865), Spanish-American War (1898-1901), and World War I (1914-1918. Near this statue is a 816-pound cannon removed from the USS Phoenix in 1864.
Images
This historic monument was built in 1928 to honor the remaining veterans of the Civil war from Indiana, as well as the veterans of other conflicts
Learn more about Indiana in the Civil War Era with this book from the Indiana Historical Society.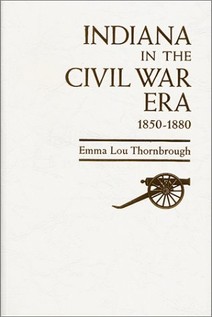 Sources
Brochure of the Monroe County Courthouse, History of Bloomington website https://bloomington.in.gov/media/media/application/pdf/3922.pdf
Additional Information