Center School Historical Marker
Introduction
Prior to 1874, white and Black students attended the city's Center School at this location. White students attended classes on the school's first floor while Black students of all ages were educated in a separate room upstairs. As the city's population grew, the city constructed a new school for area white students and this school was reserved for African American students. In 1881, there were 54 students attending the school. By 1915, this number had increased to 93 students. In this year, the Center School or "Colored School" as it was generally known, was replaced by the Banneker School at 930 West Seventh Street. That building is now a community center but retains its name which honors early Black inventor and author Benjamin Banneker. The elementary schools of Bloomington remained segregated even after the 1949 Indiana state law that required an end to segregated schools. By 1951, the school of Bloomington were integrated--three years prior to the US Supreme Court's decision in Brown v. Board that outlawed racial segregation in public school systems.
Images
This historic marker was dedicated in 2005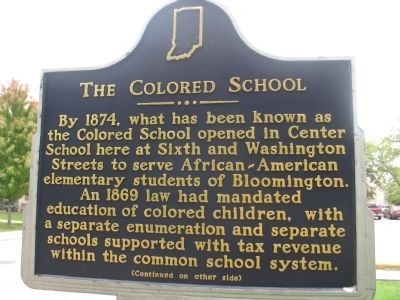 Backstory and Context
Although permitted by law, the majority of Bloomington's school districts did not explicitly practice racial segregation by the end of Reconstruction (the late 1870s). According to William Reese's study of all Indiana schools, 31 of the state's 92 counties maintained separate schools in 1916. This number declined to 21 counties by the 1948-1959 school year.
Sources
William Reese, Hoosier Schools: Past and Present, Indiana University Press, 1998, p. 175-7 Bloomington World, December 2, 1915
Additional Information