Koko Head District Park
Introduction
The Koko Crater Summit (Puu Mai) old railway trail is approximately 1.4 miles round trip depending on your start point. Also known as the "Koko Head Trail" is located near Honolulu, HI. The trail has a 1,206 peak atop Koko Crater's rim and is primarily used for hiking and trail running and is accessible year-round. Dogs are also able to use this trail but must be kept on leash, and of course do not forget the clean up after them. Take WATER and a camera! Great for training, lots of athletes use this for workouts, and most of all there are some spectacular views of the Koko Crater and the surrounding areas.
Images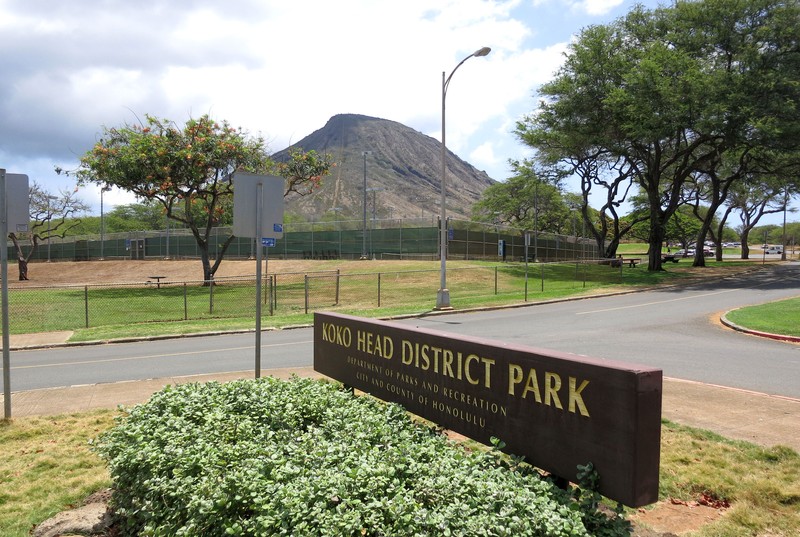 Koko Head view from the bottom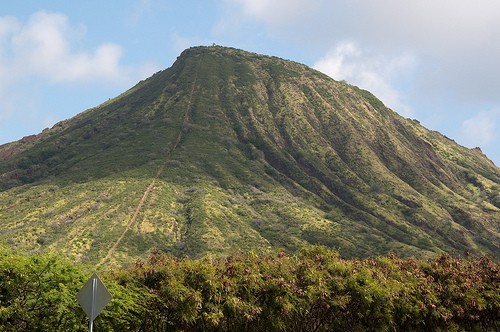 Near the top of Koko Head overlooking Hanauma Bay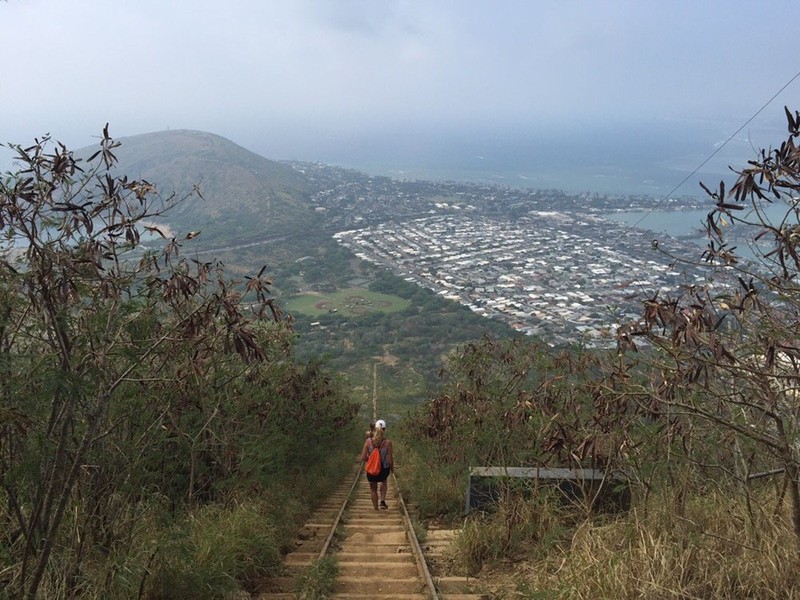 The bottom (start) to the top of Koko Head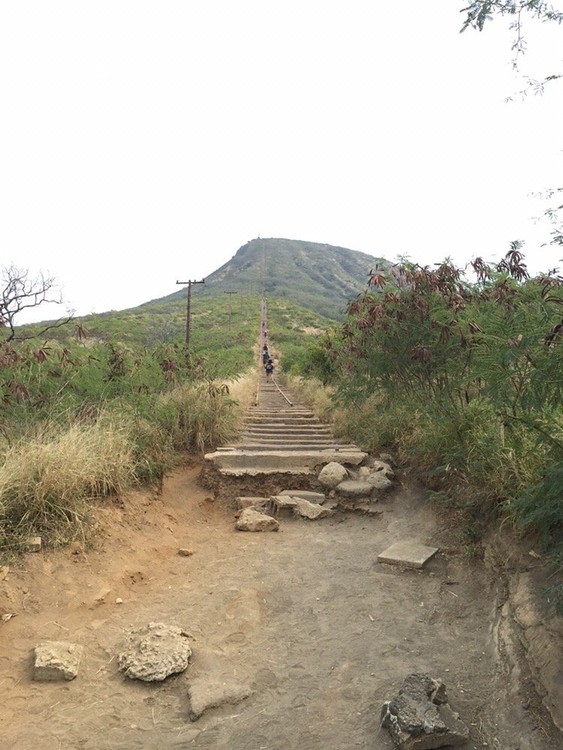 Backstory and Context
The Koko Head Trail is approximately 1,106 steps on wooden ties under the railroad tracks from the bottom to the summit. The step-like cross ties are from an abandoned railway that runs along the crater's west side. This is one of the best trails leading to Puu Mai, the craters highest peak. Originally built over 60 years ago, the remnants of the cable car railway were used by the military during World War II to transport personnel and supplies to a lookout post on the summit. This will get the heart pumping and is not for those with bad knees. It is a tough hike and challenging work out that offers an awesome view at the top. Time to the summit for an in-shape hiker/climber is around 15-20 minutes. For those that are in average shape could expect around a 30 minute hike (AllTrails).
To get to the lookout point, you must traverse over the approximately 1,408 railroad ties. The hike is very steep and there is short, bridge-like area that some people find scary because the railroad tracks are above the ground. There is an alternative route/trail to the right if you want to bypass bridge. The wooden trestle bridge isn't the only hazard on the trail. The last part of the hike is as vertical as it gets with steps spaced about two feet high. If your legs aren't already burning by this point, this last push to the top will ensure you'll feel the burn. But the pain is worth the gain when you reach the summit. Once you arrive to the top, you are able to look down into the craters horse stables and the Koko Crater Botanical Garden, home to many cacti and succulents (To-Hawaii.com). While at the top you can enjoy a beautiful 360 degree scenic view of Diamond Head, Hanauma, Bay, Makapu'u Head, Hawaii Kai, Honolulu, and Waikiki (Schroeder)
Access to this trail starts at Koko Head Park in Hawaii Kai. The first part of the hike is over a newly landscaped hill behind Goeas Baseball Field to the bottom of the old rail track. It's a heck of a workout, but the rewards are worth it. Parts of the decades-old railway trail are in disrepair so you need to be aware of your footing throughout the hike. If you do go, prepare accordingly and proceed with caution. Hiking down Koko head is much easier and faster, but still offers a challenge with your footing
Sources
AllTrails (n.d.) National Geographic: Koko Crater Railway Trail. Retrieved January 23, 2016 from http://alltrails.com/trail/us/hawaii/koko-crater-railway-trail Schroeder, D. (2013).Stairway to Heaven: Koko Crater Trail, Oahu. Retrieved January 23, 2016 from http://www.sandiegoreader.com/news/2013/apr/02/travel-koko-crater-trail-oahu-stairway-heaven/# To-Hawaii.com (n.d.). Koko Head Crater. Retrieved January 23, 2016 from http://www.to-hawaii.com/oahu/attractions/kokoheadcrater.php
Additional Information