Red Rocks Park and Amphitheatre
Introduction
Red Rocks Amphitheatre is a rock structure near Morrison, Colorado, 10 miles west of Denver. The amphitheatre is owned and operated by the City and County of Denver, Colorado and is located in Red Rocks Park, part of the Denver Mountain Parks system. Upon completion of the amphitheatre to its present form by the Civilian Conservation Corps, the venue was formally dedicated on June 15, 1941. It has held regular concert seasons every year since 1947.
Images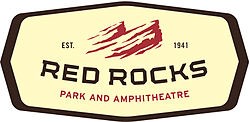 Photograph from seats in Red Rocks Amphitheatre. Courtesy of Denver Arts & Venues, photo by Andrew Kowalyshyn.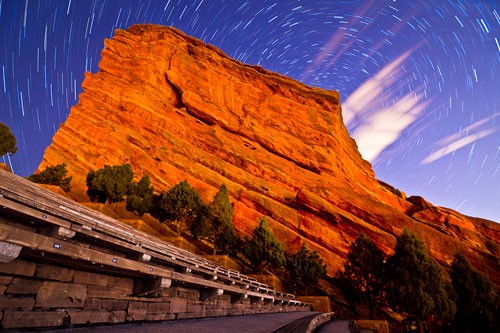 Backstory and Context
John Brisben Walker had a vision of artists performing on a stage nestled in the perfect acoustic surroundings of Red Rocks, which likely were used by the Ute tribe in earlier times. Walker produced a number of concerts between 1906 and 1910 on a temporary platform. From his dream, the history of Red Rocks as an entertainment venue began.
Geologically, the rocks surrounding the Amphitheatre are representative of the Fountain Formation. Originally the place was known as the "Garden of the Angels" (1870s-1906), and then as "Garden of the Titans." The park, however, had always been known by the folk name of "Red Rocks", which became its formal name when Denver acquired it in 1928.
In 1927, George Cranmer, Manager of Denver Parks, convinced the City of Denver to purchase the area of Red Rocks from Walker for the price of $54,133. Cranmer convinced Benjamin Franklin Stapleton, the Mayor of Denver, Colorado, to build on the foundation laid by Walker. Red Rocks Amphitheatre was designed by Denver architect Burnham Hoyt. By enlisting the help of the federally sponsored Civilian Conservation Corps (CCC), and the Works Progress Administration (WPA), labor and materials were provided for the venture. Construction of the amphitheatre began in 1936 and was completed in 1941.
It has held regular concert seasons every year since 1947. The first performance of each season is the Easter Sunrise Service, a non-denominational service on Easter Sunday of each year.
An incident during a performance by Jethro Tull on June 10, 1971, led to a five-year ban of rock concerts at Red Rocks.
More than just a concert venue, at 6,450 feet above sea level, Red Rocks Park is a unique transitional zone where the Great Plains meet the Rocky Mountains. The diverse environment allows visitors to see plants, birds and animals of both regions. Red Rocks Park is a Denver Mountain Park and has two hiking/biking trails, one of which connects to Jefferson County's Matthews-Winters park.
Sources
http://redrocksonline.com/ https://en.wikipedia.org/wiki/Red_Rocks_Amphitheatre#Performances
Additional Information