Battery Gregg, Fort Mott State Park
Introduction
Completed in 1900, Battery Gregg was one of two five-inch coastal artillery batteries located at Fort Mott. It was named in honor of Captain John Gregg who perished in the Spanish American War. Unlike the rest of Fort Mott's coastal artillery, Battery Gregg's two guns could turn 360 degrees, allowing them to protect the rear of the rest of Fort Mott's large guns.
Images
View of one of the large gun emplacements. The biggest guns at the fort were twenty inches wide; the smallest were three inches.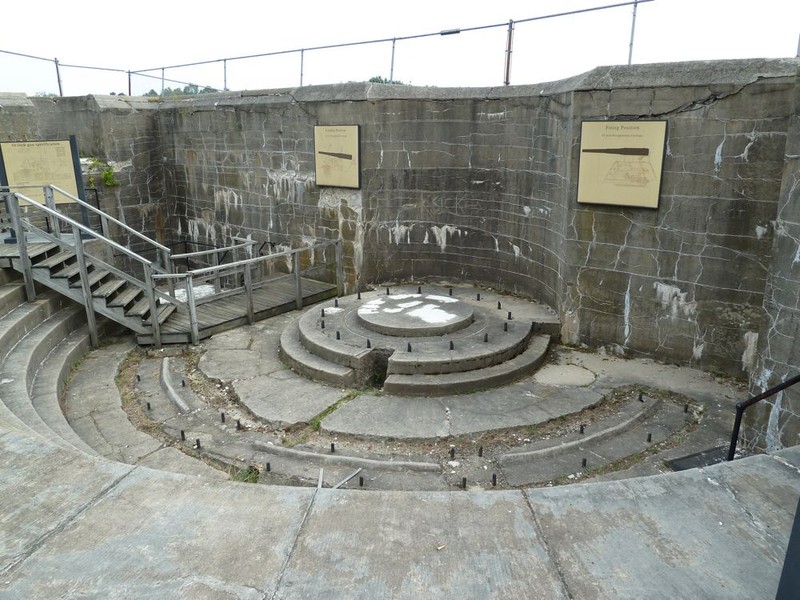 This path runs along the entire length of the fort.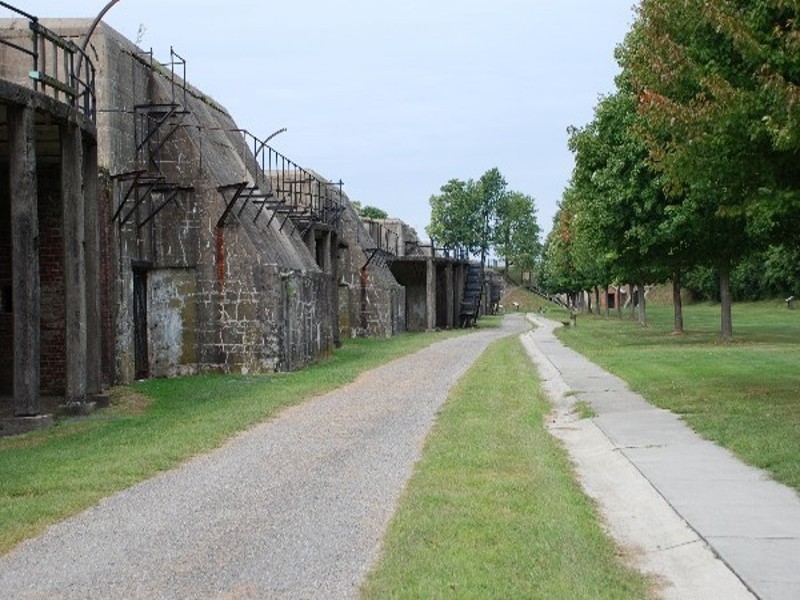 Another view of the fortifications.

Backstory and Context
This area is known as Finns Point, named for the Finns and Swedes that first colonized the area.
The land that would become Fort Mott was purchased in 1837 by the US Army. The plan was to fortify it to reinforce the defensive position on nearby Pea Patch Island. However the Civil War broke out before the Army Corps of Engineers could turn their attention from Fort Delaware on Pea Patch Island to mainland New Jersey.
In 1872, the Corps of Engineers finally got a chance to start fortifying Finns Point, but the project was abandoned in 1876 when they ran out of funds. In 1882, Theodore Roosevelt published "The Naval War of 1812," leading to a transformation of US military policy. Under this new policy, the US navy would be expanded and become more interventionalist. Additionally, new Army seacoast defenses would be built to allow naval forces to turn their focus away from domestic waterways and harbors to abroad. On the Delaware River, these defenses consisted of Fort Delaware, brand new Fort Mott at Finns Point, and Fort DuPont in Delaware City.
Fort Mott was named after Major General Gershom Mott, who was an officer in the United States Army He served as Second Lieutenant in the 10th Infantry during the Mexican-American War and as a Lieutenant-Colonel in the 5th New Jersey Volunteer Infantry in the Eastern Theater of the Civil War. He was badly wounded during his service and resigned from duty in 1866, later dying in 1884.
The guns at Fort Mott were organized into groups, called batteries, which were named after other Officers who the Army thought would be good role models for their soldiers. The two main batteries consisted of 10 and 12 inch disappearing guns. (Gun sizes are based on their bore: the diameter of the interior of their gun barrel) Battery Arnold was named after Brigadier General Lewis G. Arnold, who served as an artillery general in the Civil War, most notably in Florida. General Arnold would die after the war on September 22, 1871 in Boston, Massachusetts. Battery Harker was named after Brigadier General Charles G. Harker, who served with the Union Army and died in the Battle of Kennesaw Mountain in Georgia. These guns were supplemented with three batteries of smaller 5 and 3 inch rapid fire guns.
Troops were stationed here from 1897 to 1922 when Fort Saulsbury, near Milford, Delaware, was completed. This new fort made the three earlier forts obsolete. A caretaking detachment remained at Fort Mott to maintain the last three guns until 1943 when the fort was declared surplus. The state of New Jersey acquired the military base to become a state park in 1947. Fort Mott State Park was officially opened in 1951. The park, along with adjacent Finn's Point National Cemetery, was put on U.S. National Register of Historic Places in 1978 as a historic district. Today, the park is owned and operated by the New Jersey Division of Parks and Forestry. Visitors can explore the fortifications, walk along an interpretive nature trail, and visit the museum.
Sources
"Fort Mott State Park," New Jersey State Park Service. Accessed July 12th 2021.
https://www.njparksandforests.org/parks/fortmottstatepark.html
"A Guide to Fort Mott State Park," New Jersey Leisure Guide. Accessed July 12th 2021. https://www.new-jersey-leisure-guide.com/fort-mott.html
Danby, Nicholas. Theodore Roosevelt's Great-Power Navy, U.S. Naval Institute. April 1st, 2022. Accessed August 19th, 2023. https://www.usni.org/magazines/naval-history-magazine/2022/april/theodore-roosevelts-great-power-navy.
Lewis, Emanuel Raymond. Seacoast Fortifications of the United States: An Introductory History. Annapolis, Maryland. Naval Institute Press, 1979.
Berhow, Mark A.. American Seacoast Defenses. McLean, Virginia. CDSG Press, 2004.
Additional Information