Lynnewood Hall
Introduction
Lynnewood Hall was the palatial estate and personal art gallery of the Widener family. The Wideners were a wealthy family from Philadelphia who had their hands in many philanthropic organizations especially the Free Library of Philadelphia. The Neo Classical estate was built in 1900 and originally sat on three hundred acres of land. Sold from the family in 1952 it now sits on thirty six acres and is owned by the Faith Theological Seminary.
Images
Lynnewood Hall at the height of its splendor.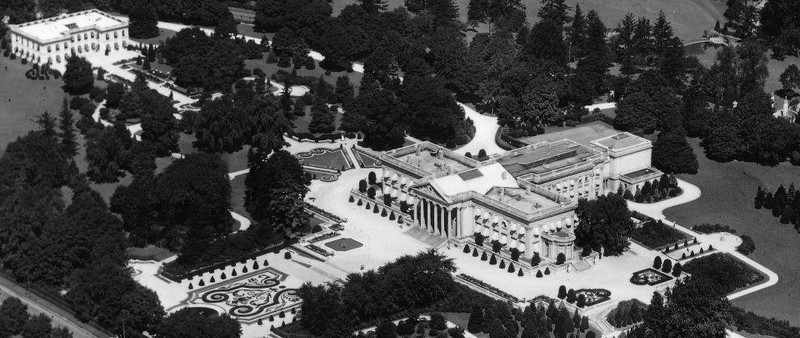 Coast Guard Shore Patrol Dogs and their handlers in training.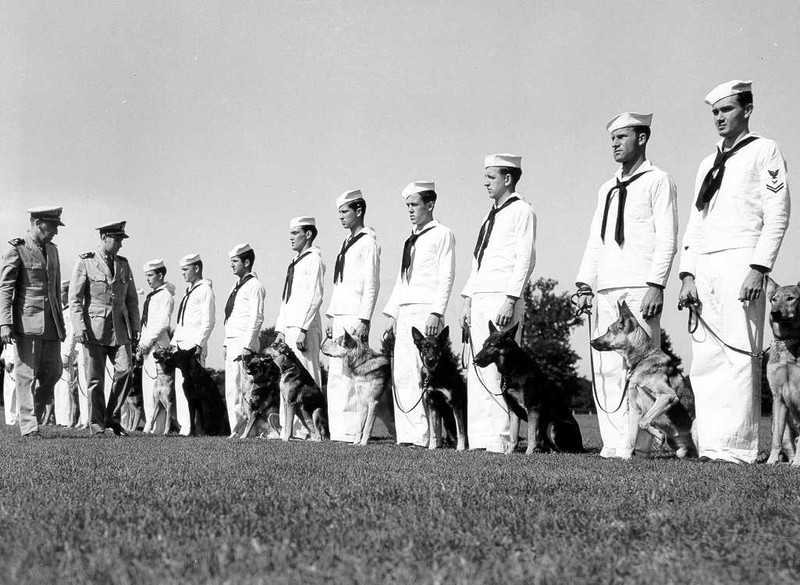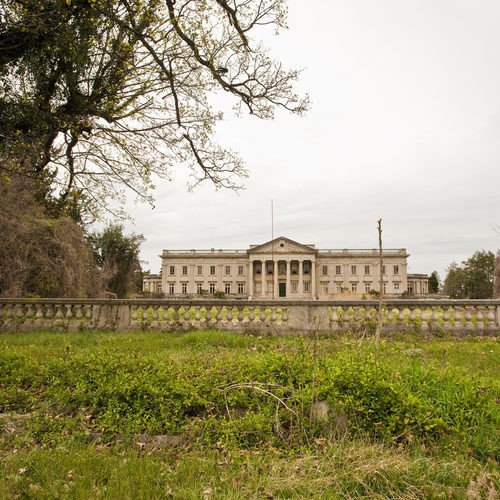 Backstory and Context
Lynnewood Hall:
The Widener Family's Historic Home
The Widener family came to prominence in the late 19th Century as Peter A.B. Widener who started one of the first meat store chains in the nation. Along with his friend William L. Elkins He expanded his wealth with well placed investments in street railways, and later the Pennsylvania Railroad, Standard Oil and United States Steel Corporation.Philly History Blog The family was very connected to the Free Library of Philadelphia and donated their mansion on Broad St. and Girard Ave. to them in 1900 when Lynnewood Hall was created.Ibid.
Lynnewood Hall began out of a need for more space. After beginning his extensive art collection Peter Widener realized that the Broad Street mansion would quickly run out of space, and in 1898 brought in the architect Horace Thrumbauer to design and construct a new mansion to better suit both his growing family and his growing collection.Historic Structures The mansion was created with a two story Neo-Classical design with a long central hall and two wings forming a large "T". At the main entrance you are greeted with a five bay Corinthian Portico reaching the full height of the building.Ibid.The building itself is massive, stretching three hundred sixty five feet in length with one hundred ten rooms. The main hall consisted of a library in the entrance and an elaborate balcony over the grand hall. The East Wing's first floor contained a reception room, gallery ballroom and hall which lead to the porch. It's second floor was living quarters for Peter's grandson George and his family. The West Wing's first floor consisted of a smoking room, pantry, dining room and breakfast room with a hall to the enclosed porch. Its second floor had the master living quarters for Peter, his wife Hannah Josephine had passed in 1896 Philly History Blog, as well as his son Joseph's family. The property itself was designed to be self sufficient with a one hundred seventeen acre farm, water pump, power plant, carpentry shop and baker. Due to fears about the collections catching fire the heating was supplied by an offsite hot air pump located on the farm, about fifteen hundred feet away.Historic Structures
The Widener Family stayed at Lynnewood until 1941 when it was vacated and handed over to a caretaker.Ibid. During the second world war the United States Coast Guard used the estate to train two hundred dogs for shore patrols. In 1952 the estate sold to its current owners, Faith Theological Seminary. Since the sale the estate's condition has deteriorated due to the high cost of upkeep, and much of the original estate has been sold, from three hundred acres to thirty six.Ibid. While the site has fallen hard times, it is still one of the remaining great estates of early twentieth century Pennsylvania.
Sources
Boyer, Deborah. "The Widener Mansion." Philly History Blog. March 05, 2009. Accessed January 18, 2016. http://www.phillyhistory.org/blog/index.php/2009/03/the-widener-mansion/. "Lynnewood Hall Mansion, Elkins Park Pennsylvania History." Historic Structures. July 31, 2010. Accessed January 18, 2016. http://www.historic-structures.com/pa/elkins_park/lynnewood_hall1.php. Kicey, Laura. Lynnewood Hall Aerial. Digital image. Buy Philly's Storied, 'Cannibalized' Lynnewood Hall For $20M. July 9, 2014. Accessed January 18, 2016. http://curbed.com/archives/2014/07/09/lynnewood-hall-for-sale.php. Kicey, Laura. Lynnewood Hall Today. Digital image. Buy Philly's Storied, 'Cannibalized' Lynnewood Hall For $20M. July 9, 2014. Accessed January 18, 2016. http://curbed.com/archives/2014/07/09/lynnewood-hall-for-sale.php.
Additional Information