Naval Air Station Wildwood Aviation Museum
Introduction
The Naval Air Station Wildwood Aviation Museum is located in the former Hangar No. 1 at the Cape May County Airport. The airport was a U.S. Naval Base, established in 1941, called the Naval Air Station Wildwood (originally it was called NAS Rio Grande, after the nearby town, but it was changed in 1943 to avoid confusion with the actual Rio Grande river). The building and some of the original airfield as well as runways and taxiways are collectively listed on the National Register of Historic Places. The museum features airplanes, including modern jets, helicopters, interactive exhibits, and a library which contains books on WWII and the history of the base and airport. Some aircraft include an F-14 Tomcat, a Mig-15, a T-38 Shooting Star, a TBM Avenger, and a Cessna 150. Special exhibits include a 1940s Room, Coast Guard Area, and a Radio Room
Images
Hangar no. 1, now the Naval Air Station Wildwood Aviation Museum.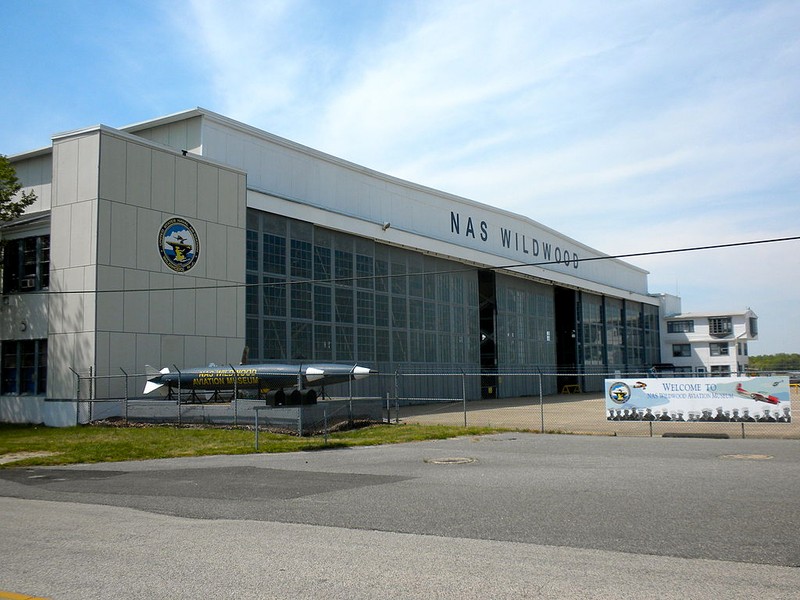 Backstory and Context
Tragically, 43 airmen died during training exercises during WWII. The base was a dive bombing training facility. After the war, the base was deemed excess property so it was deeded to the county and has operated as a public airport ever since.
Sources
http://www.usnasw.org/?page_id=65 Stacy E. Spies. "Hangar No. 1, United States Naval Air Station Wildwood," National Register of Historic Places. 8-21-97.
Additional Information