Saint Albans First Presbyterian Church,
Introduction
This historic church was constructed around 1910 in the location of the congregation's original church which had been completed in 1879.This cut sandstone church has beautiful stained glass windows and a prominent castle-like bell tower that includes the bell from the original 1879 church. The sanctuary has exposed wood throughout and a semicircular seating design which was unique at the time of the church's construction.
Images
Presbyterian Church today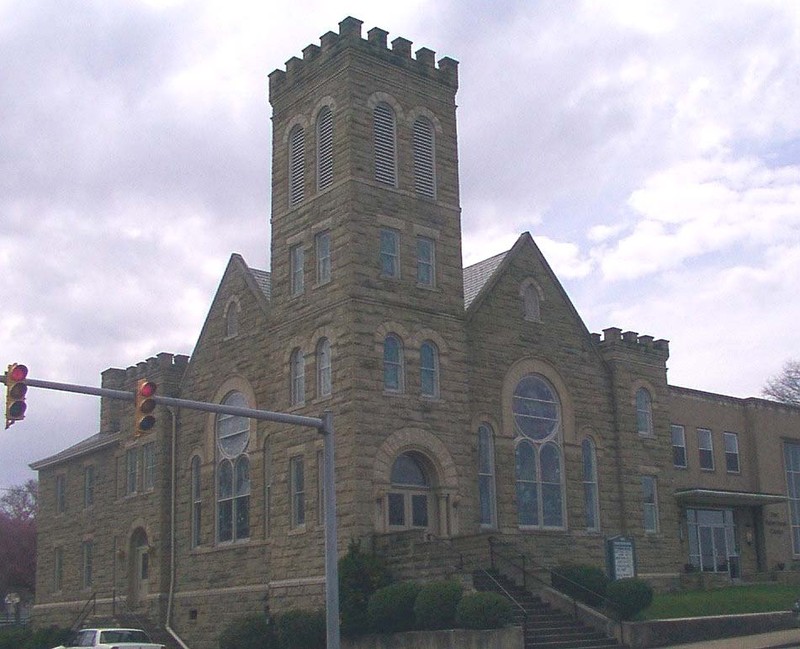 The church shortly after its construction.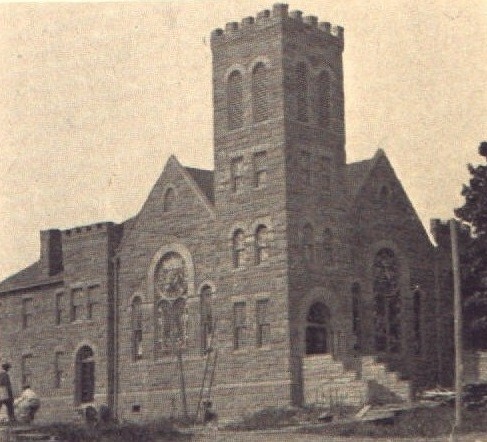 Backstory and Context
In 1874 the seventeen member congregation of the Coalsmouth Presbyterian Church (organized August 22, 1868) purchased the property this structure stands upon. In January 1879 the congregation dedicated the original home for them. Prior to the dedication the congregation held services in local business as well as sharing space with the local Baptist Church.
The Presbyterian purchased the property for $300.00 from the Central Land Company. The original structure was completed with the donations of many people. The local congregation members wrote to friends and relatives outside of the city. Money donations came in from as far away as Philadelphia. Wheeling manufactures donated all of the glass and nails used in the original construction. The total cost, excluding the material donations, came to a total of $1,750.00.1
The present structure was dedicated on October 9, 1910 with 500 people present. The congregation authorized the construction of the new facility on March 2, 1908. The original structure was moved to the rear of the lot to make room for the new building. The new building was constructed of native stone with beautiful stain glass window. After the dedication, the old building was sold to the Methodist Episcopal Church, North. They moved the structure and used it until the church merged with the other Methodist.1, 2
Sources
1. Ellis, Garland H. St. Albans West Virginia. St. Albans WV: Dawson Printing Co., 1977. 2. St. Albans Historic Society. St. Albans History, 3rd ed. Walsworth Publishing Co., 2000.
Additional Information