Coast Guard Museum Northwest
Introduction
Dedicated to documenting and preserving the history and actions of the United States Coast Guard in the Pacific Northwest, the Coast Guard Museum is located on the grounds of the Seattle Coast Guard Station at pier 36 along the Elliott Bay Waterfront. Opened in 1976, the museum offers free admission and access to thousands of Coast Guard and nautical artifacts. Approved access to the base is required ahead of your visit, so please call ahead and an escort will meet you and/or your party at the base gate.
Images
Exterior of the Coast Guard Museum with buoy in the foreground.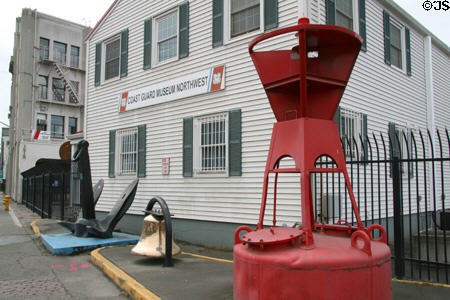 Model ships and artifacts on display.
Coast Guard uniforms on display.
Backstory and Context
Staffed by a knowledgeable, informative and friendly staff, the museum features include large and detailed Coast Guard ship models, uniforms from the past and present, and lenses from lighthouses and buoys. Also on display are a U.S. lighthouse service clock c. 1860, the rudder from the HMS Bounty, parts from the USS Constitution (Old Ironsides), various ship's wheels and binnacles, the ship's bell from the Roosevelt which carried Admiral Peary on a North Pole expedition, the sextant from the World War II German U-boat U-873, and the largest public collection of Coast Guard Patches.
The museum is also home to over 3,000 books and periodicals about the Coast Guard and maritime history of the Pacific Northwest, over 2,500 historical documents, clippings and ship's plans, and over 15,000 historical photographs from the mid-19th century. While on the base, inquire about visiting one of the three Coast Guard icebreakers, the Polar Star, Polar Sea or Healy as Seattle serves as their home port. You may also be able to tour one of the Coast Guard cutters, Mellon or Midgett, if available.
Sources
"Coast Guard Museum Northwest." United States Coast Guard. Accessed January 7, 2016. https://www.dcms.uscg.mil/Our-Organization/Director-of-Operational-Logistics-DOL/Bases/Base-Seattle/...

Homepage. Coast Guard Museum Northwest. Accessed January 7, 2016. http://www.rexmwess.com/cgpatchs/cogardmuseum.html.
Additional Information