Atlas Building
Introduction
The Atlas Building was designed by architect Frank Packard on behalf of Columbus Savings and Trust and completed in 1905. Like many other bank buildings at this time, the lobby was designed to emulate strength and stability with large terracotta columns, high ceilings, and ornate marble staircases. In 2013, the building was purchased for $2.5 million by a consortium of investors who announced plans to spend an additional $20 million to renovate the historic building and convert it into a luxury apartment building.
Images
The Atlas Building today/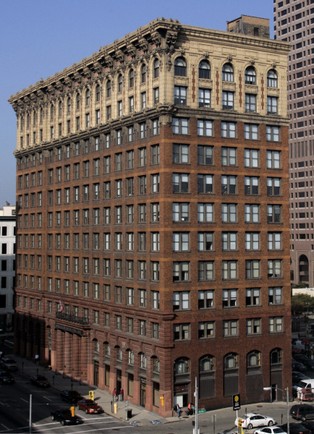 A postcard of the Atlas Building, date unknown.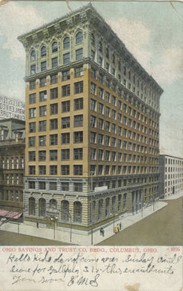 Backstory and Context
The groundbreaking ceremony for the Columbus Savings and Trust Building was held in 1904. Construction was completed a year later at a cost of $500,000. In 1913, the Depositors Realty Company moved in after the Columbus Savings and Trust went out of business. The building was renamed the Ferris Building in 1920 after being purchased by Warren B, Ferris. Seven years later, Depositors Realty consolidated with Atlas Realty, and the edifice became known as the Atlas Building.
During the 1970s, the Atlas Building was sold to Brunner-Mackenbach and was added to the National Register of Historic Places. In 1982, the building underwent a major renovation headed by architect David Hughes. More recently, work was done on the structure to turn it into an apartment building. The renovation involved restoring and maintaining the white marble staircase and brass elevators.
Sources
About the Atlas. The Atlas Apartments. Accessed September 27, 2018. http://theatlasapartments.com/about-the-atlas-building/.

Timeline. The Atlas Apartments. Accessed September 27, 2018. http://theatlasapartments.com/timeline/.

ATLAS BUILDING (COLUMBUS SAVINGS AND TRUST BUILDING). AIA Columbus. Accessed September 27, 2018. http://archallenge.aiacolumbus.org/project/atlas-building-columbus-savings-and-trust-building/.

Atlas Building Hard-Hat Tour. Urban Land Institute. Accessed September 27, 2018. https://columbus.uli.org/event/atlas-building-hard-hat-tour/. Photo source.


Additional Information