Saginaw Valley Lumber Strike of 1885 Historical Marker
Introduction
Dedicated in 1987, this historical marker shares the story of labor activism leading to one of the most significant strikes in this region during the late 19th century. In 1885, Bay City and the Saginaw Valley was home to dozens of sawmills and was widely regarded as "the lumber capital of the world." Renowned historians David Roediger and Phillip Foner declared the Saginaw Valley Strike, along with an 1881 strike in Eau Claire, Wisconsin, as the "most spectacular" of the many strikes by lumber workers during the late 19th century. The Great Strike of the Saginaw Valley was ultimately a failed effort to enforce a 10-hour workday that would later come into effect. The conflict cost thousands of workers hundreds of thousands of dollars in wages over a two-month period.
Images
Historical marker for the Saginaw Valley protests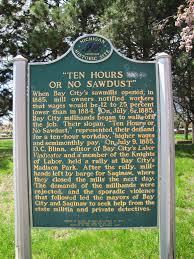 This list of participants demonstrates the scope of the strike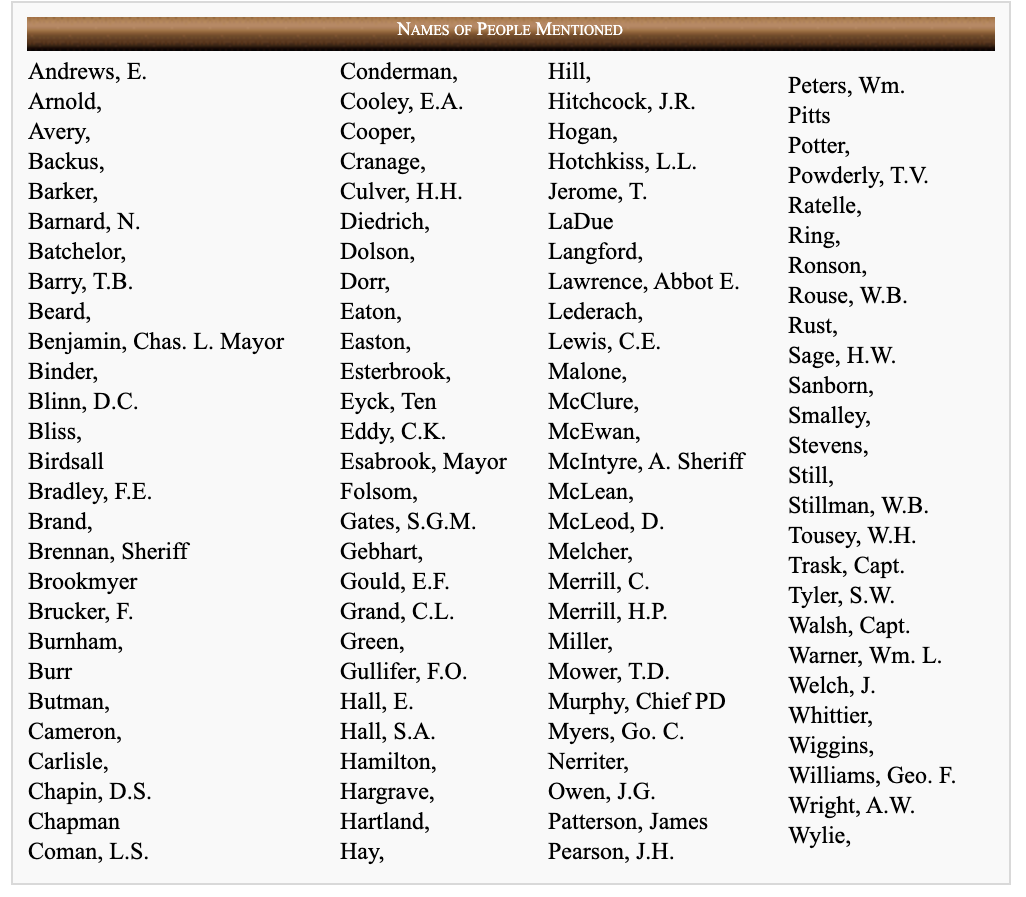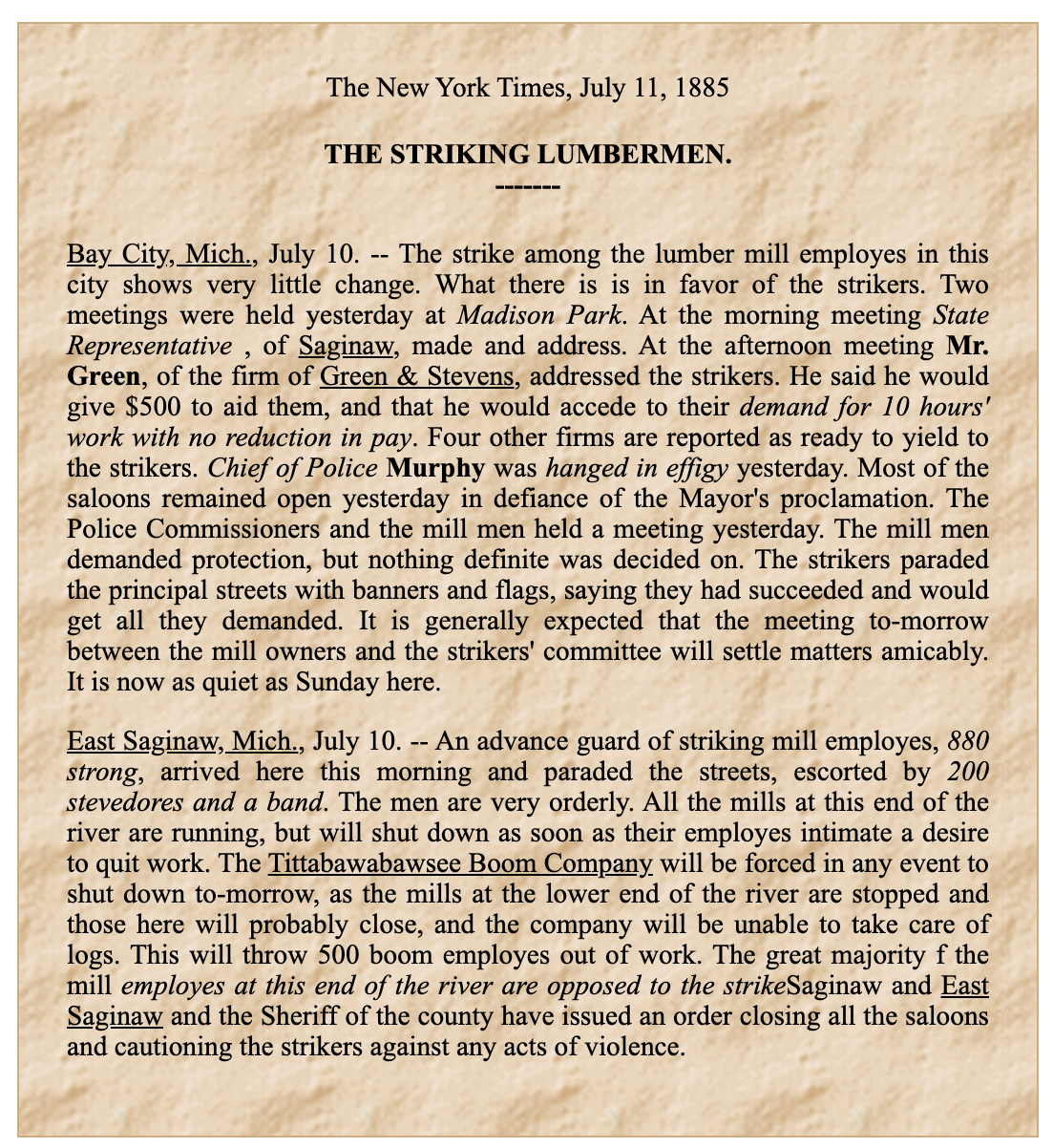 Backstory and Context
"10 hours or No Sawdust" –the unified chant of the Lumber Strike in the Saginaw Valley in 1885. 
From 1850 to 1900, lumber was Michigan's most profitable business, with the earliest sawmills established in 1830, and the first sawmill in Saginaw and the first steam mill in the nation built by Harvey and Ephraim S. Williams around 1834. The number increased after the Civil War, and by 1890, there were over 2,200 sawmills in the state. Prior to 1897, production from Michigan sawmills was comparable to the total value of all gold mined in California during the same period: approximately $2,099,175,000. Lumber was Michigan's main producer, leading along the Saginaw River and Bay City areas, with Saginaw becoming the lumber center of the world during the 1870s to 1880s, and responsible for the development of several Michigan cities. The industry, however, was also responsible for a handful of strikes, leading up to the Great Strike of 1885.
On September 15, 1885, 90 days after the adjournment of state legislature, a mandatory 10-hour workday law was due to go into effect in the Saginaw Valley of Michigan. However, workers, some employers, and even the Bay City Evening Press were under the impression it was to be enforced beginning July 1. The miscommunication led to the largest strike in the history of Michigan's lumber industry. In 1850, mills typically employed 12-14 men, but by 1885, required 75-150 men each, resulting in 4,000 employed men in the Saginaw Valley. Production increased with gang saws, endless belt saws, and more powerful engines; yet, profits declined due to a higher cost of production, maintained by major dealers along the Great Lakes area. Employees, some of whom were under the age of 16, were being payed less and were facing a higher cost of living due to the economic environment, while usually working 11 to 12-hour days and being paid daily rather than hourly. Wages varied, but the lowest earners made around $0.50-$1.75 per day.
In July of 1885, after a handful of smaller, unsuccessful strikes, the Great Strike began in Bay City, with the Knights of Labor calling attention to the matter and proposing a meeting that never occurred. After the July 4 weekend when mills were closed for the holiday, most mills reopened under the same work provisions, but some remained closed for maintenance or lack of workers, one of which belonging to W. B. Rouse, where the strike began. According to Rouse, seven men were heading home on July 6 when one jokingly tied a bandana to a stick, waved it in the air, and shouted "Hurrah for 10 hours," near the closed McEwen's mill. Though not intending to cause a strike, McEwen's men had already been deliberating and were waiting for word. It was reported to the Michigan Bureau of Labor by Sheriff Brennan of Bay County that Daniel C. Blinn, editor of Labor Vindicator and important official to the Knights of Labor, assisted as a leader in addressing 400 strikers and marching from McEwen's mill to other parts of the city, closing most of them within three days and amassing a number of 800 people.
Representative Thomas Barry, the most powerful official of the Knights of Labor, soon joined Saginaw as a leader. Originally, protesters remained peaceful and complied with law enforcement, not entering any of the mills. Barry warned against violence, but as numbers grew to over 1,000, someone at one of the mills allegedly pulled out a revolver, leading to attacks from the strikers with clubs. Barry and Blinn were both arrested multiple times on different charges, further inciting the protests. They carried signs that read "10 hours or no sawdust;" over 3,000 Saginaw men were out of work, with only six percent of employees actually joining the strike.
On July 13, the Miller Brothers' mill opened enforcing the 10-hour workday at full pay, with two others following. However, it was a small effort. For two months, after many negotiations with city officials and law enforcement, mill owners refused to compromise to meet the demands of the protesters. Those striking wanted the 10-hour workday enforced without a reduction in their wages and those unemployed during the strikes to be rehired without fear of backlash from employers. Mill owners believed protesters would eventually succumb to their power and return to their 11-hour workday, but most refused.
Eventually, strikes died out around August 24. Many unorganized men came to a compromise with individual mill owners. Most enforced the 10-hour workday, but at a reduction of about 10 percent of wages, some only at a reduction of 5 percent. Many of those who were unemployed during the strike were rehired, but ultimately, it was a useless effort. On September 15, all mills went to the 10-hour workday as was to originally be enforced anyway. Workers striking lost around $385,614 in wages during that period.
Sources
Allen, Clifford. Michigan Log Marks, Works Projects Administration. Accessed September 1st 2020. https://www.michigan.gov/documents/dnr/MichiganLogMarks_384832_7.pdf.
Goodstein, Anita Shafer. Labor Relations in the Saginaw Valley Lumber Industry, 1865-1885, Cambridge University Press. July 24th 2012. Accessed September 1st 2020. https://www.cambridge.org/core/journals/business-history-review/article/labor-relations-in-the-saginaw-valley-lumber-industry-18651885/B8F34CDAAE35A51A08BBCBD933F912F0.
Michigan Legal Milestones Ten Hours or No Sawdust, State Bar of Michigan. Accessed September 1st 2020. https://www.michbar.org/programs/milestone/milestones_tenhoursornosawdust.
Roediger, David and Philip Sheldon Foner, Our Own Time: A History of American Labor and the Working Day. Verso, 1989, 133.
Yakes, Daniel J.. Ten Hours or No Sawdust: A Study of Strikes in the Michigan Lumber Industry 1881-1885, Western Michigan University. July 1st 1969. Accessed September 1st 2020. https://scholarworks.wmich.edu/cgi/viewcontent.cgi?article=4132&context=masters_theses.
Historical Marker - L1413C - Ten Hours or No Sawdust/ Ten Hours or No Sawdust, Michigan Department of National Resources . Accessed September 6th 2020. http://www.dnr.state.mi.us/publications/pdfs/ArcGISOnline/StoryMaps/mhc_historical_markers/pdfs/MHC091987019.pdf.
Image Sources
http://bay-journal.com/bay/1he/writings/lumber-strike-1885.html

http://bay-journal.com/bay/1he/writings/lumber-strike-1885.html

Additional Information