Statue of Elijah Pierce
Introduction
Columbus State Community College erected bronze statue of folk artists and master woodcarver Elijah Pierce in 2000. Pierce was born in 1892, the son of a former slave on a plantation in Mississippi. Pierce moved to Columbus in 1923, working as a barber while perfecting his craft as a woodcarver. In 1932, Pierce completed a series of scenes from the life of Jesus, which he considered to be his best work. Pierce's fame beyond the Black community of Columbus came when some of his other works, which depict African American life and culture during the ages of segregation and civil rights, were discovered in the 1970s. In the next two decades, Pierce's works were displayed at leading art galleries throughout the US, including the National Museum of American Art in Washington DC. In 1982, Pierce was one of 15 traditional artists to be awarded a National Heritage Fellowship by the National Endowment for the Arts. Those who would like to see Pierce's work will be glad to know that the majority of the over 300 works he created are located near this statue, at the he Columbus Museum of Art. The Martin Luther King Branch of the Columbus Metropolitan Library also has two of Pierce's works on display. Pierce's life has been covered in numerous newspaper and magazine articles, as well as the plays "Pierce to the Soul," produced by CATCO in 2010 and "Elijah's Angel."
Images
This statue of Elijah Pierce was created by artist Steven Weitzman and dedicated in 2000.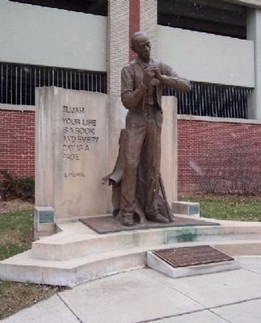 Sources
Davis, Gerald L. "Elijah Pierce, Woodcaver: Doves and Pain in Life Fulfilled." In The Artist Outsider: Creativity and the Boundaries of Culture, edited by Michael Hall and Eugene W. Metcalf. Washington: Smithsonian Institution Press, 1994.
Additional Information