Mort Glosser Amphitheater
Introduction
Built in 1935 by the Works Progress Administration, this theater was one of the New Deal programs created by the federal government to put people to work. The Mort Glosser Amphitheater is a 1,600- seat outdoor theater designed by Paul Hofferbert. It was designed as builders used stone that was originally from Lookout Mountain, a mountain range located between Alabama and Georgia. It is still used today for concerts, plays, and other events. It is listed on the National Register of Historic Places and it was added there in 1988.
Images
The Mort Glosser Amphitheater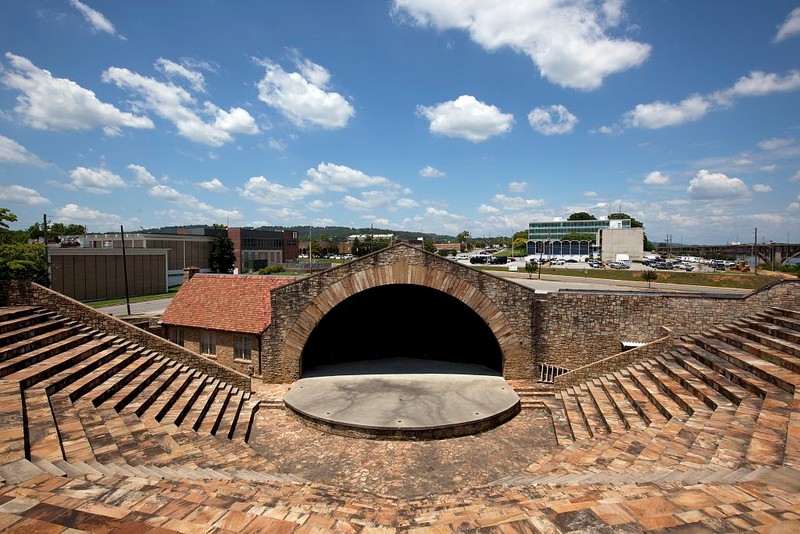 Backstory and Context
The American Legion owned the amphitheater and held meetings there in the attached clubhouse beginning in 1935. The original constructers of the theater were the Works Progress Administration. Before it even became a theater, the Battle of Lookout Mountain of 1863 took place here on location during the American Civil War. Also on location, it also featured a dispute between native tribes in the battle dubbed "Last Battle of the Cherokees." During WWII, the amphitheater became a center for the United Service Organization providing entertainment for service members from the nearby Camp Sibert. Afterwards, boxing matches, concerts, political rallies, plays, and other events began to be held at the theater.
The stage is located on the northern end with the seating area being shaped like a half-hexagon. The entrances to the theater can be found behind the seating area. The totals number of seats in the amphitheater is 1,600 and it has a club room with a lower entrance to theater near it. Public events continued being shown there until the 1970s when the structure itself began to show signs of age. The City of Gadsden purchased the theater in 1986 in order to do some restoration work on it to keep it from falling apart.
The theater would be placed on the U.S. National Register of Historic Places on September 28, 1988. It was built alongside the Gadsden Municipal Auditorium that is along the Coosa River. The Mort Glosser Amphitheater has seen much more use during the pandemic. For example, the Downtown Dance Conservatory's production of "The Nutcracker Princess" took place here. The theater allows more open space for social distancing requirements and is outside for much-needed fresh air.
Sources
Hudson & David Oliver. "Legion Park Bowl," National Park Service. National Register of HIstoric Places. Accessed May 26th, 2021.
Rodgers , Michael. "Old venue, new life: Mort Glosser Amphitheatre sees increased usage due to pandemic," The Gadsden Times. May 25th 2020. Accessed May 26th 2021. https://www.google.com/amp/s/amp.gadsdentimes.com/amp/6249287002.
Additional Information