Bulloch Hall
Introduction
Author-Uploaded Audio
Bulloch Hall is a Greek Revival mansion in Roswell, Georgia, built in 1839 by free and enslaved persons for the family of Major James Stephens Bulloch, one of Roswell's first settlers and the grandson of Georgia's Revolutionary Governor, Archibald Bulloch. The home is listed on the National Register of Historic Places and is one of the South's few examples of true temple-form architecture. Martha Bulloch, known as "Mittie," married Theodore Roosevelt, Sr. at Bulloch Hall on December 22, 1883. Theodore and Mittie were parents of the 26th president, Theodore Roosevelt, and paternal grandparents of first lady Eleanor Roosevelt.
Images
Bulloch Hall in Roswell, Georgia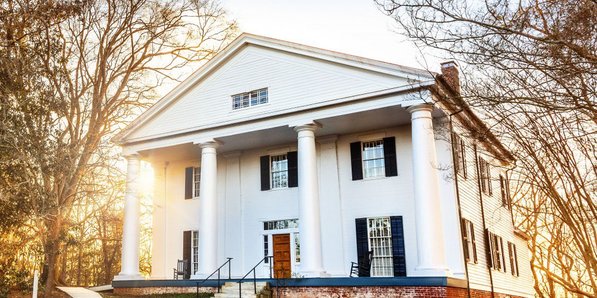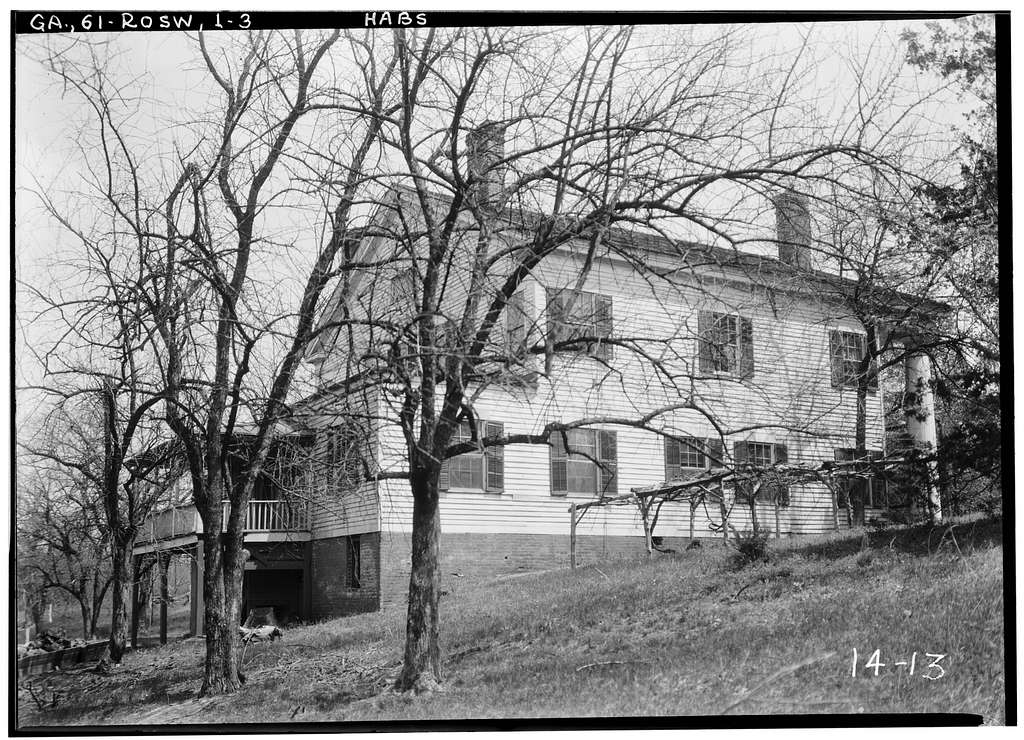 Bulloch Hall, ca. late 1930s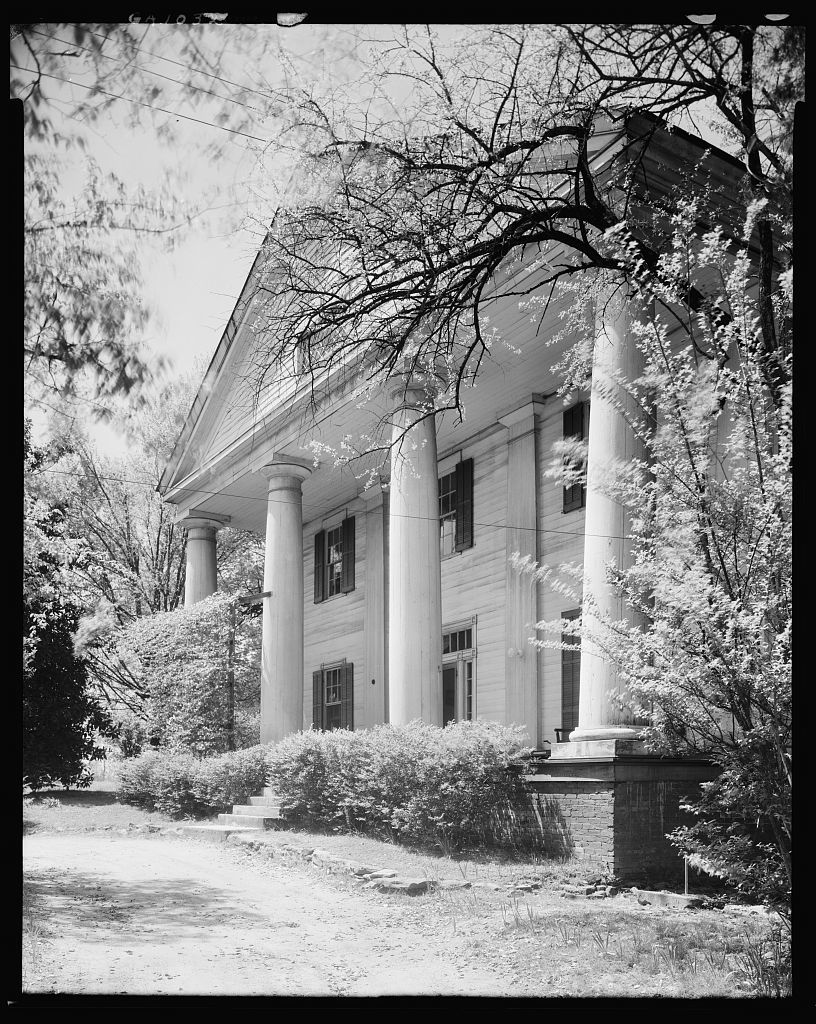 Bulloch Hall's Georgia Historical Marker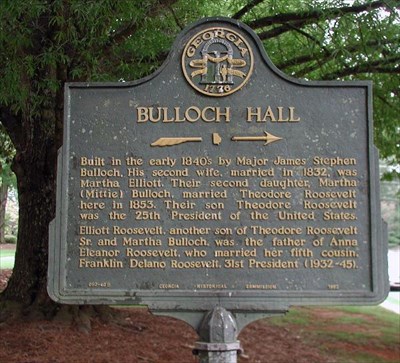 President Theodore Roosevelt and His Wife Edith on the Steps of Bulloch Hall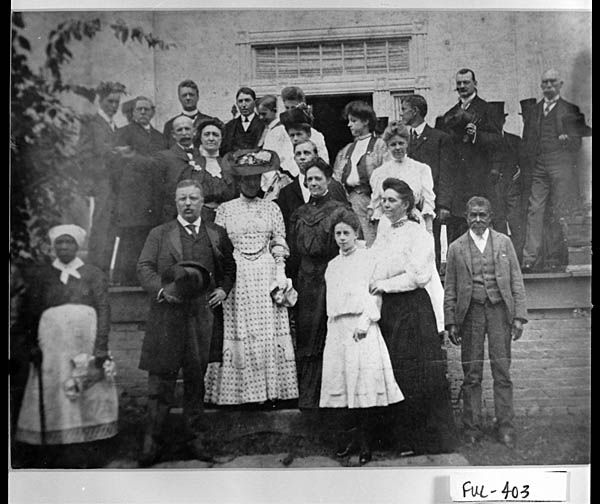 Backstory and Context
Author-Uploaded Audio
Bulloch Hall was built in 1839 as the home of Major James Stephens Bulloch and his wife Martha Stewart Elliott Bulloch. James and Martha moved from coastal Savannah to Roswell where James served as a stockholder in Roswell Manufacturing Company, owned by Roswell's founder, Roswell King. The Greek Revival style home was designed by a Connecticut architect named Willis Ball and it was built by the Bullochs' slaves, which was rare for homes built in north Georgia during that time.
In 1839, Major Bulloch moved into the completed house with his wife and five children and two slaves. The 1850 Census indicates that the Bulloch family owned a total of nineteen slaves - thirteen adults and six children. Most of the residents of north Georgia prior to the Civil War were simple poor farmers who had either purchased their land at a low price or won it, so having African-American slaves in that area at that time was a rarity. The slaves at Bulloch Hall labored on cotton and crop production.
Sadly, shortly after the Bullochs moved into Bulloch Hall, their infant son Charles passed away. Charles was the first death recorded in the new town of Roswell. James Bulloch was very involved in the birth of Roswell, forming and helping build the local Presbyterian church. Major James Stephens Bulloch died in 1849, leaving his wife Martha with little money. When word spread that Martha needed help, a neighbor from Marietta named Archibald Howell helped her by putting up a loan against the value of Bulloch Hall. Martha Bulloch would die before the end of the Civil War, in 1864, and the house was sold. Her daughter Martha "Mittie" returned to the home a few years later and was given permission to take one item from the house for remembrance, so she chose her mother's favorite glass doorknob.
On December 22, 1853, Mittie Bulloch, the youngest daughter, married Theodore Roosevelt, Sr. in the dining room of Bulloch Hall. The couple then moved to New York City and had four children. Their oldest son, Theodore, Jr. became president of the United States, and their youngest son Elliott was the father of future first lady Eleanor Roosevelt. Theodore Roosevelt would travel to visit Bulloch Hall in the fall of 1905, and Eleanor visited when her husband Franklin was at his nearby home in Warm Springs. Besides the famous Roosevelts, famed author Margaret Mitchell also visited Bulloch Hall, even interviewing the only surviving guest from Mittie and Theodore's 1851 wedding. It has been said that the home served as the inspiration for Tara in Mitchell's best selling book, Gone With The Wind.
The historic home is owned by the City of Roswell Georgia's Historic and Cultural Affairs Division and managed by the Friends of Bulloch Hall. The house museum features a unique children's museum room, which interprets the history of Bulloch Hall with the emphasis on the child's point of view. The Friends of Bulloch Hall restores and preserves Bulloch Hall, as well as providing tours, educational programs, and other community events. Besides being on the list of National Register of Historic Places, Bulloch Hall also has more than 140 trees on the list of the Historic Tree Register.
Sources
A Brief History of Bulloch Hall, Friends of Bulloch Hall. Accessed April 9th 2020. http://www.bullochhall.org/background.html.
Bulloch ​Family History, Friends of Bulloch Hall. Accessed April 9th 2020. http://www.bullochhall.org/bulloch-family-history.html.
Bulloch Hall , Roadside Georgia. May 23rd 2005. Accessed April 14th 2020. http://roadsidegeorgia.com/site/bulloch_hall.html.
Bulloch Hall, Explore Georgia. Accessed April 14th 2020. https://www.exploregeorgia.org/roswell/history-heritage/civil-war/bulloch-hall.
Image Sources
Bulloch Hall

Picryl

Picryl

Waymarking

Pinterest

Additional Information