Erie Canal Museum
Introduction
When the Erie Canal Museum opened its doors on October 25, 1962, it celebrated and preserved the life of the last remaining weighlock building in America. These buildings used to weigh passing boats, using either a weighing mechanism or by calculating how much water the boats displaced. A replica boat can be seen in the museum as if it were being weighed. This Greek revival building stands as a monument to the importance of the Erie Canal to the history of the United States.
Images
The Erie Canal Museum opened in 1962 in a former weigh lock building of the canal.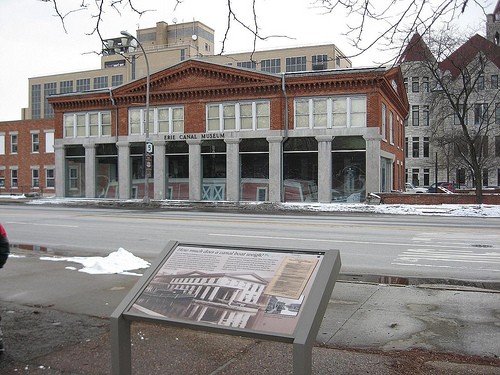 This old photo shows how the building appeared when the canal was still in use.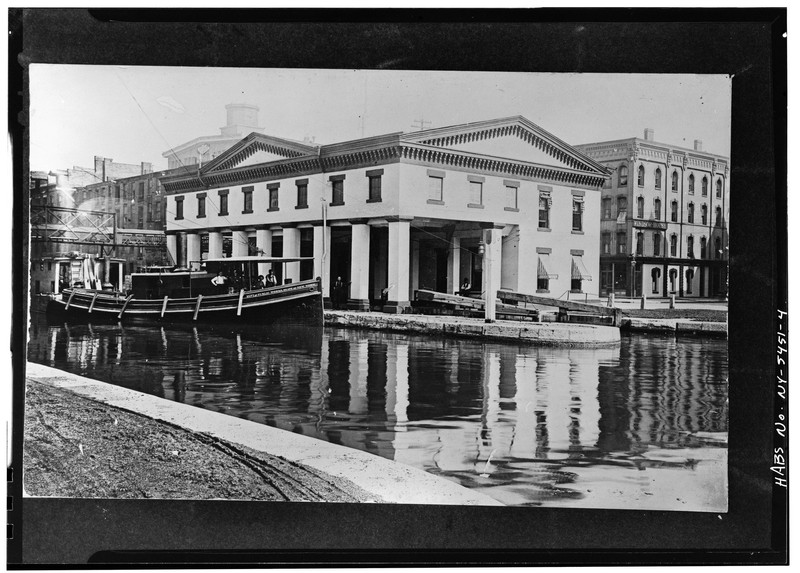 Backstory and Context
The Weighlock Building was occupied by the New York State Department of Public Works until 1954. In 1956, two members of the NYS Canal Society, both state legislators, sponsored legislation to give the building to the NYS Department of Education. In a surprise move, Governor Harriman vetoed the legislation over the almost unanimous vote of the legislature saying that a future highway interchange might claim the building.

At this point, the Junior League of Syracuse took notice and was shocked to find drawings at the DPW showing Interstate 81 going right over the Weighlock Building and Syracuse City Hall. The Junior League, and others went into high lobbying gear, with intense letter writing and phone calls to Albany legislators and the Chairman of the Onondaga County Board of Supervisors. The Junior League persuaded the Board of Supervisors to accept the Weighlock Building on behalf of Onondaga County. The transfer from the State was authorized by the legislature and signed into law by Governor Rockefeller.

The instrument of conveyance from New York State provided that the property must be used for a "public canal museum." Consequently, at the request of the County, the original Board of Trustees started out to create such a museum. Work began in earnest, mostly with volunteers, to clean, paint and revitalize the interior of the building, while County employees made a significant contribution to the renovation of the building. In September 1962, the Board of Regents granted a "provisional charter" and the formal opening in October was greeted by large, enthusiastic crowds. The "absolute charter" of the Museum was issued by the Board of Regents on March 29, 1968.

Sources
"About." Erie Canal Museum. Accessed June 14, 2014. https://eriecanalmuseum.org/about.
Additional Information