Bowie Railroad Museum
Introduction
Bowie Station was a stop on the new railroad between Baltimore and southern Maryland built after the Civil War. Now occupying the site is the Bowie Railroad Museum, which commemorates the railroading history in Bowie and the surrounding region. It consists of three buildings, all restored: the single story freight depot, the two story interlocking tower, and the open passenger shed. The tower houses the National Railroad Historical Society's Martin O'Rourke Railroad Research Library. It contains around 1,800 books, manuals, maps, publications, vintage magazines and other railroad related materials. A 1922 Norfolk and Western Caboose is displayed next to the tower. The city of Bowie maintains the station, which is listed on the National Register of Historic Places.
Images
The Bowie Railroad Museum, with the tower, passenger shed, and caboose visible. Image by Henry Adams Consulting Engineers (reproduced under Fair Use).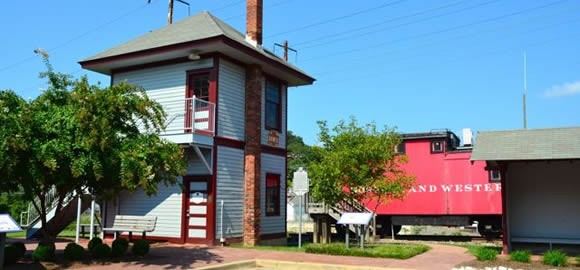 Bowie Railroad Tower and Depot by Pubdog on Wikimedia Commons (public domain)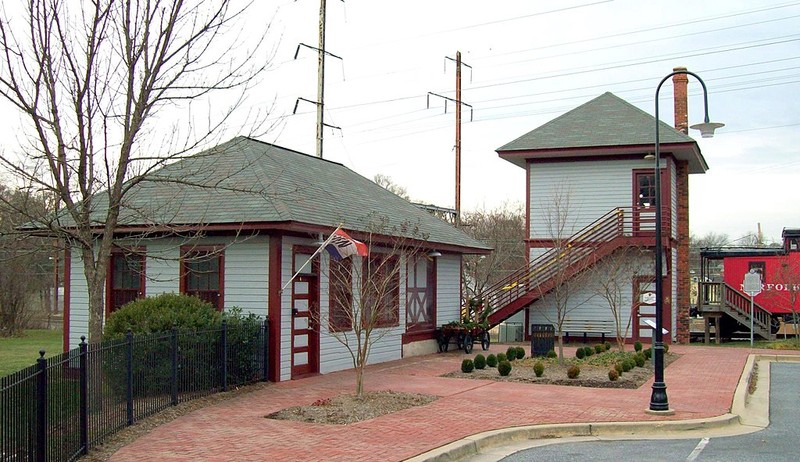 Passenger shed built in the 1930s by Pubdog on Wikimedia Commons (public domain)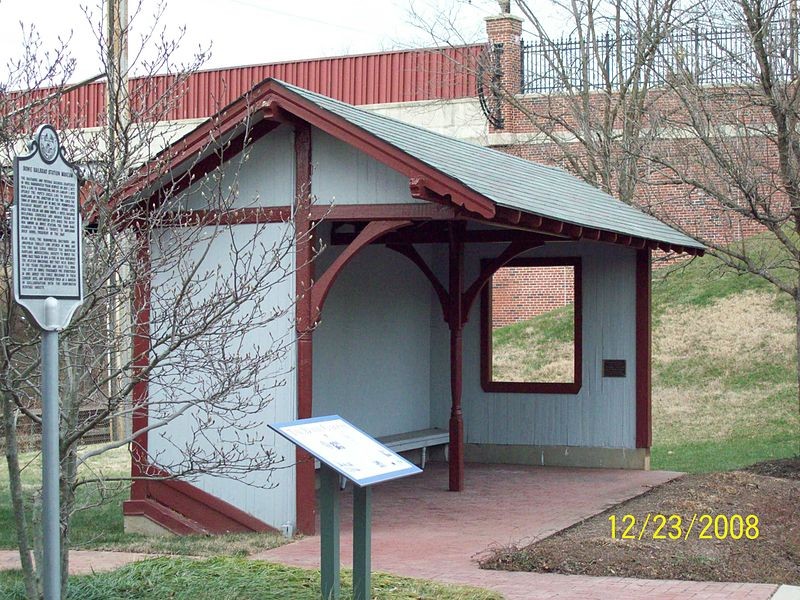 Backstory and Context
Plans for railroad tracks from Baltimore to the southern part of Maryland had begun to circulate before the Civil War. The area that is now Bowie was agrarian, and lacked access to markets in Baltimore and Washington, D.C. The state of Maryland granted a charter to the Baltimore and Potomac Railroad in 1853, but construction did not begin until 1868. In 1872, the Baltimore and Potomac Railroad opened Bowie Station, which precipitated the growth of the community around it. The company later became part of the Pennsylvania Railroad. Real estate developer Ben M. Plumb started to plan a town, Huntington City, around the station. The city was renamed Bowie in 1880 after Governor Oden Bowie, whose influence was instrumental in establishing the railroad in the town.
The buildings at the site are a single-story freight depot and ticket office (1930), a two-story tower (1913), and a passenger shed (c. 1910). The buildings have been moved back from the tracks, the tower was not moved to the site until 1934. These buildings represent the station's history during its period of most frequent activity.
Amtrak took over passenger service at the station in 1971. Passenger service ceased operations in 1989 when a new station was built at Bowie State University. The city and the Huntington Heritage Society then restored the buildings. The station's Bowie Tower now serves as the National Railroad Historical Society's Martin O'Rourke Railroad Research Library.
Sources
City of Bowie, Maryland. Bowie Railroad Museum, Recreation and Parks: Museums. Accessed May 14, 2020. http://www.cityofbowie.org/index.aspx?NID=293
Hein, Sally Cannon. Bowie Railroad Buildings, National Register of Historic Places Registration Form. March 14th 1997. Accessed May 31st 2020. https://mht.maryland.gov/secure/medusa/PDF/NR_PDFs/NR-1211.pdf.
National Railway Historical Society. The Martin F. O'Rourke Memorial Railroad Library at Bowie Tower. Accessed May 14, 2020. http://www.railroadlibrary.org
Image Sources
http://www.henryadams.com/portfolio/cultural-historic/bowie-railroad-museum

https://en.wikipedia.org/wiki/Bowie_Railroad_Buildings#/media/File:Bowie_Tower_and_Depot_Dec_08.JPG

https://en.wikipedia.org/wiki/Bowie_Railroad_Buildings#/media/File:Bowie_Passenger_Shed_Dec_08.JPG

Additional Information