Presbyterian Heritage Center
Introduction
The Presbyterian Heritage Center is dedicated to educating future generations about the history of the Presbyterian Church and the Reformed Church heritage. The center also highlights the heritage of Montreat, keeping local history alive for visitors to enjoy. The center includes a reference library and a museum with various exhibits, displaying artifacts of cultural and religious significance.
Images
Symbol of the Presbyterian Heritage Center
Exhibits in the Presbyterian Heritage Museum

Dr. Martin Luther King Jr. addressing the Christian Action Conference held at Montreat in 1965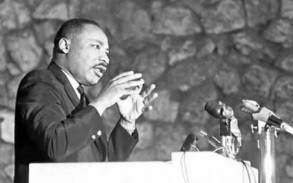 Backstory and Context
The Presbyterian Heritage Center preserves the history of the Presbyterian Church, educating visitors about its rich heritage. Located in Montreat, North Carolina, the center also focuses on local history, preserving Montreat heritage and culture. The center opened in 2008 in Spence Hall, originally built to house the Historical Foundation of Presbyterian and Reformed Churches, which closed in 2006. The Presbyterian Heritage Center is the successor of the Friends of the Historical Foundation, an organization that supported the Historical Foundation before its closing.

The center has a wide variety of displays that encompass many different areas of history and culture. The collections include rare photographs and recordings of people who have spoken at Montreat, one of the most recent being U.S. representative and Civil Rights activist John Lewis. Some of the exhibit topics are the Great awakening in America, Japan Missions, and Civil Rights and Presbyterians.

The Presbyterian Heritage Center has many items on display, including Presbyterian and missionary artifacts, documents, periodicals, books, photographs, and films. The center specializes in interactive exhibits of both mission work and church history, educating visitors of all ages.

Sources
1. http://www.visitnc.com/listing/presbyterian-heritage-center-at-montreat

2. https://www.google.com/searchq=Presbyterian+Heritage+Center+at+Montreat&rls=com.microsoft:enUS:IEAdd
ress&source=lnms&tbm=isch&sa=X&ved=0ahUKEwjm8d3Rs8_JAhWG_R4KHWLCBSgQ_AUICSgD&biw=1440&bih=763#imgrc=8TBzUpl-_zXlKM%3A

3. http://fomhnc.org/media/images/museum/presbytrianheritagecenterlobby2009.jpg http://www.montreat.org/wp-content/uploads/2014/02/Montreat-049.jpg

4. Presbyterian Heritage Center. Accessed June 03, 2019. http://www.phcmontreat.org/index.html.

5. Scanlon, Leslie. Presbyterian Heritage Center to open at Montreat. The Presbyterian Outlook. December 03, 2007. Accessed June 07, 2019. https://pres-outlook.org/2007/12/presbyterian-heritage-center-to-open-at-montreat/.


Additional Information