Olde Main Street Museum and Temperance Tavern Museum
Introduction
These two local history museums preserve and interpret the history of Newcomerstown, the home of baseball legend Cy Young and coach Woody Hayes. The Temperance Tavern Museum is located within an inn that was built in 1841 and once served for passengers on the Ohio and Erie Canal. The Olde Main Street Museum and Social Center is a village within a building that includes historical displays, provides information for visitors, and serves as a venue for educational and community events.
Images
1840 era tavern built along the once Ohio and Erie Canal. This authentic tavern and inn was a resting place on the Ohio and Erie Canal. It was crafted from local Black walnut in 1841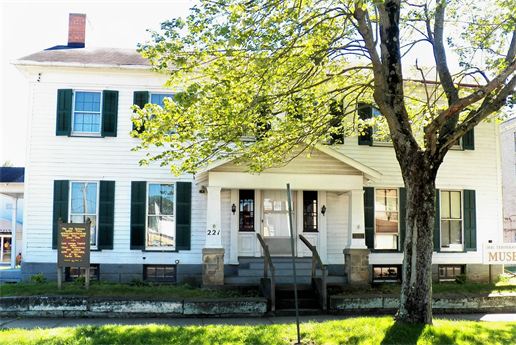 Located inside a 1915 building once home to Lell Shumaker's Ford dealership and the Herco factory, the Olde Main Street Museum and Social Center offers a replica of an early 1900s village.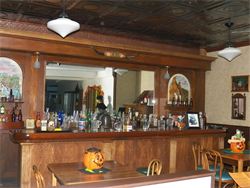 Backstory and Context
Cy (short for "Cyclone") Young was born on March 29, 1867, in Gilmore, just outside Newcomerstown. A major league baseball player, he won more games than any other pitcher, totaling over five hundred wins! Young pitched for five teams during his twenty-two years in the major leagues. He was elected to the Baseball Hall of Fame in 1967, and is commemorated in the Cy Young award, which honors the best major league pitcher of the year. Come and see our Cy Young memorabilia on the second floor of the Temperance Tavern Museum.
The son of Professor "Pop" Hayes, the local
superintendent
of schools, Wayne Woodrow Hayes, better known as Woody Hayes, was born on February 14, 1913, in Clifton, Ohio. He grew up here in Newcomerstown, and was graduated from the local high school in 1931, and from Denison University in 1935. Upon graduating, he coached football at Mingo Junction High School, and at New Philadelphia High School, both in Ohio. With the outbreak of World War II, he joined the United States Navy, rising to the rank of lieutenant commander. Woody is best known for being the "winningest" coach at the Ohio State University, where he was noted for his "three yards and a cloud of dust" strategy. Don't miss the Woody Hayes room in the Temperance Tavern Museum.
Sources
http://www.newcomerstownmuseums.com/Hometown-Heroes.html https://www.facebook.com/NewcomerstownHistoricalSociety/
Additional Information