Aubrey R. Watzek House
Introduction
In 1936, John Yeon of Portland designed a house that would influence architects throughout the 20th century. The natural beauty and features of the four acre space he was given allowed Yeon to blend the home into the sight lines of Mount Saint Helens to the north and Mount Hood in the east, along with the Tualatin Valley to the south. Built for lumber magnate Aubrey R Watzek, this uniquely modern home became a National Historic Landmark in 2011. The home is open to the public for tours with an appointment.
Images
Front of the Watzek Home. Photo courtesy of the University of Oregon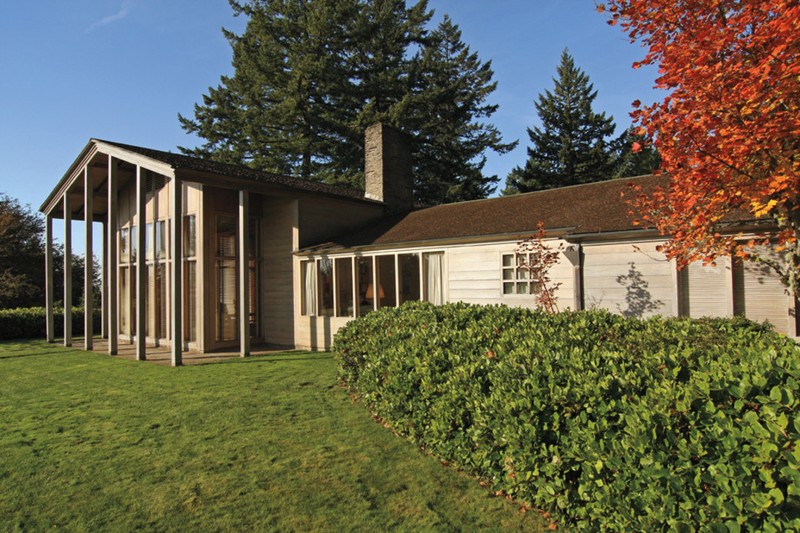 Original stone stairway/walkway and garden. Photo courtesy of Jeremy Bittermann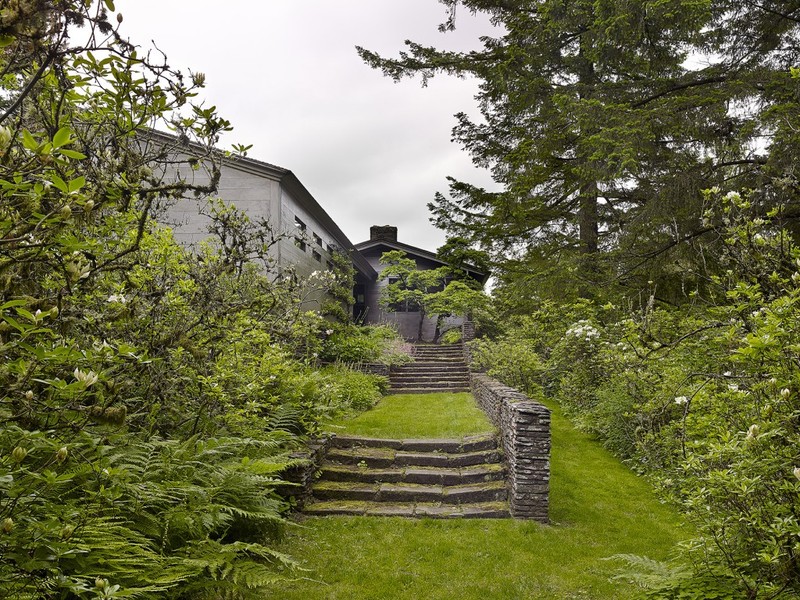 Hallway inside the home. Photo courtesy of Jeremy Bittermann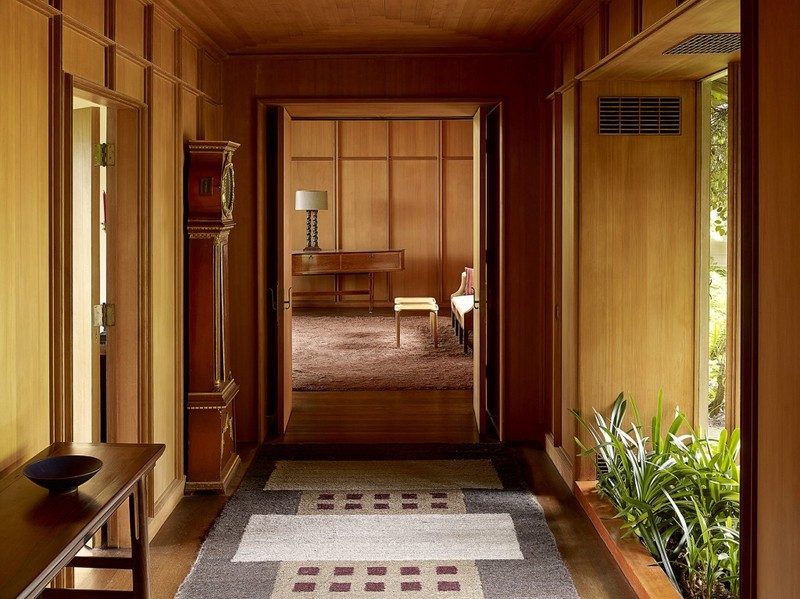 Pond in the courtyard. Photo courtesy of Leland Roth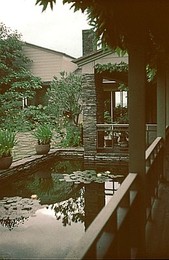 Backstory and Context
In 1928, John Yeon dropped out of architecture school at Stanford near the time of his father's death. Without ever working for a state or obtaining a federal license, Yeon secured work as an architect. At the age of 26, Yeon was hired by the Doyle office to design the Watzek home. Following the death of its owner in 1973, Yeon purchased his creation in order to preserve the originality of the home and landscape. Today the home is regarded as a harbinger of the Modernism Movement.

Richard L. Brown, a close companion of Yeon's, managed the home and inherited the property after Yeon died in March, 1994. In 1996, Brown decided to protect the house by donating it to the University of Oregon School of Architecture. The generous donation influenced the creation of the John Yeon Center for Architectural Studies. The school now fully maintains the household and has opened the landmark for public and private tours.

The Aubrey R. Watzek House was made with local materials that complement the architect's strategic decision to align the house along an axis that emphasized the local surroundings and provided scenic views of surrounding mountains and valleys. High ceilings, hidden storage compartments and the U-shape of the home help to further project the grandeur of its views. In addition to the modernistic interior designs, the outside of the home blends modern styles into a natural setting with a courtyard featuring native flora--one of the first in the region to blend plants that were unique to the Pacific Northwest with those from other regions.

To this day, the Watzek residence attracts thousands of visitors annually. In 2012, Monthly Portland voted the Historical property as the most significant in the state. New York's Museum of Modern Art was so intrigued also includes an exhibit about the home and Yeon's mostly self-taught abilities.
Sources
http://www.pdxmonthly.com/articles/2012/8/19/portlands-10-greatest-homes-april-2011 http://www.oregonencyclopedia.org/articles/aubrey_watzek_house/#.VmtZqPkrLIU http://yeoncenter.uoregon.edu/our-locations/the-watzek-house/ http://www.pdxmonthly.com/articles/2011/8/4/yeons-watzek-house-is-officially-a-national-historic-landmark-august-2011
Additional Information