Truman Capote Historical Marker
Introduction
This marker denotes the childhood home of Truman Capote, one of the leading novelists of the 1950s. Capote is best known for his non-fiction masterpiece "In Cold Blood," as well as the short novel "Breakfast at Tiffany's." Both pieces were originally published as short stories in magazines and became best-selling works and major motion pictures. Those who are interested in learning more about Truman Capote should visit the nearby Monroe County Museum that holds many of Capote's letters.
Images
The Signpost that stands at Truman Capote's childhood home.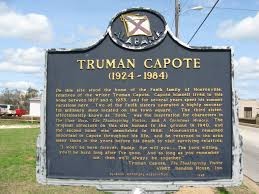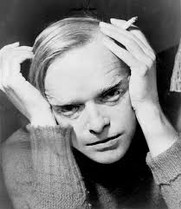 Truman Capote and his childhood friend Harper Lee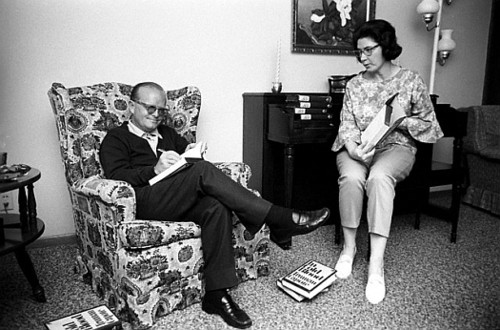 The Signpost that stands at Truman Capote's childhood home.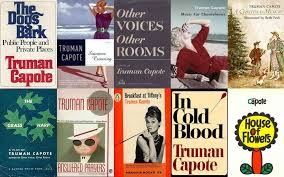 Backstory and Context
Truman Capote was born on September 30, 1924 in New Orleans as Truman Streckfus Persons. Capote's parents were Lillie Mae Faulk and Arch Persons. Lillie Mae and Arch were a miss-matched pair, who had a very volatile relationship so, Capote had a very unstable childhood due to his parents fighting and arguing.
As a result of all this constant bickering, he often had to stay with his aunt in Monroeville, Alabama. Capote spent most of his childhood in Monroeville, including three straight years when he was six years. During one of these long stays, he met Nelle Harper Lee, who would go on to write a To Kill a Mockingbird. Harper Lee, and Capote would become longtime friends during his many visits that resulted from his parents' marriage.
His mother left his father in 1931. Lillie Mae remarried and changed her name to Nina Capote. Truman went to live with his mother Nina and step-father Joe Capote in New York City. He was adopted in 1935 by his step-father and changed his name at eleven years old.
Nina started going through behavioral changes about this time going from a caring mother to an abusive mother with the flip of a switch. She also started drinking and eventually became a non-stop alcoholic. Truman Capote was not accepted by his community as a young man owing to his "effete" characteristics. His mother often verbally abused him and he endured physical abuse among his male peers.
Nina decided to remove Truman from the private boy's academy to a military training academy. This movement was to help Truman learn to "man up". Switching schools proved to be disastrous as Capote was often bullied. After the disaster of military school, Truman began gaining a reputation as a promising writer from many of his teachers. In 1939, the family had decided that they would move to Greenwich, Connecticut. Capote was enrolled in the local high school.
In Greenwich, his friend group became people, who were of the type that was into partying. Capote often through small gatherings at his house, although he did not just confine this partying to just his house, he and his friend Phoebe Pierce often escaped into New York. While in the big city, they often stopped in night clubs where the two would continue drinking the night away. Capote's grades were never the best, but they actually plummeted due to his partying. They were so low in fact that he had to repeat his final year of high school. Capote repeated his twelfth grade year in Manhattan. At this time, Capote also got his first job as a copy boy for the New Yorker.
While working as a copy boy, Truman had started to become even more interested in writing. He wrote many short stories that he often tried to get published at the New Yorker. When these submissions didn't pan out favorably, Capote decided to continue forth on his own. Capote published many short stories, including several that were published in Harper's Bazaar and Mademoiselle. The first of his novels to get national attention was Other Voices, Other Rooms. Capote's eccentric personality and identity as a homosexual led to many rejecting the author but his work was still being published.
After the success of his novel, he went on to publish more novels in the following years including Breakfast at Tiffany's (1958) and In Cold Blood (1965). Breakfast at Tiffany's is a fictional book about a lady of the night. Holly Golightly, the main character, must overcome many different obstacles to become what she always wanted to be free. The book received such high acclaim that just three years after the release of the book, Paramount Pictures made the movie starring Audrey Hepburn. The movie garnered success nationwide and internationally despite Capote's objection to the lead actress.

Capote's second most widely novel In Cold Blood, was non-fiction novel that was originally published for the New Yorker in four volumes. The volumes once completed were bound together to complete his novel. In Cold Blood is the story of real life killers, Richard Hickock and Perry Smith. Capote made several trips out to Kansas to talk with the killers over the course of five years. For this novel, he combined the formatting of a fictional book with the facts of non-fiction. This new way of writing made true crime novels much more entertaining. This opened up a new type of genre to be enjoyed.
Although Capote wrote a wonderful novel, the trial took much out of Capote, who returned to previous habits of drug abuse. Capote had many physical and mental health issues towards the end of his life, and no longer communicated with many of his former friends. He flew out one day to Los Angeles, California, in August 1984, to visit with his friend Joanne Carson (ex-wife of Johnny Carson). While in California, Capote died on August 25, 1984 of liver cancer. Capote was buried with his life partner of 35 years, Jack Dunphy.
Sources
1. http://www.biography.com/people/truman-capote-9237547 2. http://www.encyclopediaofalabama.org/article/h-1115 3. http://www.bookrags.com/studyguide-other-voices-other-rooms/gsc.tab=0 4. https://www.nytimes.com/books/97/12/28/home/capote-obit.html 5. http://www.southernliterarytrail.org/monroeville.html 6. http://www.monroecountymuseum.org/#!capote/ccbt 7. http://alabama.travel/places-to-go/faulk-property-the
Additional Information