The Midland Theater
Introduction
Built in 1928, the Midland Theater has become the leading location for the arts in Licking County, Ohio and the surrounding area. It offers inspiring and assorted live performances. People can come to the theater to see legendary musicians, dance, stage door cabaret performances and family entertainment. Touring and local artists are presented through the theater's five performance series to inspire education in the arts and community outreach programs. The Midland Theater has set out to enhance the lives of their audiences.
Images
The Midland Theater opened on December 20, 1928. The Midland Theater closed its doors in 1978. Restoration to the building began in 1992 and the theater now offers programs to suit anyone's interest.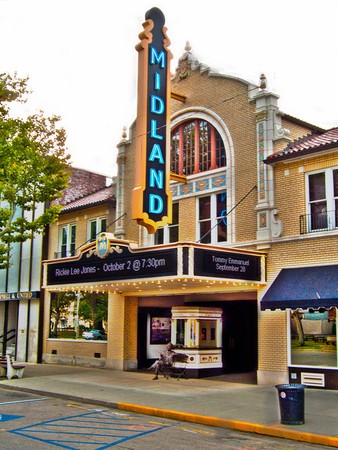 Backstory and Context
The Midland Theater opened on December 20, 1928. Hundreds of people stood in line for hours in the cold waiting to enter the new theater. The show was just part of the reason for such a crowd. They also wanted to see the theater's interior. They were impressed with the marble pillars they found inside along with the upholstered chairs. All inside the theater there was red velvet. There was red velvet carpet. The walls were covered with rose velvet and gold fringe. There was even red velvet on the stairway rails and orchestra pit. The balcony was trimmed with lace. A beautiful art glass chandelier hung from the ceiling.
For over 50 years the Midland Theater plaid movies from Hollywood's golden years. Some of the movies played in the theater include "Gone With the Wind", "Ben Hur", and "Dr. Zhivago". On Saturday afternoons boys and girls would fill the theater to watch the newest Tarzan or Superman films. The Theater didn't just show movies. Over time it hosted some of the era's top performers like Bob Hope, Jerry Lewis and the Russian Ballet.
Due to decay and lack of attendance, the Midland Theater closed its doors in 1978. The boilers froze and cracked during a blizzard that year determining the theaters fate. The theater remained vacant for 14 years. As the theater became more of a blot on the landscape, discussion to demolish began. In 1992, Dave Longaberger and the Longaberger Company bought the Midland Theater. Eight years and $8.5 million were spent to restore and renovate the theater. Having no desire to actually operate the theater Dave Longaberger handed the property over to the Newark Midland Theater Association.
The restored and renovated Midland Theater offers programs to suit anyone's interest.
Sources
"The Midland Theatre." Discover Ohio. Web. 11 Dec. 2015. "Midland Theatre - About." Midland Theatre. Web. 11 Dec. 2015.
Additional Information