The West Side Market
Introduction
The West Side Market, located in the Ohio City neighborhood of Cleveland, is the oldest "continuously operating municipally owned market" in the area (West Side market website History Page). The West Side Market has been serving residents of the Cleveland area since 1912. The market caught on fire in 2013 and was renovated and reopened within six months. It was added to the National Register of Historic places in December 1973.
Images
An aerial view of the West Side Market.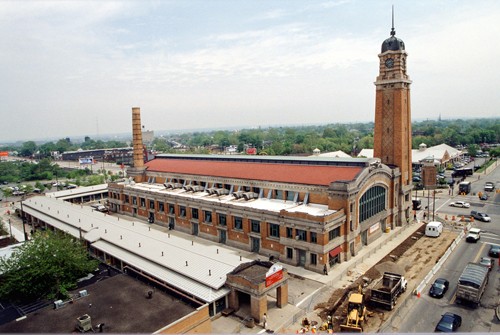 An inside look of the West Side Market.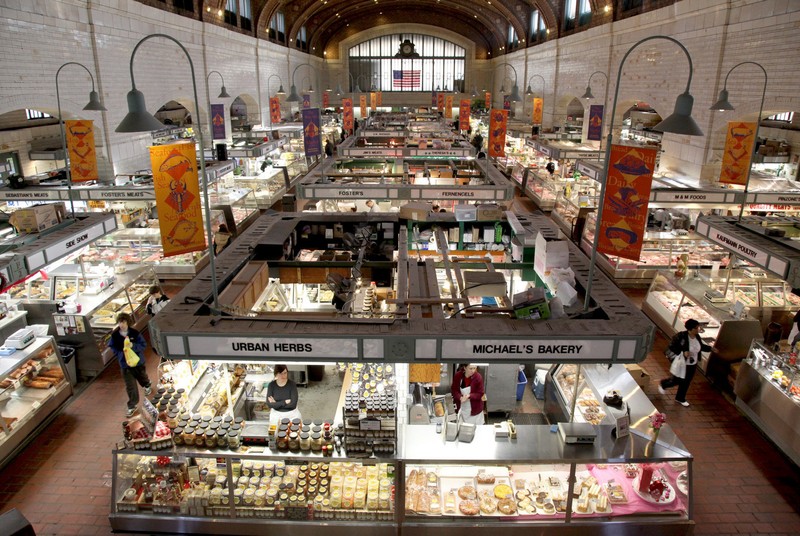 Backstory and Context
The West Side Market was one of three public markets in Cleveland in the early twentieth century. The market started in 1840 on land that was donated by two local businessmen to the Ohio City government who stipulated that the land be used for an open air market. The market outgrew this land and moved directly across the street in 1902. The newer Neo-Classical and Byzantine style buildings were built in 1912.
The market has always been a melting pot of cultures from all over the world. The vendor population includes individuals of Irish, German, Middle Eastern, Italian, Greek, Polish, Russian, and Slovenian descent. Some vendor stalls have been occupied by the same family since the market's inception in 1912. The market serves as both a place for locals to do their shopping and as a tourist attraction.
The West Side Market celebrated its 100 year anniversary in 2012 and has received many accolades. "In 2008, the West Side Market was designated as one of '10 Great Public Places in America,' by the American Planning Association" (West Side market website History Page). It has been featured on the Travel Channel, the Food Network, and in Food Network Magazine. Tours of the historic market can be arranged through the market office.
Sources
Jarboe, Michelle. West Side Market needs to be consistent and self-sufficient as it nears 100 years, report finds. Cleveland.com. March 28, 2011. Accessed August 27, 2018. http://www.cleveland.com/business/index.ssf/2011/03/west_side_market_needs_to_be_c.html.
West Side Market: Cleveland, Ohio. American Planning Association. Accessed August 27, 2018. https://www.planning.org/greatplaces/spaces/2008/westsidemarket.htm. Information and photo source.
Market History. West Side Market. Accessed August 27, 2018. http://westsidemarket.org/.
https://en.wikipedia.org/wiki/West_Side_Market
Additional Information