Quincy Hill Water Tank Disaster, 1909
Introduction
Quincy Hill, once known as Prospect Hill, is a neighborhood located between Quincy Street and Shattuck Street in Parkersburg, WV. This neighborhood was the site of one of the worst disasters in the region. On March 19, 1909, two water towers on top of Quincy Hill burst and released two million gallons of water, causing a sudden flood that claimed the lives of three nearby residents. A city park is now located on the site of the water tanks.
Images
Southward View of Quincy and Shattuck Avenue and the wreckage and remains of the tanks.
Corner of Tenth and Avery Street. View of the wreckage caused by tanks.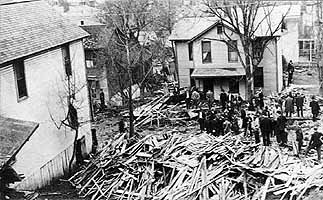 Modern view of Tenth and Avery from the top of Quincy Hill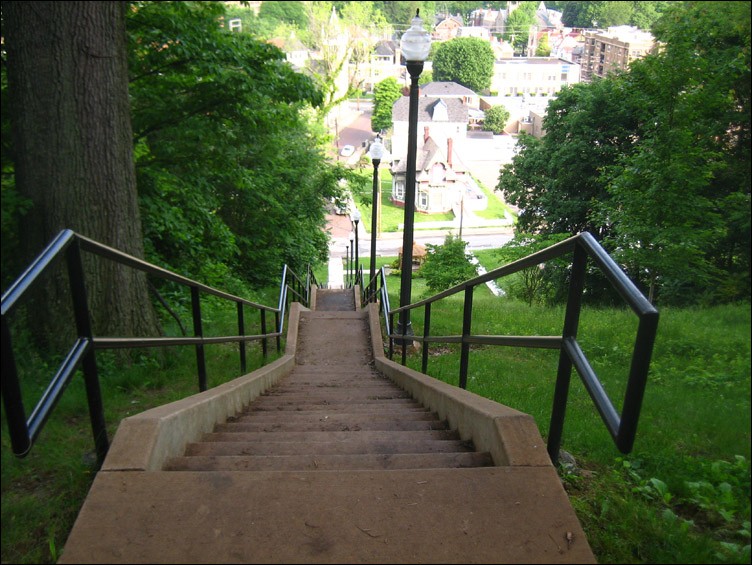 Children playing on the remains of one of the tanks.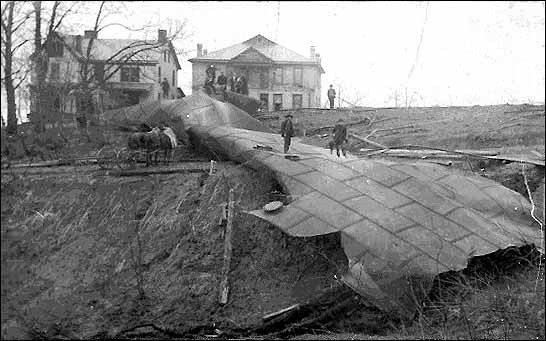 People searching for dead bodies in the wreckage on Tenth and Avery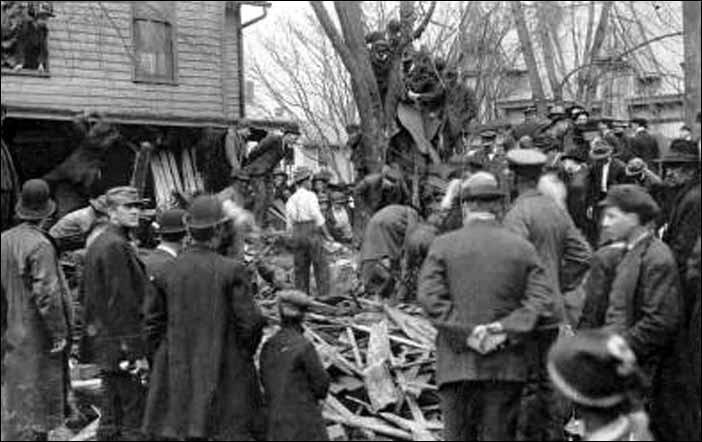 Map of where the water tanks once stood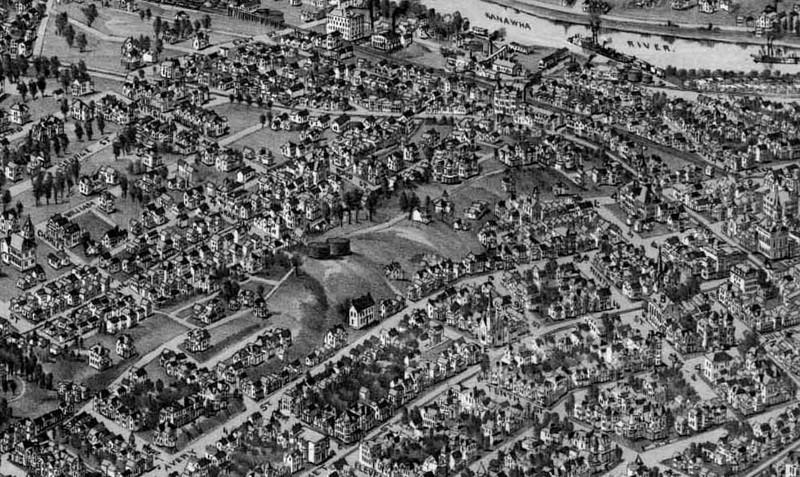 Backstory and Context
At 5:10 a.m. on March 19, 1909, disaster struck Parkersburg, WV as one of the city's two reserve water tanks burst. The resulting gush of water then destroyed the supporting truss of the adjacent tower. With both tanks having released their contents, two million gallons of water to rushed down the hill into the neighborhood below.
The water destroyed several houses along Avery Street. The first house met by the tidal wave of water was a small cottage in which lived the newlyweds Mr. and Mrs. Wigal. The wall of water likely caused the roof of the house to collapse on the couple as they slept. A search party found the Wigals later that morning and took them to a local morgue. The body of a third victim was recovered but their identity was either not identified or recorded in the local press.
The water proceeded to the St. John's Lutheran Church on Avery and 9 ½ Streets. The houses surrounding the church were completely demolished. Adjacent streets were filled with wrecked buildings and debris as the water carried down at least six blocks. The water reached the downtown area but only caused minor water damage. Residents recall that after the waters receded, there were at least two inches of mud on the floor of Blennerhassett Hotel.
The disaster united residents in the task of searching for survivors, cleaning the debris, and rebuilding homes. Some questioned whether foul play was involved as the tanks were only 26 years old and should not have failed. However, no evidence of foul play was ever discovered. The tragedy is remembered by a group of well-kept hedges that were planted to commemorate the couple that lost their life in the sudden flood.
Sources
Jim Dawson, Quincy Hill Water Tank Disaster, (accessed 7/20/16) http://electricearl.com/parkersburg/quincyhill.html