Old City Hall, District of Columbia
Introduction
This historic building at Judiciary Square was once the headquarters of the city government and is now home to part of the DC Court of Appeals. The building was designed by architect George Hadfield to house municipal government offices during an era when the city was completely under the authority of Congress. (Today, the city has limited autonomy but citizens are not represented in Congress by a voting member). Construction began in 1820, but only the east wing was in use until the building's completion in 1849. The building served as city hall for the District of Columbia, as well as a U.S. courthouse and the D.C. Superior Court (similar to a state supreme court). The building was named as a National Historic Landmark in 1960 ad is considered one of the best examples of Greek Revival architecture in the city. The statue of Abraham Lincoln in front of the building was designed by Irish artist Lot Flannery and dedicated in 1868. It has been restored several times, and is the oldest statue of Lincoln still in use.
Images
The District of Columbia Court of Appeals is now located in what was originally built to be the District of Columbia City Hall. The statue of Lincoln was dedicated in 1868.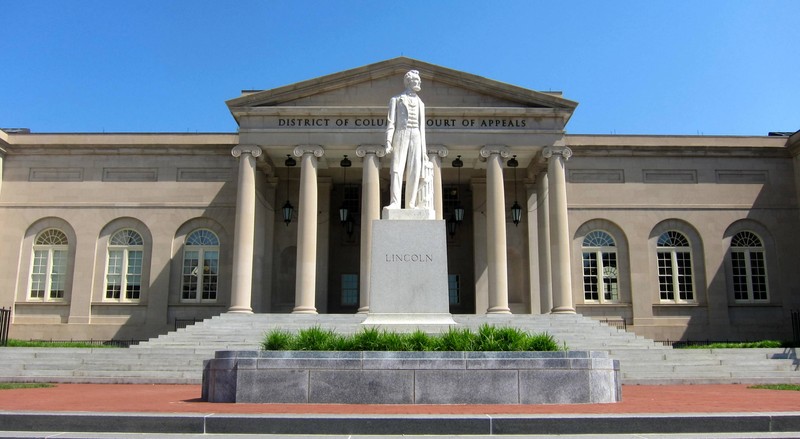 The building was originally designed to include a dome as pictured in here, but the dome was never completed. Today the building is known as Old City Hall and the District of Columbia Courthouse.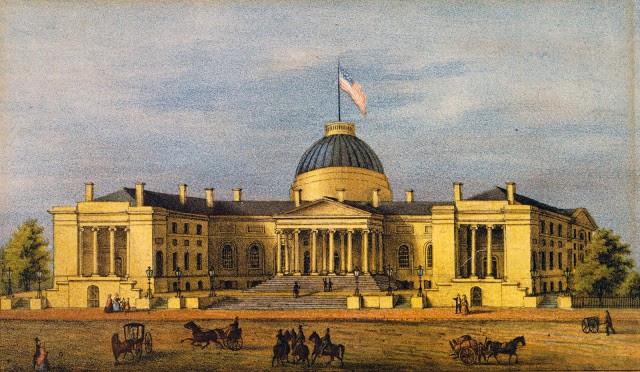 Learn more about the city with Tom Lewis's book, Washington: A History of Our National City.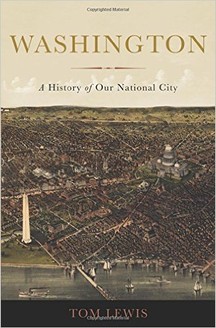 Backstory and Context
Construction began on the central section of the building in 1820. The east wing was completed in 1826. Some offices were moved in by 1822. However, the west wing wasn't completed until 1849. The building was made of stuccoed brick but was mostly changed to Indiana Limestone in 1916. The interior was also completely redesigned at this time. In 1881 an addition was built across the entire north side.
The building has been used by both the federal and municipal governments. It has seen its share of noteworthy cases. Representative Sam Houston was tried and convicted for using his cane to beat another member of Congress. Richard Lawrence was tried following his failed assassination of President Andrew Jackson. John Surratt, an alleged conspirator in the assassination of Abraham Lincoln was tried and acquitted while Charles J. Guiteau was convicted of assassinating President James A. Garfield.
The building was renovated and modernized again in 2009. A glass atrium was added on the north side. It continues to be used by the District of Columbia Court of Appeals, the highest court in the District the Columbia. It is the equivalent of a state supreme court.
Sources
Images from http://www.streetsofwashington.com/2009/11/old-dc-city-hall-and-courthouse.html http://loc.gov/pictures/item/dc0379/ History of the Old City Hall, http://www.dccourts.gov/internet/documents/HistoricCourthouse_CityHall.pdf
Additional Information