Administration Building, Carnegie Institution for Science
Introduction
The Carnegie Institution for Science was one of many organizations to develop from the mind and fortune of Andrew Carnegie. It was formed for the purposes of scientific discovery. It was endowed in 1902. The building was designed by the architects John Carrere and Thomas Hastings. The building, a Beaux-Arts style, has a neoclassical façade. It was completed in 1908. It was declared by the National Park Service as a National Historic Landmark in 1965.
Images
The Administration Building, Carnegie Institution of Science in Washington D.C. is a National Historic Landmark. It is home to scientific research and discovery and is a popular event venue.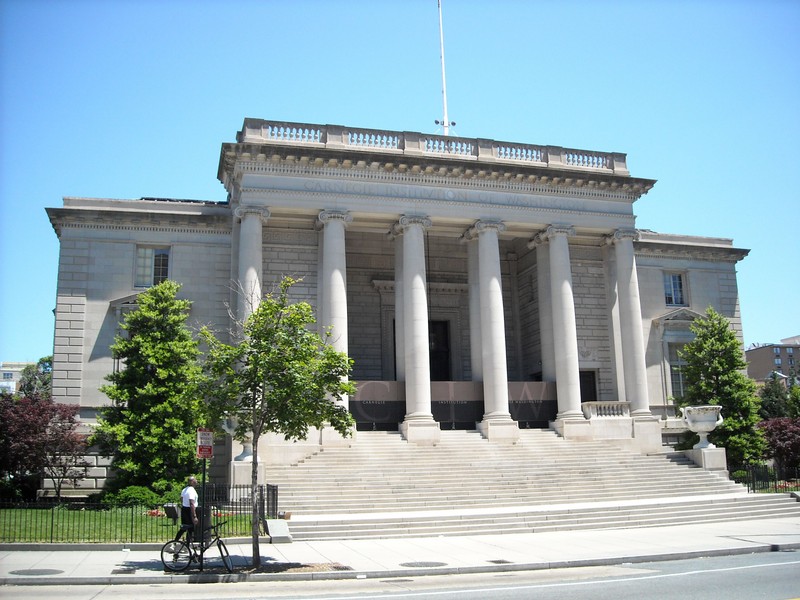 Backstory and Context
The Carnegie Institution for Science is an endowed, nonprofit dedicated to basic research and discovery. The Institution's staff are leaders in the fields of plant biology, developmental biology, Earth and planetary sciences, astronomy and global ecology. The Institution is responsible for numerous contributions to various scientific fields. It also has research departments throughout the country.
Investigators at the Institution have help with the development of hybrid corn, radar and the technology that led to Pyrex glass, among other achievements. Through the years the staff has been a virtually who's who of influential scientists. It's been the home for Nobel Prize winners Barbara McClintock, Alfred Hershey and Andrew Fire as well as Presidential Medal of Science winner Vera Rubin. Other notable employees include Edwin Hubble, who discovered that the Milky Way isn't the only galaxy and Charles Richter, who created the earthquake measurement scale.
An auditorium was added to the original building in 1938. It allows the Institution to share its findings with public lectures and film screenings. The building has also become quite the special events venue winning numerous awards. It hosts award ceremonies, graduations, dinners, receptions, corporate events and is an immensely popular wedding venue.
Sources
https://carnegiescience.edu/about/history https://en.wikipedia.org/wiki/Administration_Building,_Carnegie_Institution_of_Washington http://www.nps.gov/nr/ Trefil, James; Margaret Hindle Hazen; Timothy Ferris. Good Seeing. Joseph Henry Press, 2002
Additional Information