Blair House
Introduction
Blair House, a National Historic Landmark, is part of the President's Guest House Complex. The house itself was built for Dr. Joseph Lovell, the first Surgeon General on the United States, in 1824. In 1836 it was bought by Francis Preston Blair, Sr., a member of President Jackson's "Kitchen Cabinet." The Blair's built a house next door for their daughter in 1852, which became known as the Lee House. The two houses were and still are practically used as one. The United States Government purchased Blair House in 1942 and it has been housing guests of the presidents since that time.
Images
Blair House is known as the President's Guest House. It was purchased by the U.S. government in 1942 at the urging of President Franklin Roosevelt. Image by AgnosticPreachersKid on Wikimedia Commons (CC BY-SA 3.0)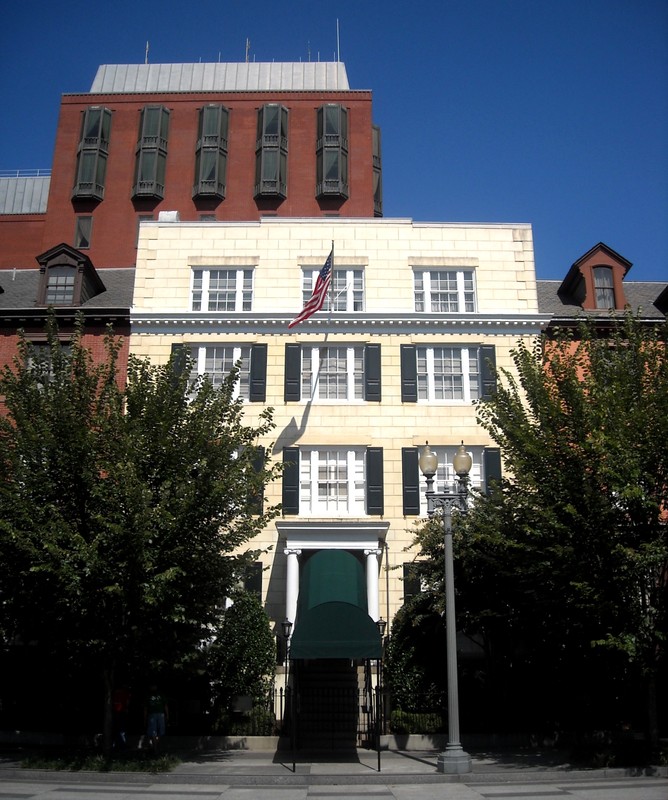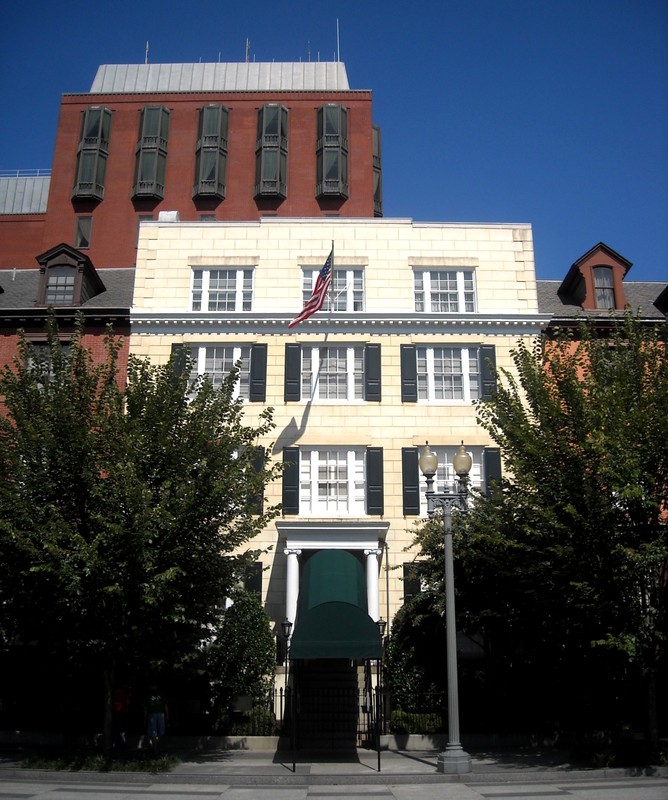 Blair House in 1919. Then it was an individual building. In 1950 it became attached to neighboring buildings. Image by National Photo Company via Library of Congress (public domain)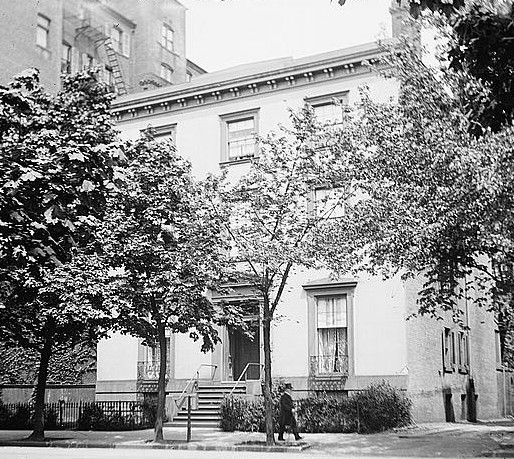 Library of the Blair House. Image by Carol M. Highsmith, via Library of Congress (public domain)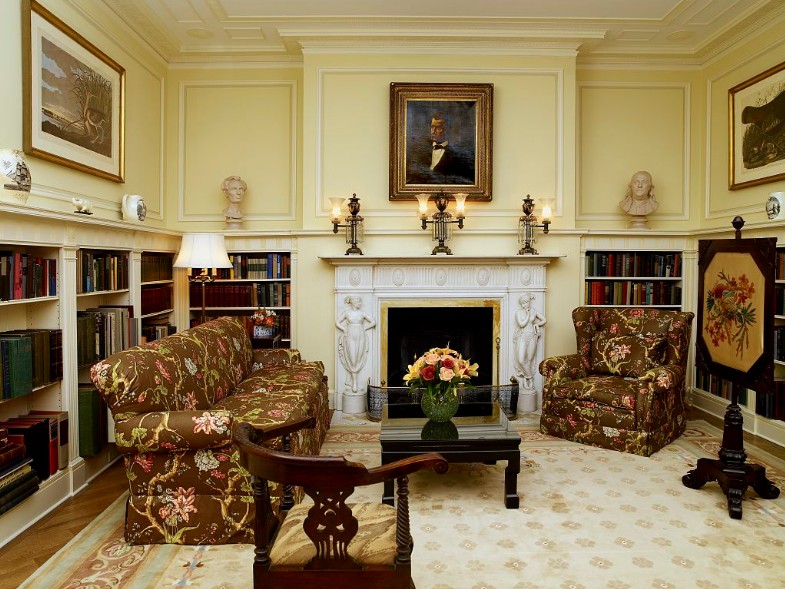 The Dillion Room, with wallpaper dating back to 1770. Image by Carol M. Highsmith via Wikimedia Commons (public domain)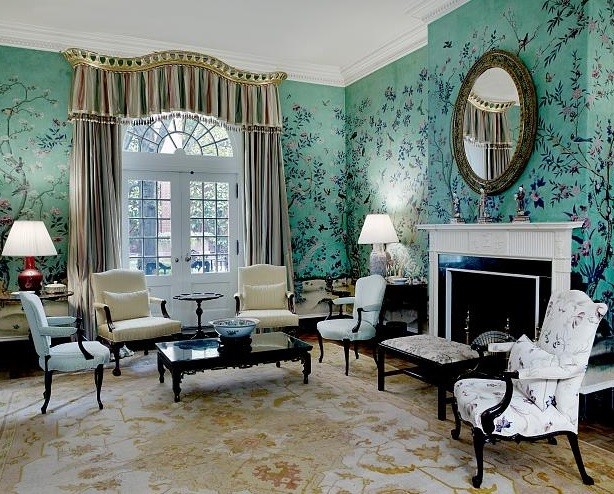 An 1845 portrait of Francis Blair, the house's namesake. Portrait by Thomas Sully (public domain)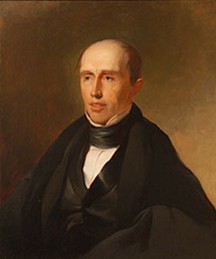 Blair House on November 1, 1950 after the failed attempt to assassinate Truman. (Unknown source)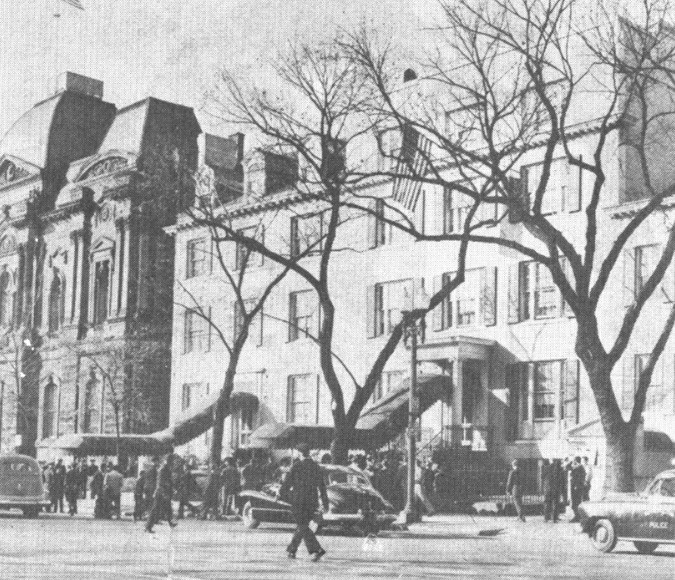 White House Policeman Leslie Coffeit. He died in the line of duty protecting Truman. He was able to take down both of Truman's assassins. Image by U.S. Department of the Treasury (public domain)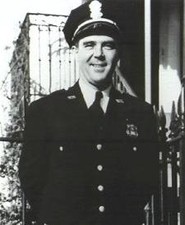 Backstory and Context
Blair House was an important home even its early years. The Blairs were an influential family and their son Montgomery Blair was an advisor to President Lincoln. The house experienced a resurgence in popularity in 1942 when became a place of residence for visiting dignitaries. It was frequent visits by Winston Churchill that sparked President Franklin Roosevelt's desire to use the house for diplomatic purposes. It was purchased by the government in 1942.
Prior to Blair House, most guests of the president stayed in the White House and then a hotel or embassy for the rest of the visit. During the Truman administration the Blair House became the Truman White House. Renovation and remodeling in the White House left a need for Truman to relocate to Blair House. At this time as well, on November 1, 1950, Puerto Rican nationalists, Griselio Torresola and Oscar Collazo, made an assassination attempt on President Truman, in broad daylight. Collazo was mortally wounded and White House Policeman Leslie Coeffeit was killed in the failed attempt after he killed Torresola. 
It now consists of four connected townhomes featuring more than 120 rooms. It has 14 guestrooms, 3 formal dining rooms, two conference rooms, a beauty salon, an exercise room and in-house laundry facility. It has a full-time staff of 18 people including an executive chef and a sous chef. It is not open to the public. If it is not occupied, Blair House often hosts special events.
The house has played a key role in U.S. history as many notable guests, important conversations and key decisions have been made within its walls. Famous guests at the Blair House include Winston Churchill, Vyacheslav Molotov, Emperor Akihito of Japan, Queen Elizabeth II, Charles de Gaulle, François Mitterrand, Vladimir Putin, Boris Yeltsin, Hosni Mubarak (Egypt), Margaret Thatcher, Javier Perez de Cuellar (5th Secretary General to the UN), Nambaryn Enkhbayar, Narendra Modi, Hamid Karzai (Afghanistan), and Justin Trudeau.
Sources
Smith, Elbert B. Francis Preston Blair. New York: Free Press, 1980.
Smith, William E. Francis P. Blair: Pen-executive of Andrew Jackson. Cedar Rapids: The Torch Press, 1931.
Image Sources
https://en.wikipedia.org/wiki/File:Blair_House_facade.JPG

https://www.loc.gov/pictures/item/2016819474/

https://www.loc.gov/item/2010718963/

https://www.loc.gov/pictures/item/2010719224/

https://commons.wikimedia.org/wiki/File:Francis_Preston_Blair_in_1845.jpg

https://commons.wikimedia.org/wiki/File:Coffelt.jpg

Additional Information