Impact of the Bay of Pigs on Miami- Historical Marker
Introduction
The Bay of Pigs was a botched attempt to overthrow Fidel Castro's communist government in Cuba. A CIA-sponsored paramilitary group, Brigade 2506, invaded on April 17, 1961. The 1300-man invasion resulted in 100 deaths. The rest of the men were imprisoned. This event had an interesting effect on the culture of Miami, as Cuban refugees living in the city began to view it as a more permanent home. On December 23, 1962, the prisoners captured during the invasion arrived at Homestead Air Force Base after being released. They were reunited with their families at Dinner Key Auditorium.
Images
Impact of Bay of Pigs on Miami marker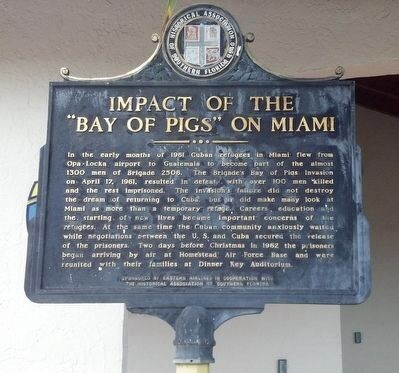 Map indicated Bay of Pigs invasion site

Book about Cuban Americans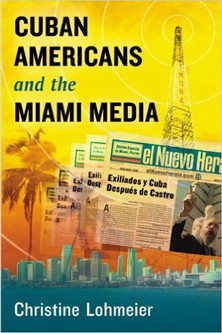 Backstory and Context
Cuban culture has continued to be a strong presence in Miami over the years. It is such a significant cultural presence that the city is nicknamed "The Capital of Latin America." There is an area in downtown Miami known as "Little Havana", named after the capital city in Cuba. The area is also known as La pequeña Havana, Little Havana in Spanish, and Calle Ocho.
Several festivals occur in the neighborhood throughout the year, including the Calle Ocho festival, Cultural Fridays/Viernes Culturales, and the Three Kings Parade. The Calle Ocho Festival began in 1978 as a way for the Cuban community to express and preserve their culture and share that culture with the general Miami community. It takes place between SW 8th Street and 27th Avenue in Little Havana. Over the years, the festival has grown to include all Latin American countries with communities in the area. Three Kings Day is in January 6, which is the Feast of the Epiphany on the church calendar and the twelfth day of Christmas. It was when the book of Matthew in the Bible says Jesus received gifts from the Magi. Viernes Culturales takes place on the last Friday of every month and is an arts and music festival.
Sources
http://www.huffingtonpost.com/2014/01/06/three-kings-day-tradition_n_4548599.html https://en.m.wikipedia.org/wiki/Calle_Ocho_Festival https://www.interexchange.org/articles/abroad/2015/08/20/miami-culture-cuban-influence/ https://en.m.wikipedia.org/wiki/Bay_of_Pigs_Invasion http://www.hmdb.org/marker.asp?marker=87438
Additional Information