Atlanta Cyclorama & Civil War Museum
Introduction
Atlanta's Cyclorama offers a stunning visual display of the Battle of Atlanta that has thrilled audiences since the late 19th century. Visitors to the Cyclorama stand at the center of a sweeping panorama of the battle. They can also also tour two floors of Civil War artifacts and educational exhibits. Visitors should be aware that the Cyclorama is a tourist attraction and its exhibits are not intended to provide interpretation of military or political history. The Cyclorama lauds the courage of soldiers on both sides of the battlefield while avoiding potentially controversial subjects. For example, there is little discussion of slavery or emancipation, or the goals of the Confederacy, the causes of the Civil War, or the historical significance of Reconstruction. However, the museum offers a fine introduction to the Atlanta Campaign and is not to be missed simply because it may not offer a complete history of the Civil War. Those wanting more historical information should consider the books that appear at the bottom of this page. Each of these books were written by leading historians of the Civil War.
Images
The Cyclorama includes a 15,000 square foot painting behind a large diorama of Civil War soldiers depicting the Battle of Atlanta. It has been on display since 1893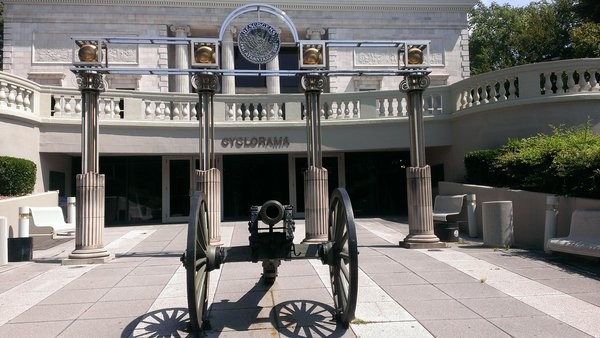 Backstory and Context
On July 22nd, Confederate troops led by General John B. Hood attempted to hold Atlanta against a Union siege led by Major General William T. Sherman. By the end of the day, the Union had forced a Confederate retreat and 12,000 soldiers were either killed, wounded or missing.


The museum displays artifacts from the war, including a steam locomotive known as the Texas that was a central figure in the Great Locomotive Chase of 1862. Visitors to the Cyclorama can also view the world's largest painting, which is larger than 15,000 square feet and weighs over 10,000 pounds.
The museum is now
closed
. The Cylorama been moved to the Atlanta History Center. The Grant Park building will be given to Zoo Atlanta, where it will be used as office and event space, including a new private viewing area for a proposed expansion of the zoo's elephant
habitat.
Additional Information