Richardson Olmsted Complex
Introduction
The Richardson Olmstead Complex is a former asylum that first admitted patients in the 1880s when it opened as the Buffalo State Asylum for the Insane. The complex was placed on the National Register of Historic Places and named a National Historic Landmark in 1986. Architect Henry Hobson Richardson designed the building in conjunction with landscape architect Frederick Law Olmstead, who designed the surrounding grounds. This facility operated as a psychiatric hospital until the mid-1970s. In recent years, the site has been undergoing a process of revitalization and now features a new hotel/conference center called Hotel Henry and an architectural center, both of which occupy the main part of the old building with the iconic towers. The grounds have been revitalized as well and other tenants and uses of the complex continue to be explored. Private and public tours afford visitors the chance to see closed parts of the building and to learn about the site's history.
Images
The Richardson Olmsted Complex was built in 1880 and was declared a National Historic Landmark in 1986.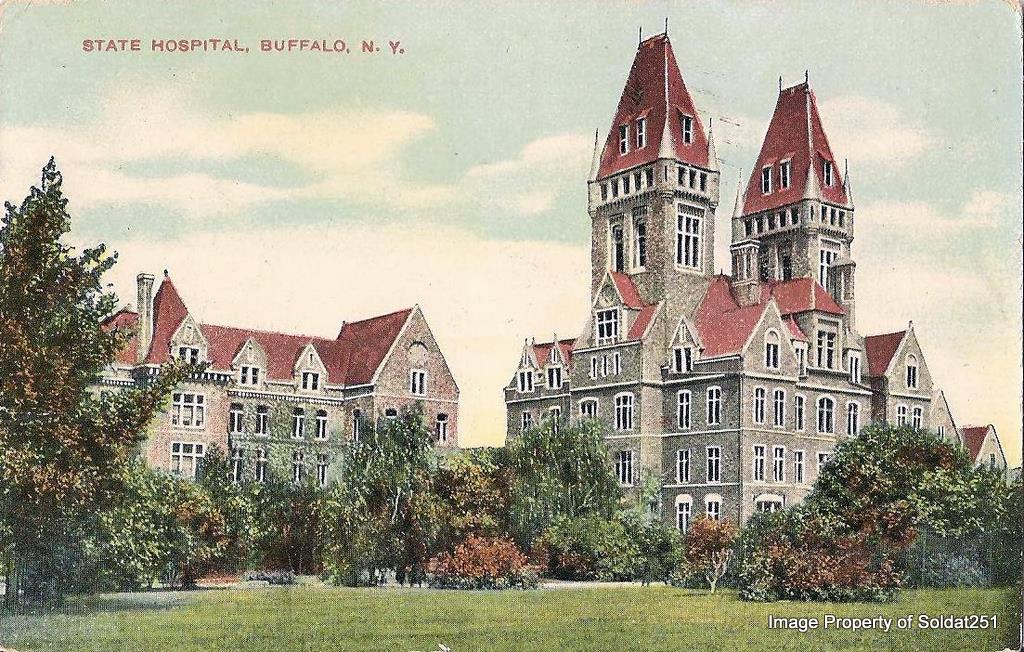 Backstory and Context
Construction began in 1872 and lasted until 1880. Patients were admitted before it was completed. The section of the hospital that housed female patients opened fifteen years later. It was considered a "state of the art facility" at the turn-of-the-century, combining architecture with the best practices of the day to treat mental illness.
The treatment of mental illness evolved and improved in the coming decades and the hospital changed as well. Its name was changed to Buffalo State Hospital in 1890 to reduce the stigma and show more respect for patients. It was reduced in half by the late 1920s (the freed portion was then developed by Buffalo State College). The name was changed once again in 1972 to the Buffalo Psychiatric Center. Not long after however, patients were moved to other facilities and the complex was abandoned. It sat empty and continued to deteriorate for many years until the revitalization project began in the late 2000s.

Sources
Buffalo State Hospital. (2013, February 25). Retrieved December 2, 2015, from https://ghostlyworld.wordpress.com/2013/02/25/buffalo-state-hospital.
The Long History of a Distinguished National Landmark. (2015). Retrieved December 2, 2015, from http://www.richardson-olmsted.com/learn/history.
Buffalo State Hospital. (n.d.). Retrieved December 2, 2015, from http://opacity.us/site35_buffalo_state_hospital.htm.
Additional Information