Miami City Cemetery
Introduction
Established in 1897, the City Cemetery is Miami's oldest cemetery. It is nearly as old as Miami itself, which was incorporated just a year before. The cemetery covers ten acres and includes 10,000 plots, the final resting places of city founders, war veterans, . The cemetery was added to the National Register of Historic Places in 1989 for its association with notable individuals and families, landscape features, and historical funerary traditions. It is the only municipal cemetery in Dade County and is managed by Miami's department of Parks and Recreation.
Images
A historic marker for Miami City Cemetery, placed in 2013, notes important groups and individuals associated with the cemetery.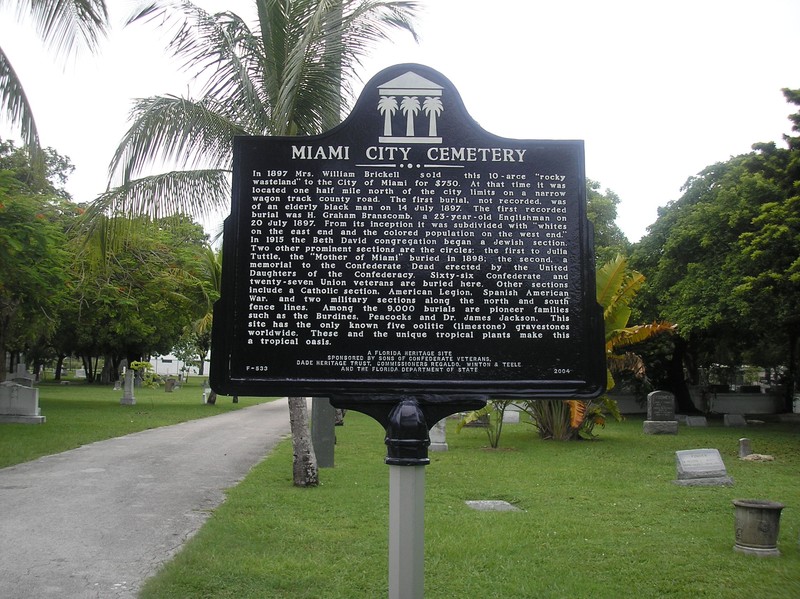 Miami City Cemetery is notable for its graves as well as its landscaping, which is comparative to a botanical garden. Wikimedia Commons.
Graves dating back to the 1890s depict a wide variety of headstone styles, indicating the diversity of people and customs in Miami. This image shows the Jewish section established in 1915. Wikimedia Commons.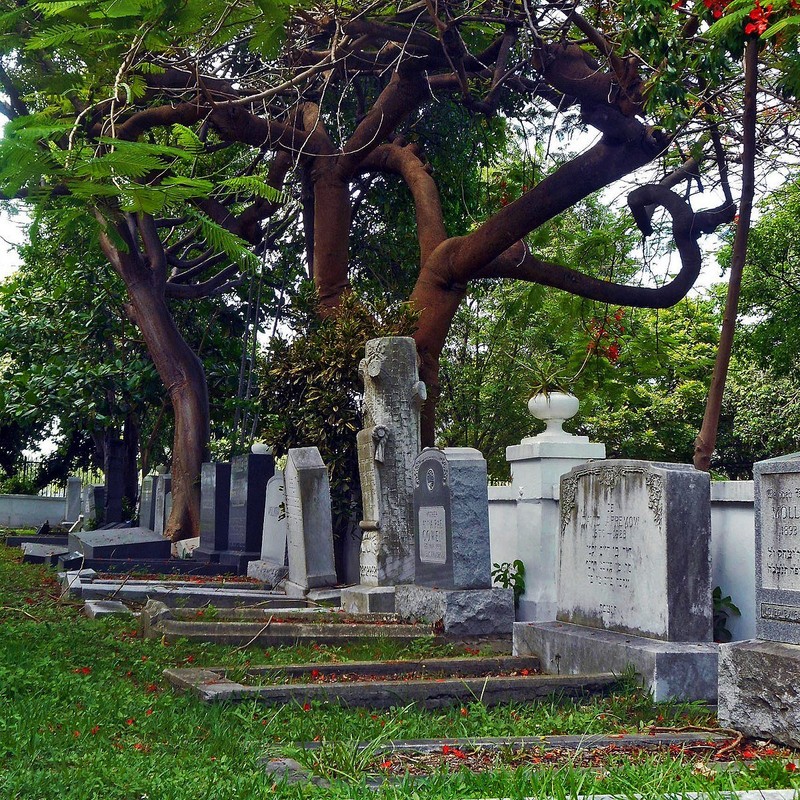 Miami's founder, Julia Tuttle, is notable for being the only woman to found a major city in the United States. Wikimedia Commons.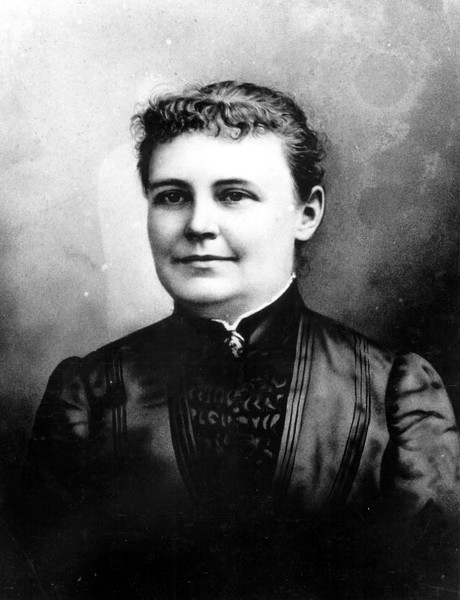 Tuttle, who passed away shortly after Miami was officially incorporated, was one of the first people interred at Miami City Cemetery. FindaGrave.com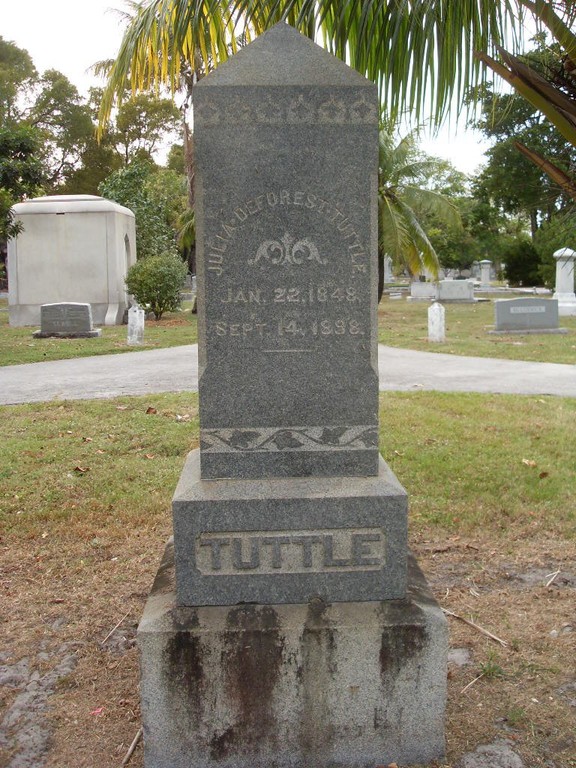 Backstory and Context
The land that is Miami City Cemetery was originally owned by William and Mary Brickell, who then sold a ten acre tract to the city of Miami to establish a municipal cemetery. The city laid out the first plots in 1897 and finished sectioning the plots in 1909.
The cemetery was originally divided by race and religion. The first two sections included the western section for Blacks and eastern section for whites. In 1915, the city sold two lots to the first Jewish synagogue in the area, B'nai Zion. These lots in the northwest section were walled, following Jewish tradition.
Many of Miami's founders were laid to rest in the cemetery. Most notably, the cemetery is the final resting place of Julia Tuttle (1849-1898), considered the only woman to found a major city in the United States. According to the National Register of Historic Places, Tuttle's plot is especially significant because there is no other remaining structure or building associated with her life. Tuttle, like the Brickells, owned hundreds of acres of land in present-day Miami. She recognized its potential to be the site of an important city and convinced railroad tycoon Henry Flagler to build services of his Florida East Coast Railway in the area. Tuttle is known as the "mother of Miami" and was the twelfth person buried at City Cemetery.
Other prominent families found in the cemetery include the Belchers, Burdines, Duwals, Seybolds, Peacocks, Sewells, and Jacksons. Miami's first mayor, John B. Reilly, and third mayor, John Sewell, are buried at the cemetery and had connections to the Florida East Coast Railway. Dr. James Jackson, Miami's first physician, is also buried at the cemetery. Additionally, a number of war veterans are buried in Miami City Cemetery, including 200 Spanish-American War veterans and dozens of Confederate and Union veterans of the Civil War.
Though known mostly as a historic cemetery, Miami City Cemetery is still active, with around ten to twenty burials taking place each year. There are around 1,000 plots open, though they are exclusive to deed holders and their relatives.

Miami City Cemetery is also notable for its landscaping, architecture, and funerary traditions. The cemetery is separated from the rest of the city by walls and an iron fence. Graves encompass a variety of headstones, mausoleums, monuments, obelisks, and statues that reflect different customs, religious symbols, and time periods. The landscaping incorporates tropical trees and plants, creating an aesthetically pleasing environment. Some of these plants were cultivated by a nearby municipal nursery in the early twentieth century. A number of historic trees and headstones have beeb toppled by destructive hurricanes, including Andrew in 1992, Wilma in 2015, and Irma in 2017. In addition to care by Miami Parks and Recreation, a number of organizations have taken part in restoring the cemetery, including the African-American Committee of Dade Heritage Trust and TREEmendous Miami.
Sources
"City Cemetery." Miami Parks and Recreation. City of Miami. Accessed March 2018. http://www.miamigov.com/parks/cemetery.html
"Miami City Cemetery." Find a Grave. Accessed March 2018. http://www.findagrave.com/cgi-bin/fg.cgi?page=cr&CRid=71852
"Miami City Cemetery." Historical Marker Database. https://www.hmdb.org/marker.asp?marker=78119
Lipscomb, Jessica. "Historic Miami City Cemetery Hit Hard by Hurricane Irma." Miami New Times. September 15, 2017. http://www.miaminewtimes.com/news/hurricane-irma-hits-historic-miami-city-cemetery-9671325
National Park Service. "Miami City Cemetery." National Register of Historic Places Inventory-Nomination Form. Prepared by Sarah Eaton and Vicki L. Welcher. Washington, D.C.: National Park Service, Department of the Interior, 1989. https://npgallery.nps.gov/AssetDetail/NRIS/88002960
Images:
"Miami City Cemetery (21)." Photo. Daniel Di Palma. 2017. Wikimedia Commons. Accessed March 2018. https://en.wikipedia.org/wiki/File:Miami_City_Cemetery_(21).jpg
"Miami City Cemetery (8)." Photo. Daniel Di Palma. 2017. Wikimedia Commons. Accessed March 2018. https://en.wikipedia.org/wiki/File:Miami_City_Cemetery_(8).jpg

"Julia DeForest Tuttle." Photo. Date and photographer unknown. Wikimedia Commons. Accessed March 2018. https://en.wikipedia.org/wiki/File:Julia_DeForest_Tuttle.jpg

"Julia DeForest Sturtevant Tuttle." Find a Grave. Accessed March 2018. https://www.findagrave.com/memorial/12929206/julia-deforest-tuttle

Additional Information