Roy Rogers Boyhood Home
Introduction
Roy Rogers, nicknamed the "King of the Cowboys," was an actor, singer, and philanthropist born in Cincinnati, Ohio in 1911. He spent about a decade of his childhood at this home in rural Ohio, learning ranch-hand skills that would help him in his future career. Rogers first appeared in films in the mid-1930s as a part of a musical trio, but he went on to star in a string of Westerns during the 1940s and 1950s. Starting in the late 1950s and continuing into the 1960s, he also had his own TV show. Rogers died in California in 1998 at the age of 86.
Images
Roy Rogers's boyhood home is located down a hollow that has been named after the musician and actor. Not long after turning down Roy Rogers Road, the home can be seen sitting on a small hill to the left.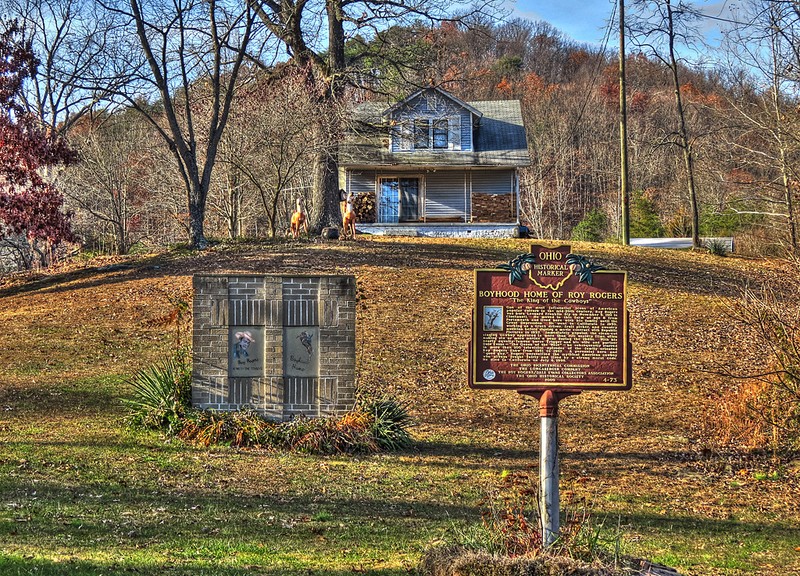 An autographed photo of Roy Rogers and Trigger, which reads, "Many Happy Trails To You Always. Sincerely, Roy Rogers."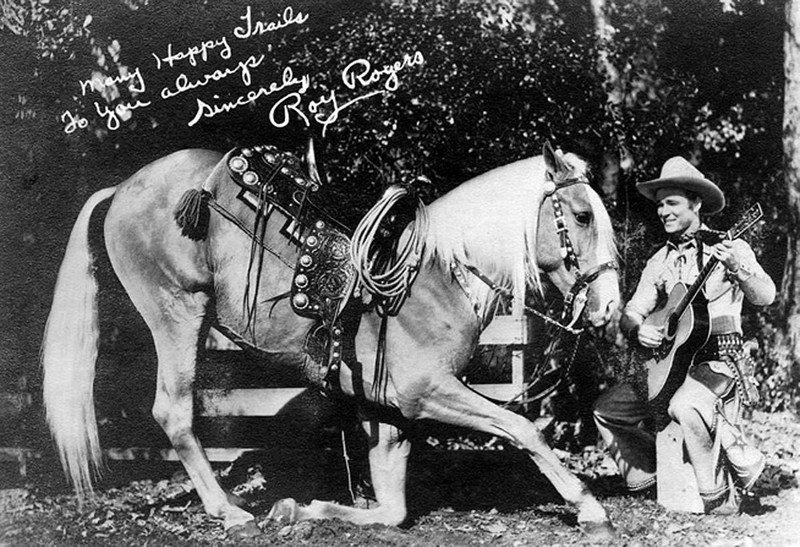 Roy Rogers with his wife and co-star, Dale Evans.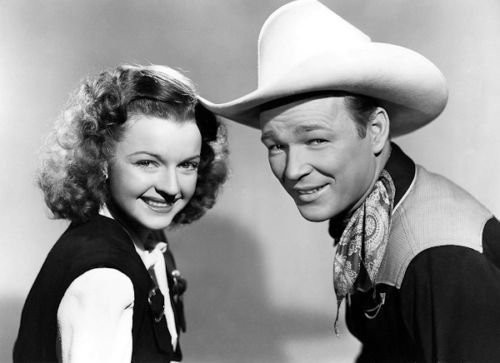 Backstory and Context
Roy Rogers was born Leonard Franklin Slye on November 4, 1911 in Cincinnati, Ohio. At the age of eight, his family moved to this farm in rural Ohio. Here he learned to ride a mule, to work with animals, and other skills that would later help his career as a "singing cowboy." Once the Great Depression hit, his family relocated again, this time to California. Rogers worked at a variety of jobs, including fruit picker and factory worker. He also performed at local dances and theaters as a musician. He eventually formed the O-Bar-O Cowboys musical trio, and the group appeared in several movies.
Rogers, who settled on his name after trying out a few others early in his career, had his big break in Under Western Stars in 1938. The film led to many other starring roles in B-Westerns through the 1940s and 1950s. Rogers, the so-called "King of the Cowboys" (a nickname borrowed from the title of one his films), remained grateful to his fans, always trying to answer every piece of fan mail that came his way. Rogers chose, and eventually bought, his frequent animal co-star Trigger. With training from Rogers, the horse learned to shoot a gun, untie ropes, and do basic math. Roy Rogers and Trigger were especially popular with children, and their likeness was used for an array of products, from cereal and toys to bedsheets and dolls.
Rogers's other frequent co-star was his third wife Dale Evans. Rogers married his first wife, Lucile Acolese, in 1933. After they divorced, Rogers remarried in 1936. His second wife, Arline Wilkins, died after giving birth to their third child in 1946. After having appeared with Evans in the film The Cowboy and the Señorita, the two became romantically involved and married in 1947. They worked together on thirty films from 1944 to 1951 and starred in their own TV shows from 1951 to 1962. The couple had one child and adopted four others. Sadly, three of their children died young.
Rogers's other ventures included appearing at rodeos, investing in real estate, music publishing, and a chain of fast-food restaurants. In 1988, Rogers was honored for his achievements in country music and elected to the Country Music Hall of Fame. He was also given four stars on the Hollywood Walk of Fame for his work in radio, music, film, and television. Roy Rogers passed away on July 6th, 1998 of congestive heart failure.
Sources
Roy Rogers. Biography.com. October 12, 2015. Accessed June 22, 2018. https://www.biography.com/people/roy-rogers-9542070.

Severo, Richard. Roy Rogers, Singing Cowboy, Dies at 86. The New York Times. July 07, 1998. Accessed June 22, 2018. https://www.nytimes.com/1998/07/07/arts/roy-rogers-singing-cowboy-dies-at-86.html.

Spencer, Tricia. My Journey With Roy Rogers, The King of the Cowboys, and Dale Evans, The Queen of the West. The Huffington Post. May 21, 2014. Accessed June 22, 2018. https://www.huffingtonpost.com/tricia-spencer/my-journey-with-roy-roger_b_5366446.html. Photo source.


Additional Information