Bennington Museum
Introduction
Bennington Museum is a cultural staple of Vermont. The mission of the museum is to involve visitors in the history, art, and culture of Vermont from it's founding to the present day. One of the most incomparable take aways from visiting the museum is the opportunity to learn through interaction.
Images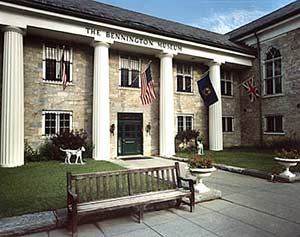 Backstory and Context
The Bennington Museum, originally the Bennington Historical Association, was founded in 1852. The first action of the society was to unveil Bennington Battle Monument commemorating a 1777 battle in Vermont during the Revolutionary War. The Association then set their sights on a new endeavor: bringing a more diverse and complete collection of the history and culture of Vermont to the people of the region.
The next step was to find a location where they could house such a collection. Following decades of searching, the association began renovations on an old Catholic church in 1923. The Bennington Historical Museum opened to the public in 1928, and became the Bennington Museum in 1954. After multiple renovations over the course of almost seventy years, the original structure has become the larger gallery known by visitors today.
Vermont has centuries of history, art, and culture that are showcased at the Bennington Museum. In fact, the museum is the largest of its kind in southern Vermont. Some of the permanent exhibits on display are the Grandma Moses Gallery, Gilded Age Vermont, Bennington Modernism, and many more. Beyond these exhibits, the museum also offers concerts, the opportunity to listen to acclaimed historians, workshops, and Antique Appraisals.
Sources
http://www.benningtonmuseum.org/museum-story.html http://www.benningtonmuseum.org/whats-coming.html
Additional Information