The Fuller Craft Museum
Introduction
One of the main focuses of The Fuller Craft Museum can be found in its name. Their mission is to create "...a dynamic environment where craft is experienced though exhibitions, education, outreach, and collaboration." They welcome members of the public form all ages to visit and experience the vision of The Fuller Craft Museum.
Images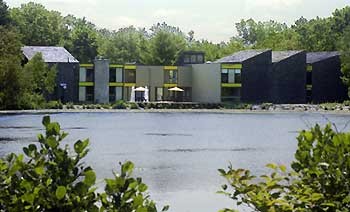 Backstory and Context
The founder of The Fuller Craft Museum, Myron Fuller, was interested in funding an institution devoted to art and the education of it. Fuller worked hard through out his life as a geologist and hydrologist, and had become very wealthy. Therefor, he set up a trust fund that would be able to finance such a venture in 1946. The institution was to be dedicated to the memory of his family.
Brockton Art Center Fuller Museum, its original name, was established in 1969. However, at its opening there was no pieces of art to showcase, because there was no collection. Instead, the museum held lectures, and showcased some artists drawings and paintings for the public. This attracted membership, which led to the acquisition of funds from the membership fees. The museum began building its collection, and officially changed its name to the Fuller Art Museum.
Finally, in 2004, the museum changed its name once more. This time with the primary focus of collecting contemporary craft in mind. The museum became The Fuller Craft Museum dedicated to the "creation of functional objects [dating] back to World War II,"1 or craft. The museum offers a variety of education programs that allow visitors to explore and learn about contemporary craft.
Sources
1 http://fullercraft.org/about-us/ http://fullercraft.org/
Additional Information