Digital Harbor High School
Introduction
This school was the former site of Southern High School, one of the first co-ed middle schools in the country. Southern High School was the first co-ed public school in Baltimore City. In 2002, Southern High School began the transition to Digital Harbor High School. Digital Harbor High School is a magnet school that specializes in technology education, and it welcomes students in grades nine through twelve.
Images
Baltimore City Public Schools erected the school in 1976, when it was Southern High School.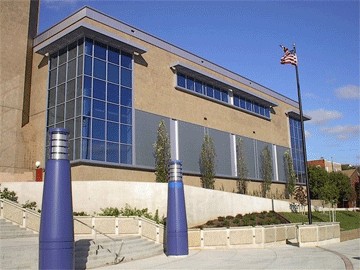 Backstory and Context
Baltimore City officials constructed Southern High School in 1910. The school was the first co-ed public school in Baltimore City. Thus, it set a precedent for other schools in the city as well as Maryland. The school also introduced the new concept of a junior high school to Baltimore City. The school initially was only open to students in grades seven through nine. After a renovation in 1926, the school became a high school. In 1976, Baltimore City administrators deemed the building outdated. Baltimore City Public Schools and the Maryland School Construction Program began a 76 million dollar project to build a new high school in the lower Inner Harbor. The new high school was able to accommodate 2,400 students.
Carmen Russo, the Chief of Baltimore City Public Schools, conceived the concept for Digital Harbor High School in 2000. Southern High School's graduation rate had declined, and the school's performance was decreasing. Russo decided that it was necessary to create a learning environment for advanced students who were interested in information technology careers. Russo proposed the idea, and many people were receptive to her creative plan. A planning committee convened and outlined a 56 million dollar project to renovate the school. Baltimore City Public Schools spent 50 million dollars on renovations to the building that previously housed Southern High School. The school system spent the remaining six million dollars on information technology. Michael Pitroff, the first principal of Digital Harbor, played an integral role in designing the new school. Today, community members and students refer to him as "The Father of Digital Harbor." The school system completed the project in two years. Between 2002 and 2005, the school system grandfathered out students who attended Southern High School. The last class of Southern High School graduated in 2005, and the school officially became Digital Harbor High School in 2005.
Today, Digital Harbor High School is a leader in information technology. The school offers six areas of specialization for students: interactive media production, IT networking academy, database academy, information support and services, geographic information systems and remote sensing, and computer science. The school currently houses over 1400 students, and it boasts one of the highest attendance rates in Baltimore City. The school continues to fulfill its mission: "Create a community of learners that is challenging, diverse, inclusive, welcoming, and safe."
Sources
http://www.baltimorecityschools.org/Page/11876 https://en.wikipedia.org/wiki/Southern_High_School_(Baltimore) https://en.wikipedia.org/wiki/Digital_Harbor_High_School http://www.digitalharbor.org/
Additional Information