Hervey Allen Study
Introduction
Hervey Allen Study (also known as the Glade Estates) was once the home of novelist Hervey Allen. Allen is the author of numerous works, including Israfel: The Life and Times of Edgar Allen Poe, Toward the Morning, and The City in the Dawn. He was a close friend of famous poets Robert Frost and Ogden Nash. This historic home was added to the National Register of Historic Places on May 7, 1974.
Images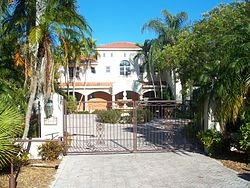 Toward the Flame-click the link below to learn more about this book.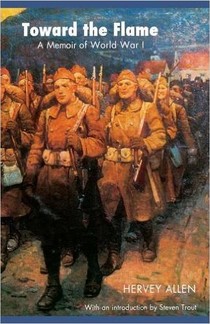 Backstory and Context
Wampum and Old Gold, Allen's first book, won the Yale Younger Poets Prize. Allen's most famous work is Anthony Adverse, which is the story of fictional character Anthony Adverse and set in the eighteenth century. The writer also intended to write a series of novels about colonial America that he called The Disinherited. Three works of this series were completed: The Forest and the Fort (1943), Bedford Village (1944), and Toward the Morning (1948). The novels revolve around the life of fictional character Salathiel Albine, a man from the frontier who was kidnapped as a child by Shawnee Indians. These three novels were published together as The City in the Dawn.
In addition to his prolific career as a writer, Allen also worked for some time as a teacher. He taught at the Porter Military Academy in Charleston, South Carolina and was an English teacher at Charleston High School for a period of time. Later, he worked as a professor at Vassar University. This is where he met his wife Ann "Annette" Andrews. They had two daughters and one son, Marcia, Mary Ann, and Richard. His other accomplishments include co-editing the River of America series with Carl Carmer in the forties and encouraging Marjory Stoneman Douglas to write The Everglades: River of Grass.
Sources
https://en.m.wikipedia.org/wiki/Hervey_Allen_Study https://en.m.wikipedia.org/wiki/Hervey_Allen https://en.m.wikipedia.org/wiki/Anthony_Adverse https://en.m.wikipedia.org/wiki/Rivers_of_America_Series
Additional Information