Bayshore Historic District
Introduction
The Bayshore Historic District, commonly referred to as Morningside, is located within the Upper Eastside neighborhood of Miami. Most of the district's historic properties are located east of Biscayne Boulevard, from NE 50th Terrace to NE 62nd Street, and just north of Bay Point Estates. During his US visit, Pope John Paul II stayed in this neighborhood at the home of Archbishop Edward McCarthy on NE 53rd Street.
Images
Historic home in Morningside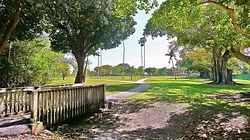 Conch house in Coconut Grove, Miami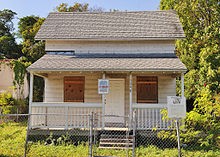 Miami's Historic Neighborhoods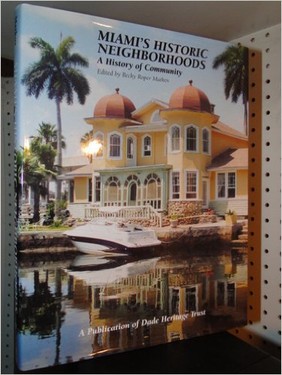 Backstory and Context
Morningside was originally established as a residential area during the twenties. It continued to prosper throughout the mid-twentieth century when it began to decline, as did most inner-city neighborhoods in Miami during the sixties and seventies. It was the first historic area to experience gentrification and has now been fully restored.
The area is important historically for a variety of reasons, including its significance to the history of architecture, landscape architecture, and Miami's community development. The area contains examples of Mediterranean, Art Deco, and vernacular style houses, which all exhibit the diversity of architectural design during the twenties and thirties. The Mediterranean Revival Style incorporates elements from Spanish Renaissance, Spanish Colonial, Beaux-Arts, Italian Renaissance, and Venetian Gothic architectural styles. Indicative elements of the style include stuccoed walls, red tiled roofs, and wrought iron balconies. The Art Deco style uses Machine Age imagery and materials to create more traditional motifs. Vernacular Style architecture is a practical style based in local needs and construction materials. Because it is so reliant on place, the style varies widely based on location. One type of vernacular style house popular in Florida is the conch house. The conch house is generally wooden and raised on posts or piers. The house gets its name because it was developed by immigrants from the Bahamas, known as "Conchs." Due to the Bahamians' boat-building experience, early conch houses were built using timber framing.
Sources
https://en.wikipedia.org/wiki/Upper_Eastside https://en.wikipedia.org/wiki/Mediterranean_Revival_architecture https://en.wikipedia.org/wiki/Art_Deco https://en.wikipedia.org/wiki/Vernacular_architecture https://en.wikipedia.org/wiki/Conch_house http://morningside-life.com/
Additional Information