Old Fort Utah and the community of Lehi, Mesa, AZ.
Introduction
Found within the city of Mesa is the community of Lehi. This community actually existed before Mesa was settled when members of the LDS/Mormon church were sent throughout central and southern Arizona to establish colonies and stations to connect all church communities from Salt Lake City to Mexico. Lehi was established in 1876 by the Mormon company of settlers led by Daniel Jones under the direction of Brigham Young. With the constant threat of area Apache Indians, a fort was erected offer a place of refuge for the people. The small fort was built in 1877. As Mesa was formed and grew, Lehi was incorporated. The fort was washed away in 1891, after its construction, now a marker made of stones from the main church building that once served the Mormons sits were the fort once stood.
Images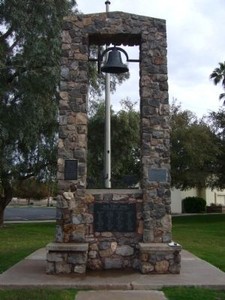 Plaque on marker with names of original settlers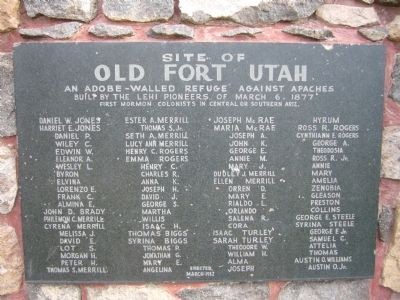 Plaque containing the layout of Lehi and the names of buildings.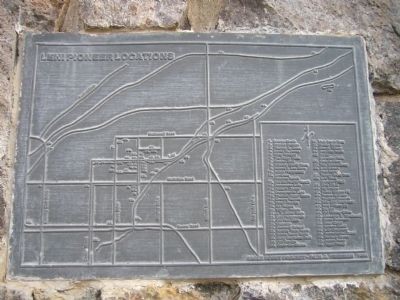 Daniel W. Jones ca. 1870s, leader of the Lehi Mormon community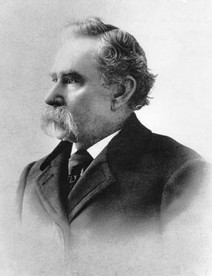 Backstory and Context
The community of Lehi was originally called Jonesville in honor of the companies leader, Daniel Jones before being called Fort Utah, named after the recently constructed fort of the same name that had been built to protect the locals from area Apaches. In 1883 LDS Apostle, Brigham Young Jr., suggested the name be changed to Lehi, after the name of the first prophet mentioned in the Book of Mormon, Lehi.

The fort was really a place of refuge and was small compared to many other forts designed for the same purpose to protect against Indians. Soon after it was built, Daniel Jones established friendly relations with the local Indians and with this peace, the fort was no longer needed but remained standing until it was washed away in 1891. Around that time the LDS community had split when Jones wanted the local indians to live in the community, about half of the population out of fear left and formed nearby St. David, AZ.

The community of Lehi would stand as its own town until 1970 when the city of Mesa incorporated it into it limits. Lehi community is still very distinctly LDS in influence and population. Soon thereafter, in honor of their roots, the people used the stones of the main church building that once stood near the fort to make a marker in honor of their ancestors as well as the fort's existence. The marker sits were the fort once stood.
Additional Information