Coney Island
Introduction
Coney Island, sometimes known as "America's Playground" or "The People's Playground," was once one of the most popular resort destinations in the United States. The popular beach area with its boardwalk and nearby world-class amusements drew visitors by the millions to Brooklyn's seaside. What was once a barrier island was turned into a man-made peninsula allowing easy access that attracted vacationers in droves looking for leisure and entertainment options. Its heyday was in the early part of the 20th century and it hit its peak prior to World War II. Its popularity declined following the war and neglect took its toll. Today, it is not the destination it once was, but new attractions and local interest in helping maintain and promote it have been successful in bringing back tourists.
Images
Coney Island was once known as America's Playground. It's combination of beach and amusement parks made it a popular destination. Though not as popular as it once was, it still attracts plenty of visitors.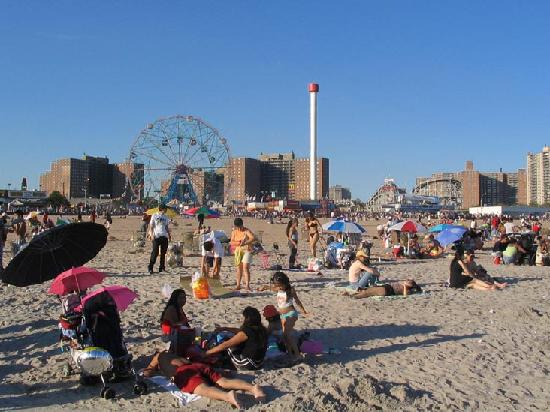 For more on the history of the park and area, consider this book from Yale University Press: Coney Island: Visions of an American Dreamland, 1861–2008. Click the link below for more info about this book.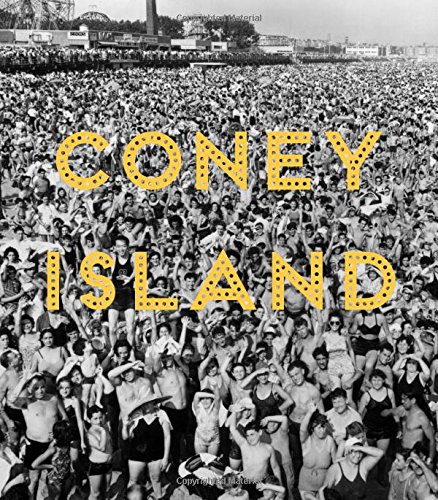 Backstory and Context
Development on Coney Island has been particularly controversial in the last few decades. Developers with deep pockets have bought up space but zoning issues and other challenges have been constant hurdles. New attractions including the New York Cyclones minor league baseball team affiliated with the New York Mets, the New York Aquarium and the addition of more modern amusements are breathing new life into Coney Island. A Visitor's Center was opened in 2014 to help tourists plan their trip. In addition, many new attractions are helping to make it a year-round destination. Since the attractions at Coney Island are owned and operated independently of each other there is no main office or one all-inclusive ticket.
Current rides and attractions include ice skating, the historic B&B Carousel that was assembled in 1919, the beach and boardwalk, Flicks on the Beach, the Brooklyn Wall of Remembrance, a Film Festival, a Polar Bear Club, bumper cars, trapeze, roller derby and amusement parks – Luna Park and Deno's Wonder Wheel Amusement Park, among other attractions. A new Thunderbolt roller coaster was built and opened in 2014. There are numerous places to eat and shop including Nathan's original hot dog stand.
There are three remaining rides now protected as New York City landmarks and are on the National Register of Historic Places. Those are the Wonder Wheel, a Ferris wheel at Deno's Wonder Wheel Amusement Park that opened in 1920, The Cyclone, a roller coaster built in 1927 that is now located at Luna Park, and Parachute Jump, built for the 1939 New York World's Fair. Parachute Jump, which lifted people nearly 200 feet and let them drop with a guy-wired parachute, remains and has been restored but is no longer in operation.
The Coney Island Museum at 1208 Surf Avenue features a permanent collection that includes funhouse mirrors, coolers and thermoses from the 1950's and 60's, rare 100-year-old hold to light postcards and much more. The museum is run by Coney Island USA, a not-for-profit with a motto of defending the honor of American popular culture. An original rock opera with a talking, flying jukebox is in the works to be presented in 2020 at the museum's Sideshows by the Seashore Theater. Their annual Mermaid Parade is a celebration of the opening of the season and attracts thousands. The Coney Island Film Festival is another popular event.
Coney Island is home to Nathan's Hot Dog Eating Contest which takes place each summer and attracts millions of television viewers on ESPN. Other special events that take place throughout the year include historic walking tours and various art exhibitions.
Sources
http://coneyislandfunguide.com/ http://www.allianceforconeyisland.org/ https://en.wikipedia.org/wiki/Coney_Island http://www.nydailynews.com/new-york/brooklyn/coney-island-new-thunderbolt-roller-coaster-officially-opens-article-1.1830380 National Park Service http://www.coneyisland.com/programs/coney-island-museum
Zigun, Dick. Coney Island USA News, Coney Island USA. December 1st 2019. Accessed December 29th 2019. https://www.coneyisland.com/.
Additional Information