Fulton Ferry Landing
Introduction
The Fulton Ferry Landing Pier marks the location of the first ferry service between Brooklyn and Manhattan in 1642. It is located at the foot of Old Fulton Street. Dutch settlers came to the area in the 1640s, and the ferry crossing allowed farmers and merchants to reach the Manhattan shore to sell their products. After some revamping, it reopened in 1997 and now mostly touts its views of the Brooklyn Bridge and the Lower Manhattan skyline.
Images
Fulton Ferry Landing was a key hub of transportation across the East River to allow access from Brooklyn to Manhattan. Ferry service declined once the Brooklyn Bridge was built and today the landing is more of an entertainment destination.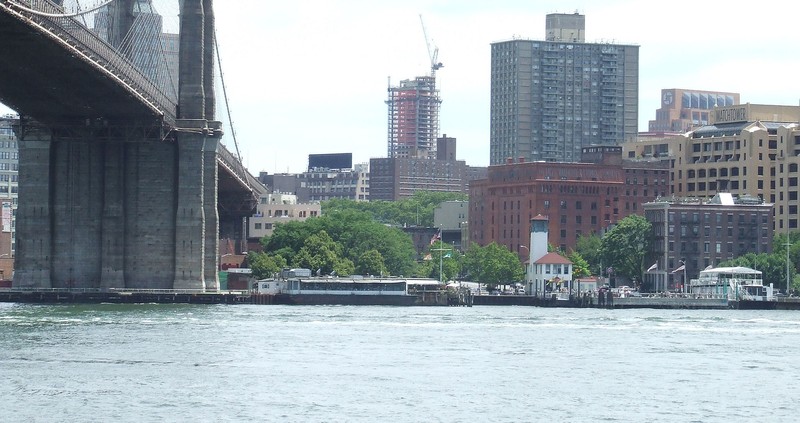 The Historical Atlas of New York City: A Visual Celebration of 400 Years of New York City's History-click the link below to learn more about this book.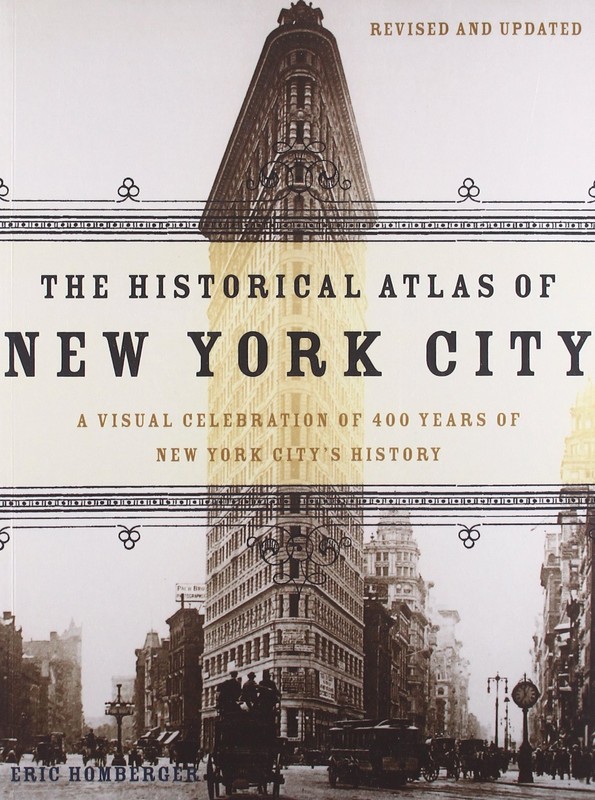 Fulton Ferry Landing (undated)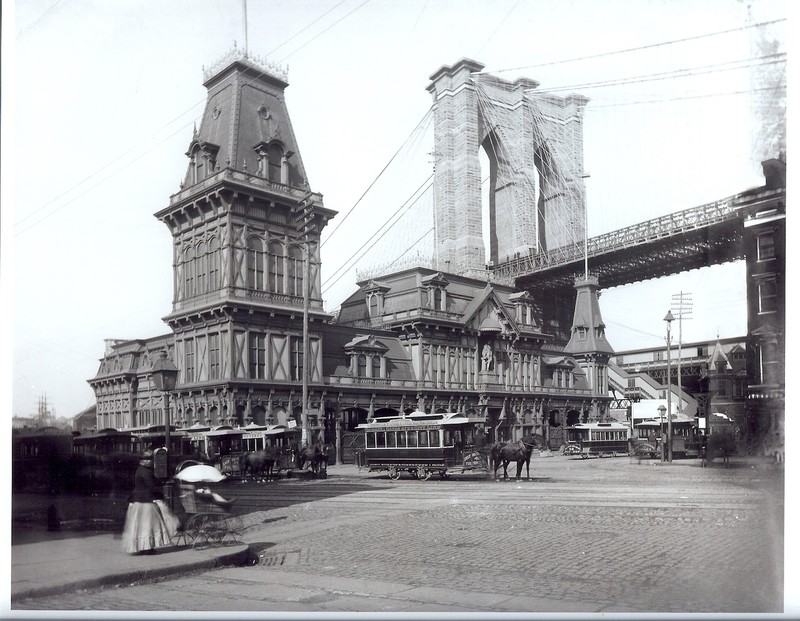 Backstory and Context
Though various services had been around for decades, it was Robert Fulton's steam Fulton Ferry Company in 1814 that revolutionized travel across the East River between Brooklyn and Manhattan. The Brooklyn Bridge opened in 1883 and proved to be the beginning of the end for major ferry services. Fulton Ferry ended service in 1924.
New York Water Taxi began operating a seasonal ferry service in 2006, and New York Waterway began offering year-round service in 2011. In addition to ferry services, today Fulton Ferry Landing offers a place for visitors to relax and enjoy its unique views; Bargemusic, a floating music hall; Luke's Lobster and No. 7 Sub restaurants, and the original location of the Brooklyn Ice Cream Factory, which stands in a landmark fireboat house on the pier.
The Landing also features marine railing that interweaves Walt Whitman's famous "Crossing Brooklyn Ferry" poem with imagery evocative of the Brooklyn Bridge. Other drawings of historic scenes are embedded in the pier deck.
Sources
"Fulton Ferry Landing." Brooklyn Bridge Park. Accessed April 15, 2017. http://www.brooklynbridgepark.org/park/fulton-ferry-landing.

"History of Fulton Ferry Landing." |THE SIXTH BOROUGH|
|REDEFINING BROOKLYN'S WATERFRONT|. Accessed April 15, 2017. http://thesixthborough.weebly.com/history-of-fulton-ferry-landing.html.

"Download." National Parks Service. Accessed April 15, 2017. http://focus.nps.gov/nrhp/Download?path=%2Fnatreg%2Fdocs%2FAll_Data.html.

Michael. "Ferries to Ply East River Far More Regularly Soon." The New York Times. February 01, 2011. Accessed April 15, 2017. http://www.nytimes.com/2011/02/02/nyregion/02ferry.html?_r=0.
Additional Information